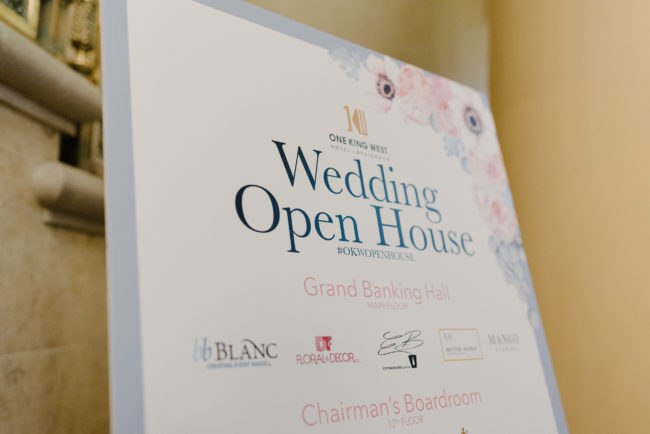 Sunday January 21, 2018 marked One King West Hotel & Residence's 6th annual Wedding Open House AND its most successful! For those who haven't had the chance to attend, this open house offers future brides and grooms, as well as industry professionals, a unique opportunity to explore the magnificent venues of One King West Hotel & Residence, sample our delicious catering menus, as well as interact with our preferred vendors.
What sets this event apart from the many other wedding shows is that instead of attendees simply walking from booth-to-booth to talk to vendors, they get to experience their many services first-hand and with all five senses. This way guests can envision their dream wedding at this downtown Toronto wedding venue and see what they can do in each space.
DT Floral & Décor has been one of our preferred vendors for quite some time now and for great reason. They're creativity and dedication to WOWing guests means we can always count on they to transform our Grand Banking Hall into a magnificent dreamscape. Take a look at their incredible creations here: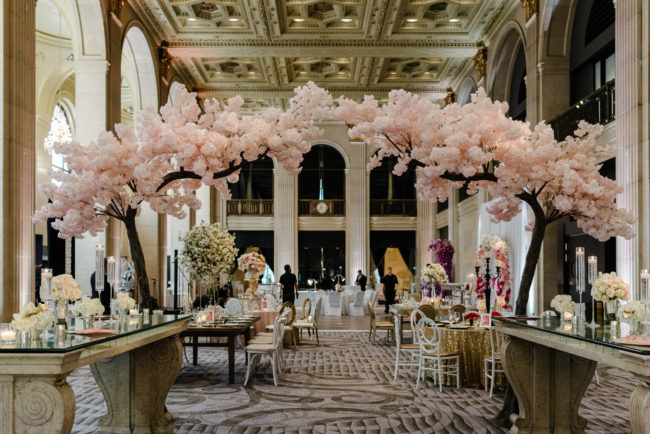 Walking through these beautiful Sakura trees at the entrance of the Grand Banking Hall set a magical tone for the event.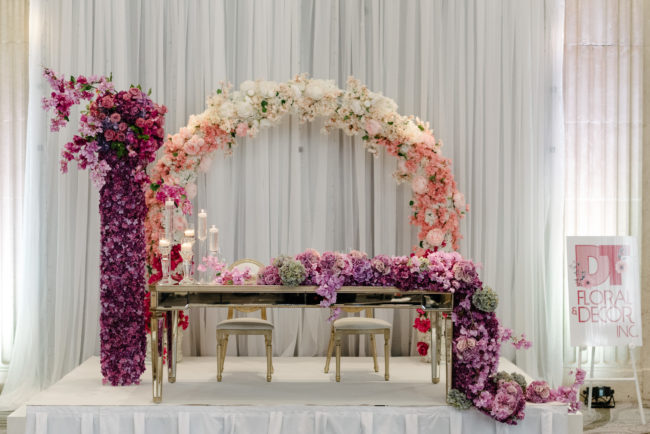 This head table took our breath away. The vivid colours and grandeur of it all left us in total awe.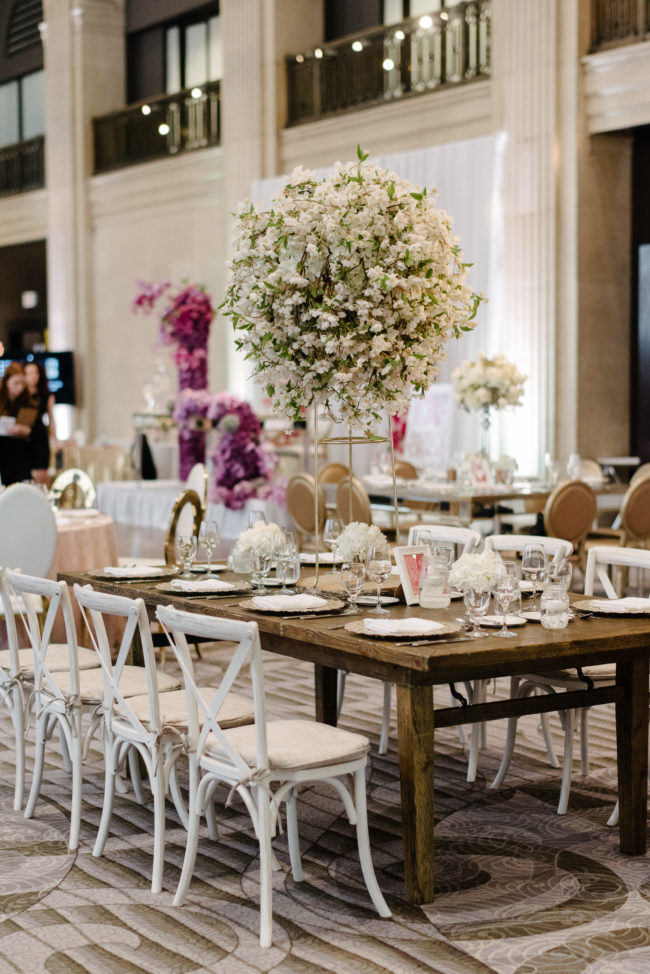 If you think you can't do a bohemian, rustic-inspired wedding at a downtown Toronto venue, think again! This DT Floral & Décor creation proves otherwise. A special thanks to Detailz Couture for supplying the chairs and charger plates for the event!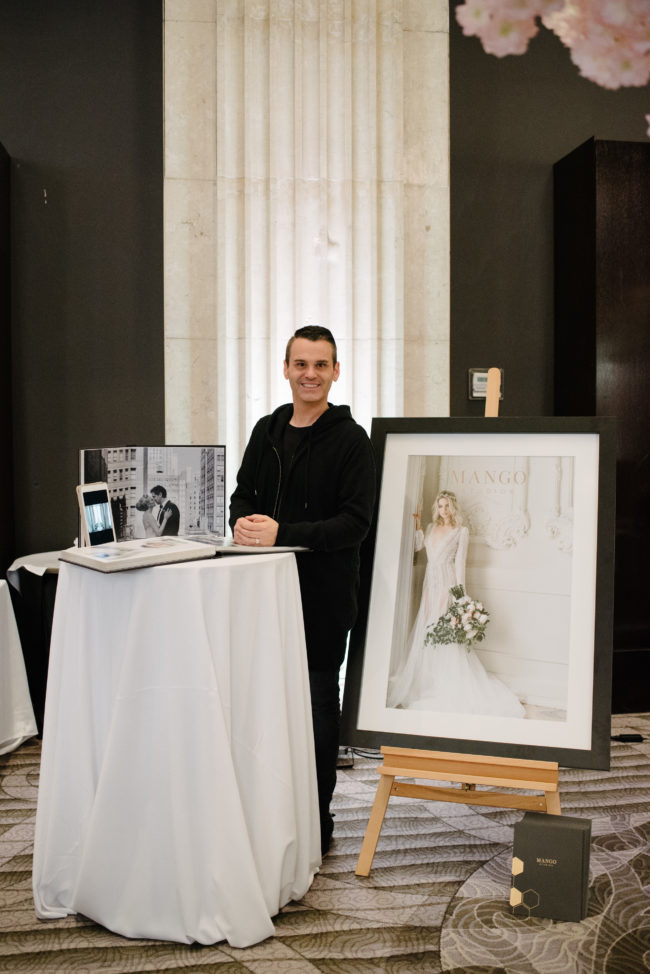 When we find out that couples have not only booked One King West Hotel & Residence as their wedding venue, but Mango Studios as their photographer, we're thrilled! They know our spaces inside-out and its guaranteed the final products will be take-your-breath-away amazing. That's why they're our preferred wedding photography vendor and why we collaborated with them for the Wedding Open House. They took these photos and like we said, aren't they take-your-breath-away amazing?? Well here comes more…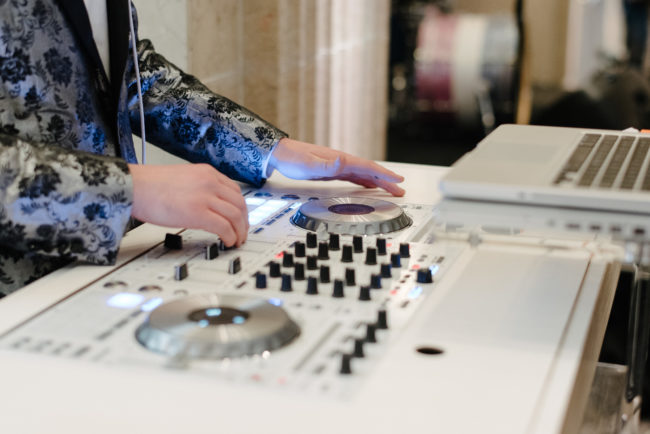 bb Blanc dazzled our audience from start to finish with their awesome DJ spinning all of your favourite hits to dance to at weddings, while in-between, their live band had everyone moving and grooving to upbeat tunes.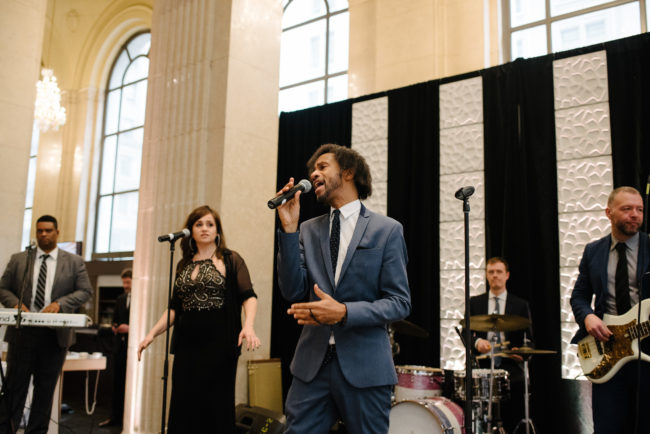 Fifteen Hundred was transformed into the perfect day-use room thanks to Fancy Face Inc. and T.O. Balloons.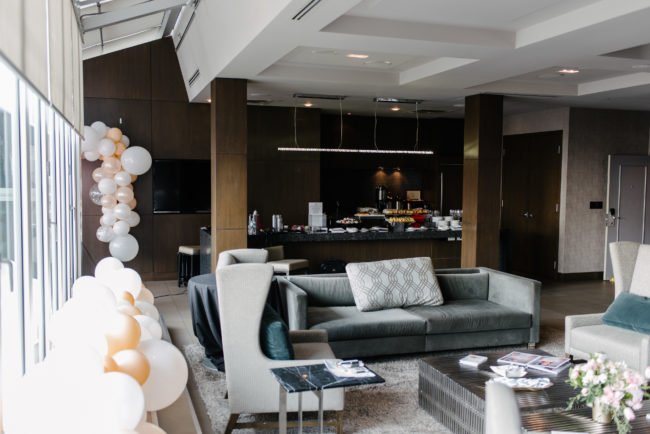 Fifteen Hundred is a diverse downtown Toronto wedding venue as it's perfect for bridal showers, rehearsal dinners, smaller ceremonies and more. But for the Wedding Open House, we thought the space would be best displayed as a day-use room where the wedding parties have ample space to get ready and with ample natural light. Plus it's the perfect backdrop for stunning photos!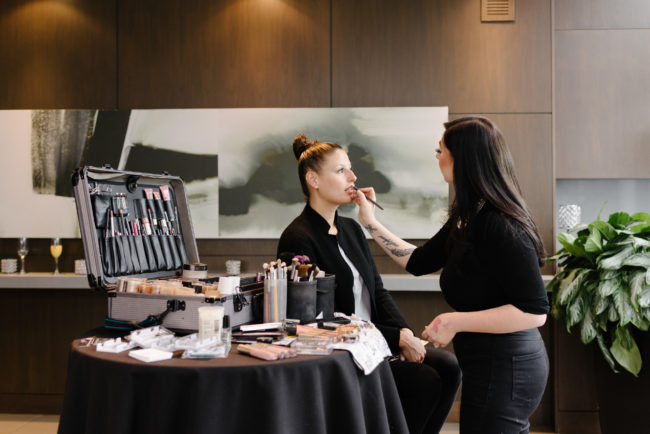 Because so many of our brides work with Fancy Face Inc. on their big day, we HAD to have them at the open house. They brought their team of make-up and hair professionals to not only discuss their vast array of services, but to perform them on guests as well! What a special treat it was for attendees.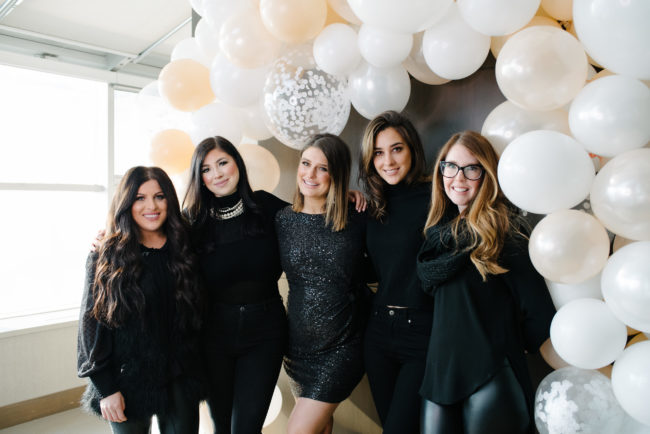 Afterwards, guests were brought over to this beautiful photo booth designed by T.O. Balloons to get that perfect Instagram-worth photo of themselves looking 'fancified'!
Chairman's Boardroom was transformed into a whimsical paradise by the ever so talented KAAS Floral Design. The moment you walked into the room you felt as though you had been transported into a fairyland.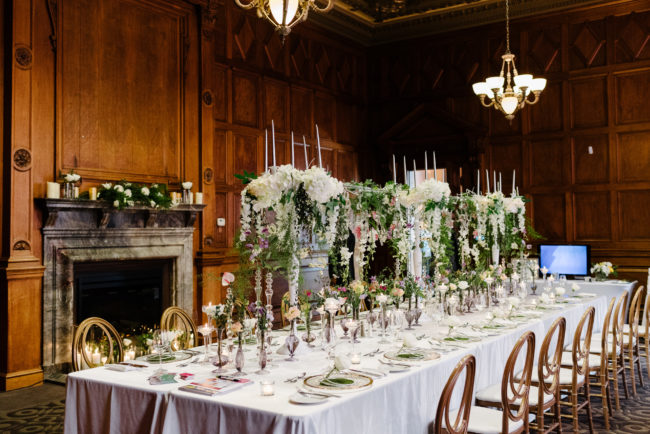 This décor truly complimented this venue with its original oak panelling and historic architectural touches.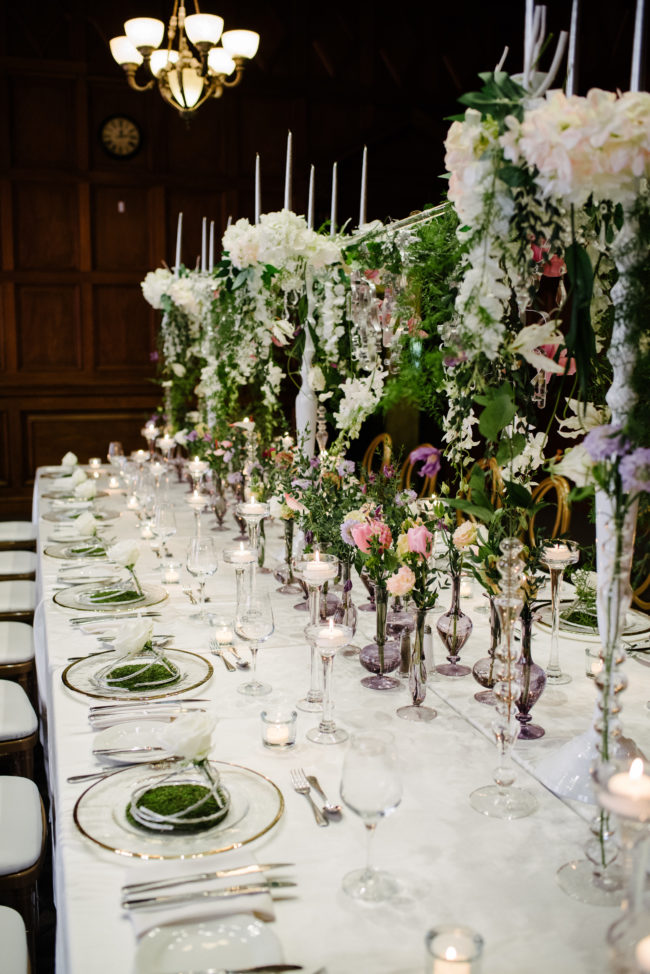 Here's a closer look… Isn't this just incredible?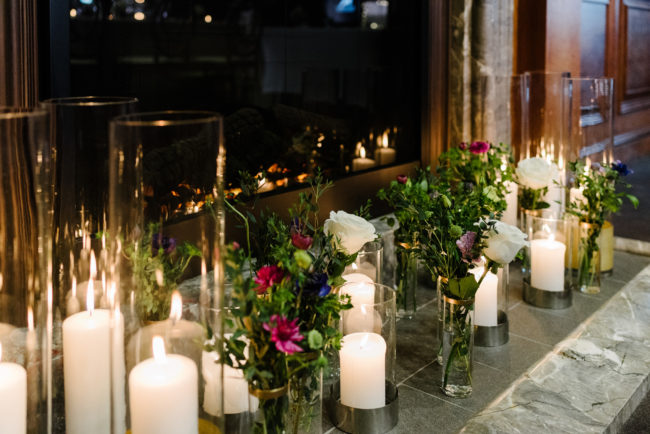 Duetto Entertainment added to the alluring atmosphere with their diverse and talented performers. From violinists, to guitarist and pianists, this entertainment company captivated its audience with every act.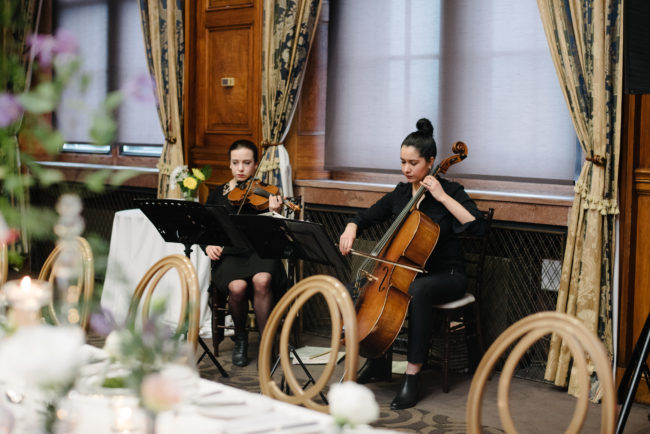 Back in Chairman's Office, Havana Club was shaking and stirring some delicious cocktails for attendees to sample including a mojito, daiquiri and old fashioned.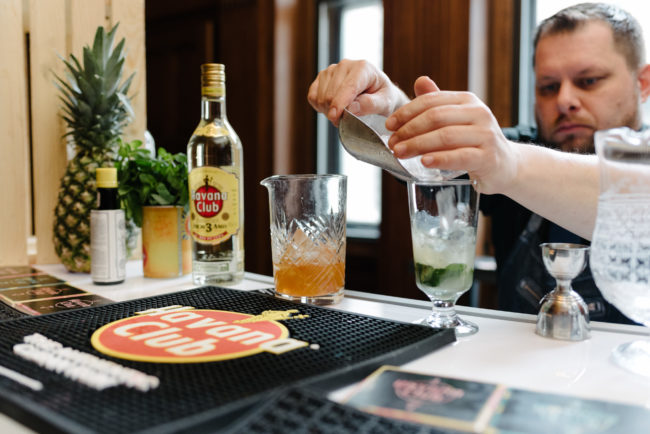 Now onto the Austin Gallery where Sole Power Productions, J Company Designs and Sharleez Bridal all contributed to the perfect ceremony…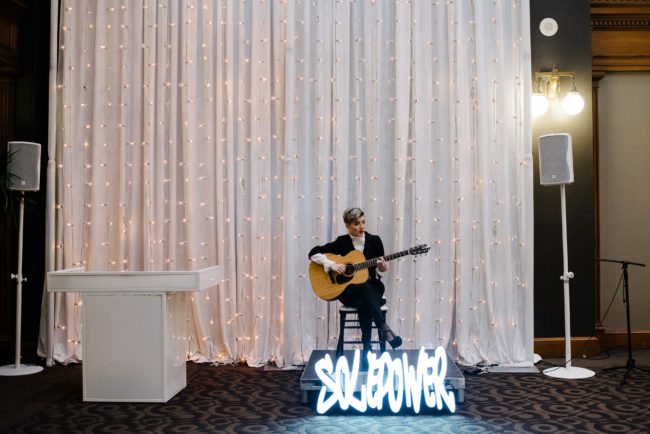 Once Sole Power's performers take the stage we guarantee you'll be mesmerized by their talent…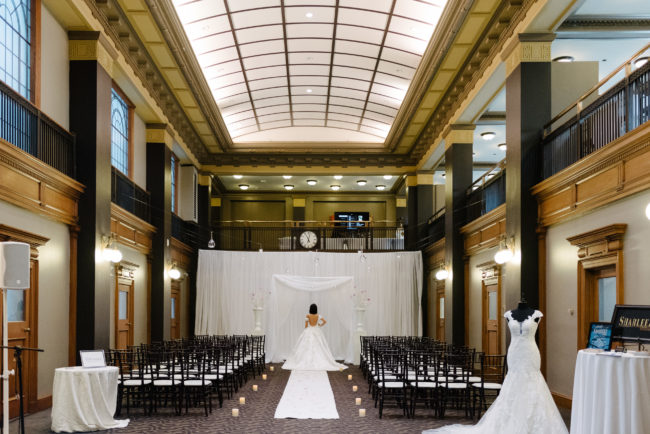 J Company Designs created an elegant landscape in Austin Gallery and an aisle that any bride or groom would be delighted to walk down.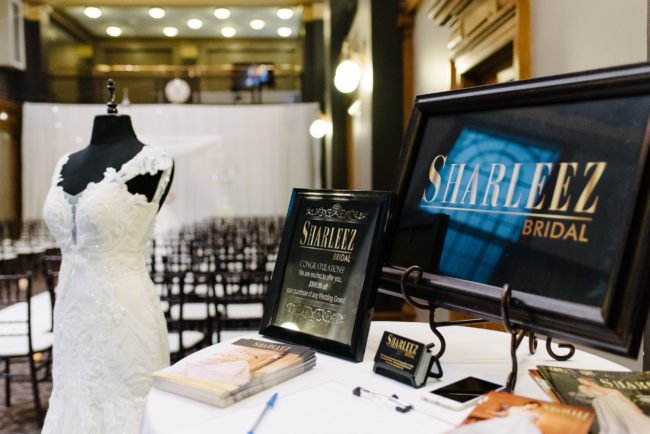 When we decided to have a bridal dress vendor at the Wedding Open House for the first time in years, we knew it had to be Sharleez Bridal. Their dresses are absolutely stunning and we knew they would blow our guests away.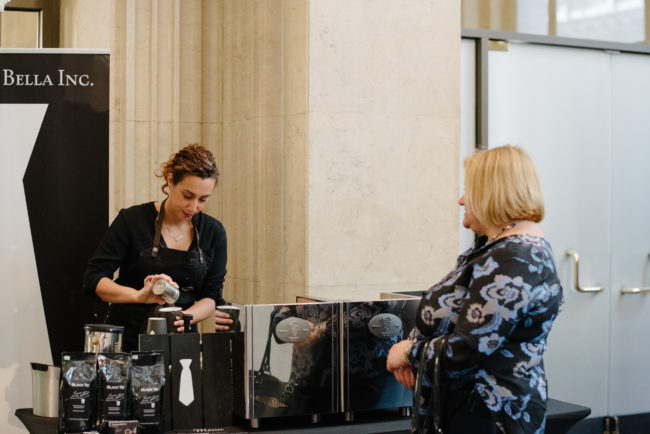 Espresso Bella Catering Inc. impressed Wedding Open House attendees with their on-demand delicious specialty drinks. From Espressos to Lattes, Macchiatos and more, we couldn't help but taste each item on the menu!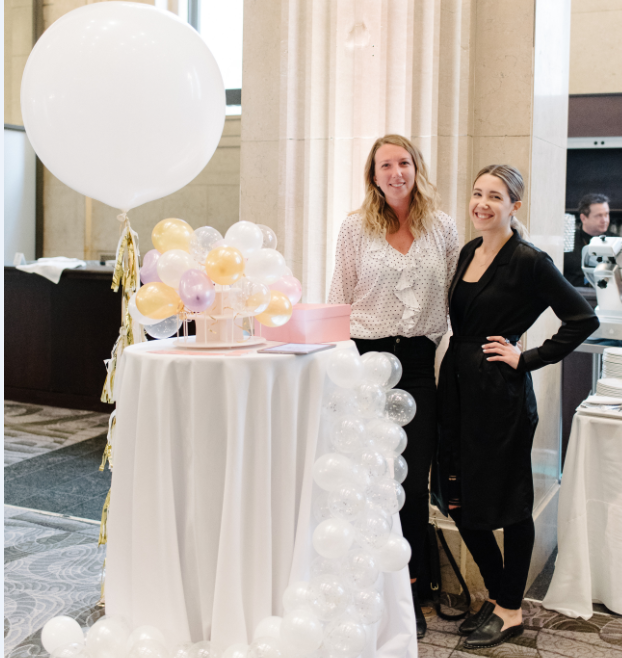 T.O. Balloons' arrangements in both Fifteen Hundred and the Grand Banking Hall were spectacular. Balloonscapes are an up-and-coming trend of wedding décor and it's not hard to see why.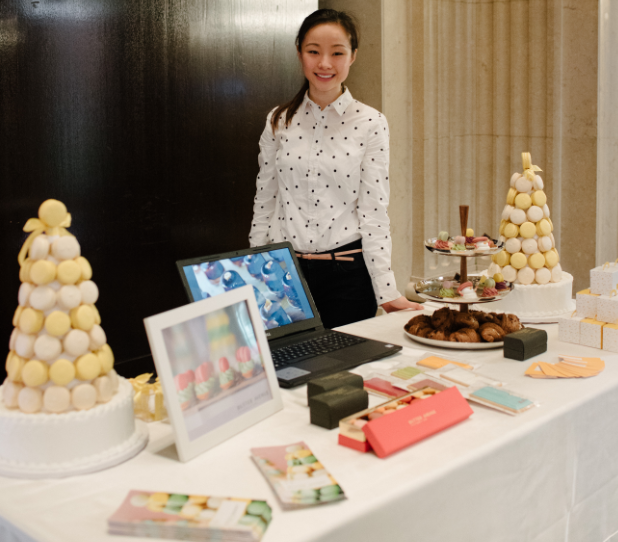 Macaron towers are the perfect touch to any wedding. Butter Avenue makes these delicate pastries with natural ingredients and no added artificial flavours or preservatives and they're truly delicious!
Now onto the delicious creations of our Chef Sevilla and his wonderful team…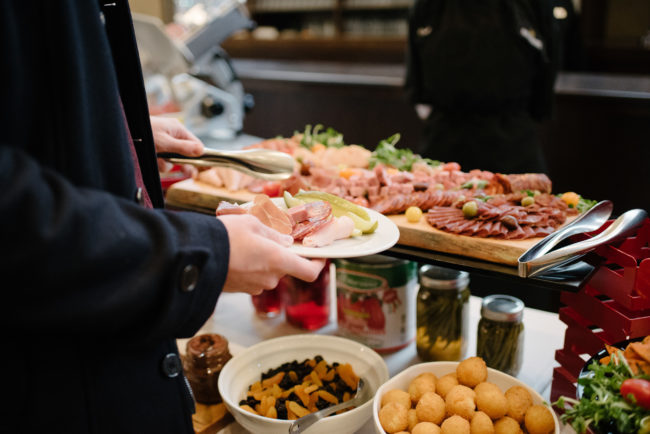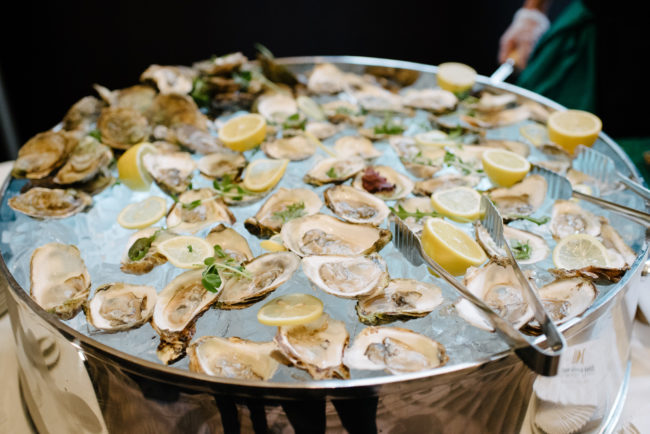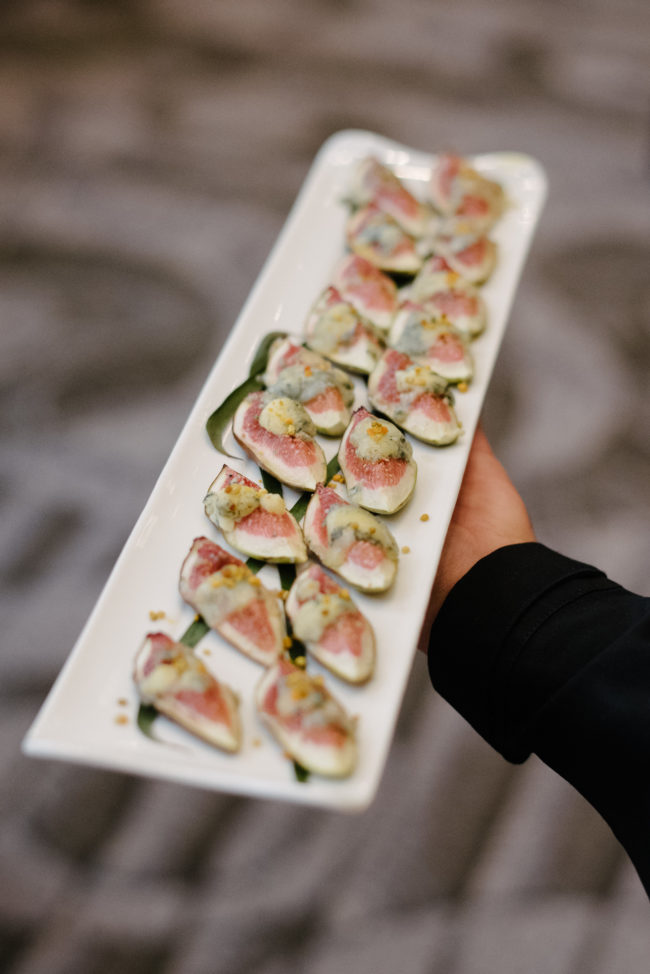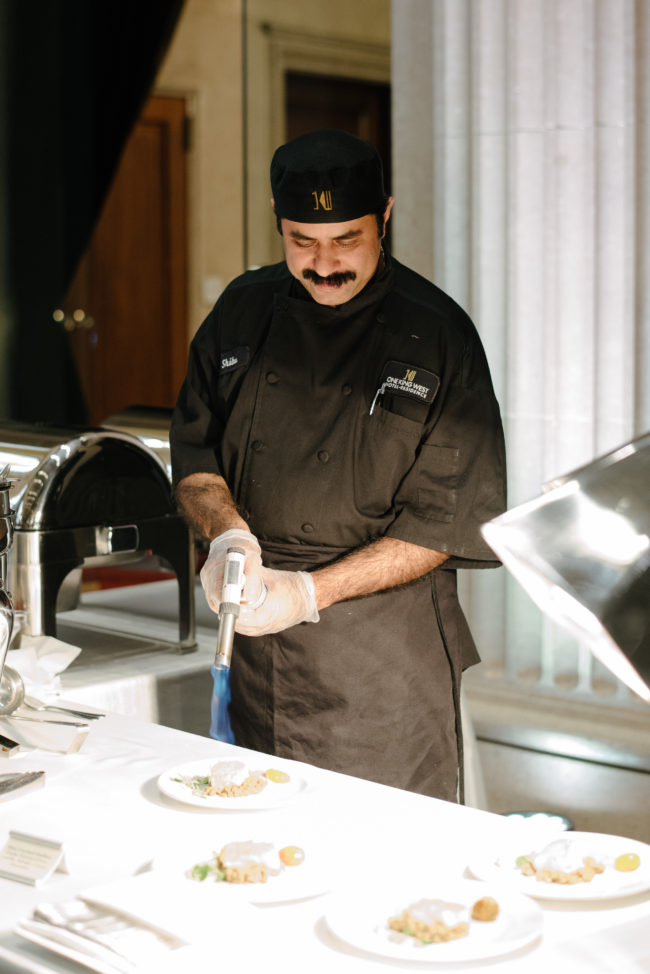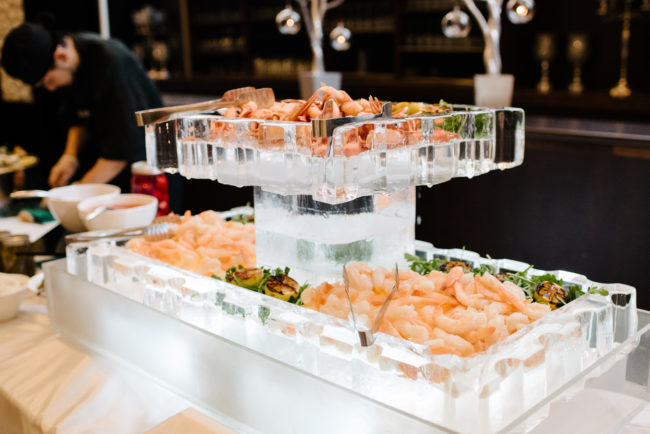 Lastly, here a few of our favourite candid shots by Mango Studios: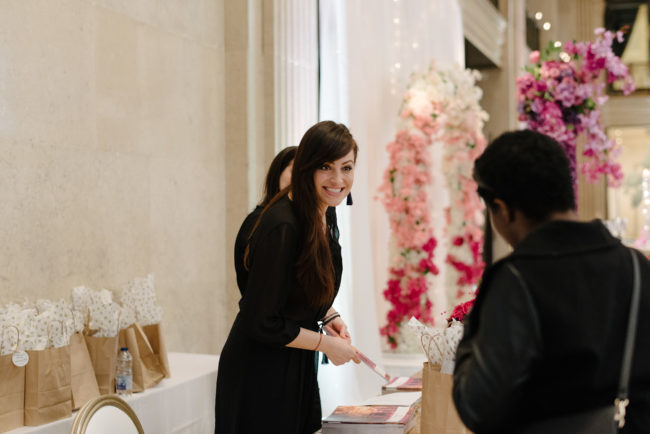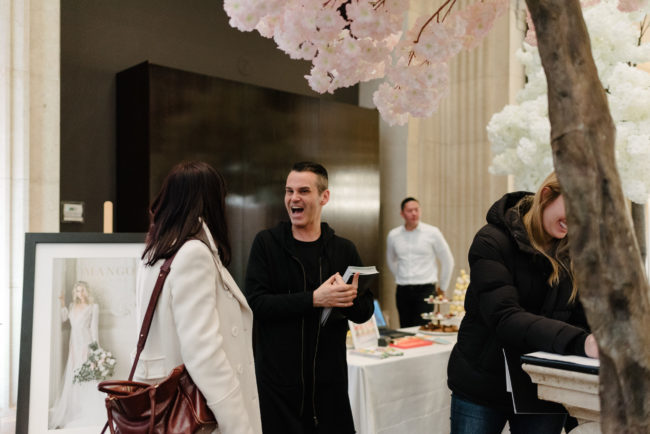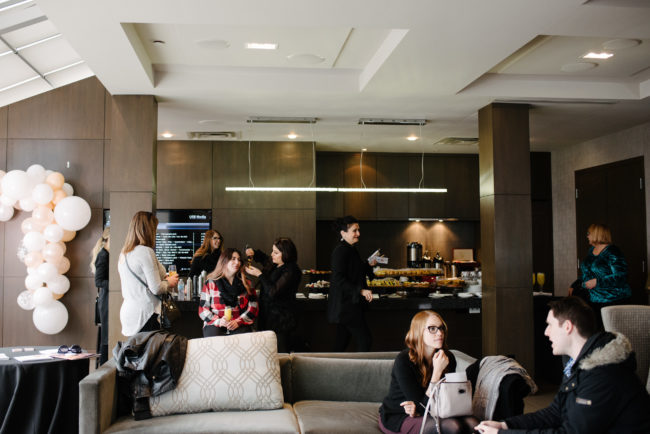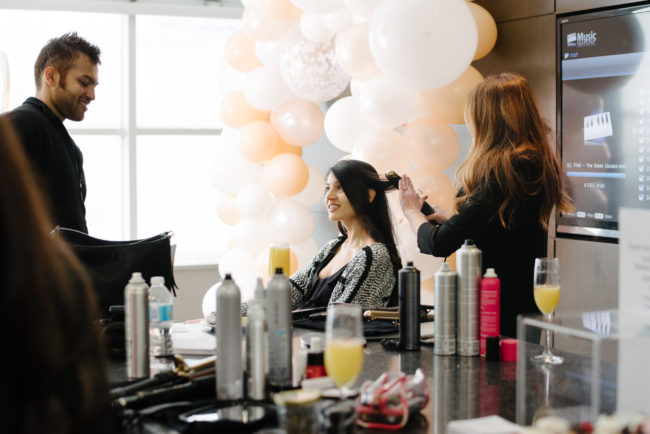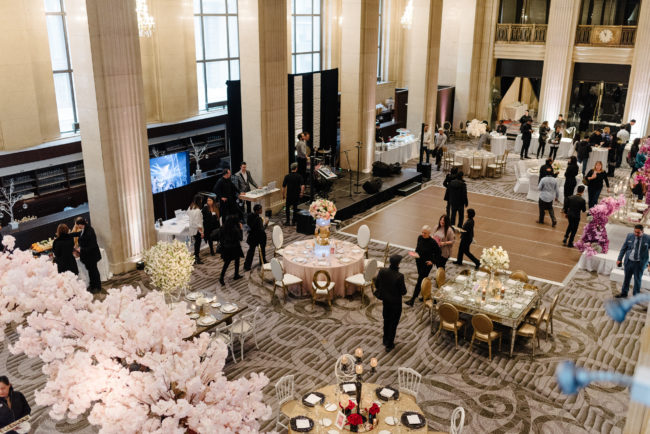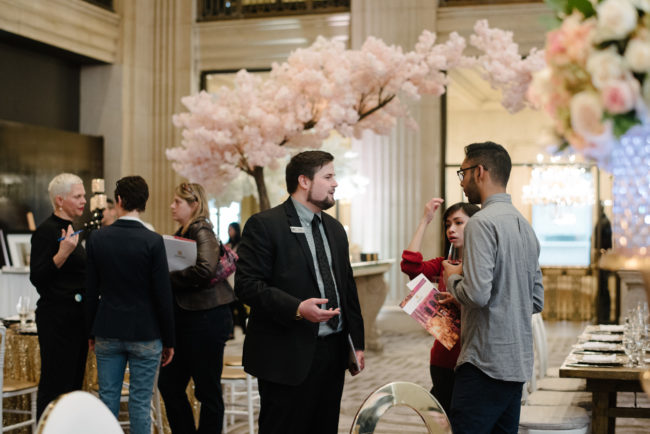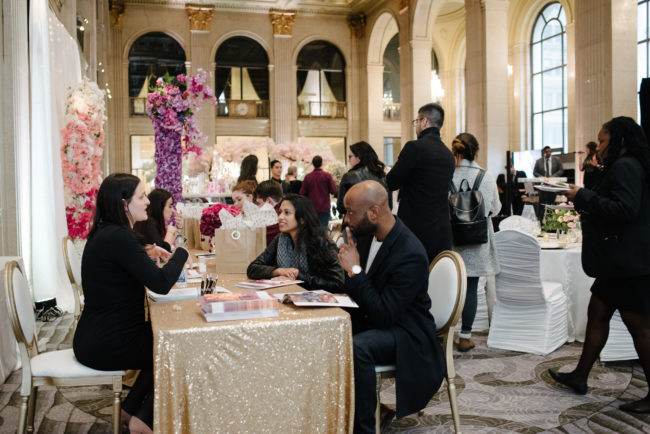 Thank you so much to those who attended and to our amazing vendors.
We'll see you next year!
Learn more about our Wedding Services here:
Again, a special thanks to Mango Studios for taking these incredible photos!