As a 4-star hotel in Toronto, we have a standard that we hold ourselves to. Our goal is to provide an uncompromising level of service every day in order to exceed our guests' expectations. That's why when some of our guests began providing feedback about our in-suite amenities, we didn't waste any time in finding new products that met their needs. We value our guests and strive to be the downtown Toronto Hotel to Call Home so that means listening to their feedback, taking it, and applying it to our everyday to ensure only the top service.
Travellers expect the best when they stay at a downtown Toronto hotel. From the greeting at the Front Desk, to the comfort of the bed and right down to the hotel amenities. A 4-star hotel in Toronto should offer guests only the finest hotel amenities and that's why we've updated our product to a line created by Byredo. Byredo is a Stockholm-based fragrance house that has developed products that reinforce an understated approach through simple compositions and the highest quality raw materials available. With a distinct focus on craft and quality, Byredo's line is something we are confident that our guests of our downtown Toronto hotel will enjoy.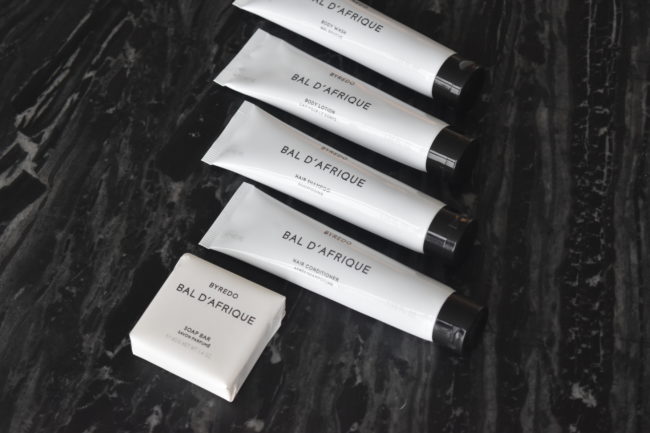 The hotel amenities by Byredo that we are putting in each of our modern home-inspired suites are from their Bal D'Afrique line and we must say, we are SUPER excited to launch these new set of amenities! Truth be told, we would never provide guests of our 4-star hotel in Toronto with amenities that we ourselves wouldn't use ourselves.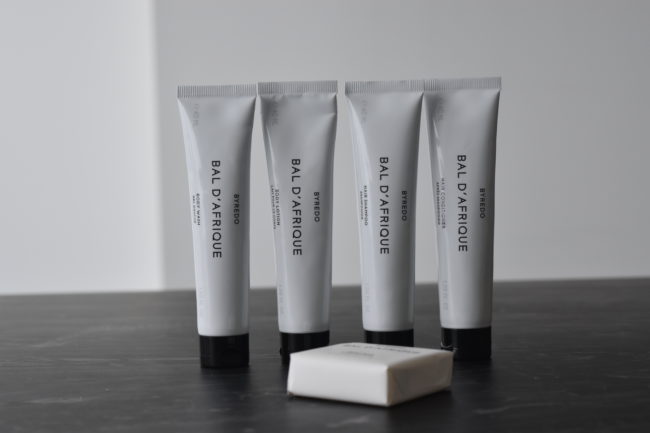 The Bal D'Afrique line is described as: "A warm and romantic vetiver inspired by Paris in the late 20's and its infatuation with African culture, art, music and dance. A mix of Parisian avant-gardism and African culture shaped a unique and vibrant expression. The intense life, the excess and euphoria is illustrated by Bal d'Afrique's neroli, African marigold and Moroccan cedarwood
Sounds quite luxurious, doesn't it? We think so too. Our guests can now rest assured that when they visit One King West Hotel & Residence, a 4-star hotel in Toronto, that the in-suite amenities are as luxurious as the rest of their services. The soap bar, hair shampoo, hair conditioner, body lotion and body gel are all standard hotel amenities but when they're made by a company such as Byredo, you're guaranteed that they are high quality as well.