Click Here to receive our best rate guarantee & free wireless Internet
Dinner with Akshay: Cauliflower & Zucchini Frittelle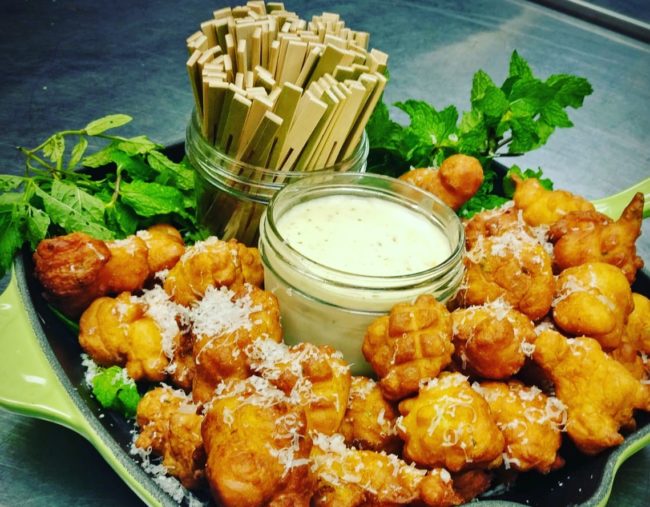 Cauliflower & Zucchini Frittelle with Parmigiano Fondue
This week, One King West's Executive Chef Akshay Shastry is sharing a delicious dish perfect for a light mid-day snack or appetizer before your dinner… Cauliflower & Zucchini Frittelle with Parmigiano Fondue. Scroll down for the full recipe and if you have any questions or feedback, visit the Facebook or Instagram posts (@onekingwest) to leave a comment! #StayHomeWithOneKingWest
Serves 2-4 | Prep Time: 20 Mins | Total Time: 35 Mins
WHAT YOU'LL NEED
For the Frittelle:
6 stalks Italian flat parsley
100 grams all-purpose flour
40 grams cornstarch
1 pinch baking powder
Salt to taste
4 eggs (whole)
200ml 2% milk
1 pinch dehydrated oregano
1 pinch dehydrated parsley
50 grams grated Grana Padano
1 head cauliflower, cut into medium-size florets
1 zucchini, grated
For the Parmigiano Fondue:
100ml 2% milk
60 grams grated Parmigiano Reggiano
Salt to taste
HOW TO PREPARE:
Wash, dry and finely chop Italian Parsley
Combine flour, cornstarch, baking powder, Italian parsley, dehydrated parsley and dehydrated oregano into a mixing bowl. Combine salt and mix well.
In a separate bowl, whisk eggs and 2% milk, and gradually add the dry ingredients to get batter-like consistency.
Add grated Grana Padano and set aside. Adjust the consistency with a little milk if required.
Grate the zucchini and tie in a cheese cloth and squeeze as much water out.
Dip the cauliflower florets in batter, ensure they are coated all the way and deep fry till golden brown.
Mix grated zucchini in the batter and deep fry with the help of a small scoop to golden brown.
For the fondue, boil the milk and set aside.
When warm, slowly add Reggiano and adjust salt as needed, and set aside until room temperature.
Serve and enjoy!
Top Tip: Garnish with grated Grana Padano or Parmigiano Reggiano and fresh Italian Parsley for some colour.