Click Here to receive our best rate guarantee & free wireless Internet
Dinner with Akshay: Cheesy Chicken Samosa with Ramp, Rhubarb & Honey Chutney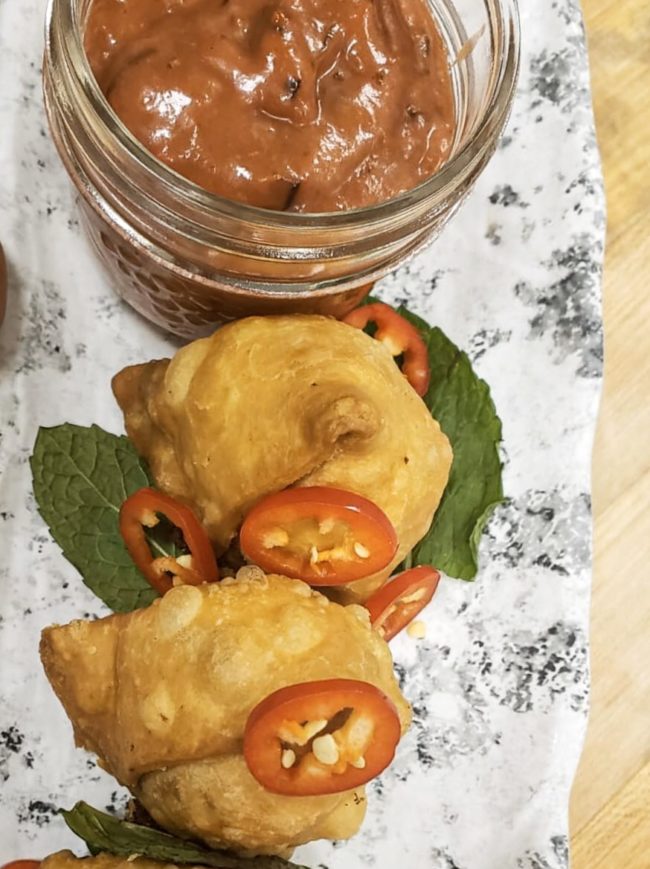 Cheesy Chicken Samosa with Ramp, Rhubarb & Honey Chutney
On the menu for this week's Dinner with Akshay series is a Cheesy Chicken Samosa with Ramp, Rhubarb and Honey Chutney! This recipe is a special one as it is inspired by Executive Chef Shastry's Grandmother and is reminiscent of his childhood, spending time with family as he developed his passion for cooking… "As a child my grandmother always made samosa for us and she taught me how to make them. Samosa being very close to my heart, reminds me of my memories with my grandmother and family back when I was a kid." Scroll down for the full recipe and if you have any questions or feedback, visit the Facebook or Instagram posts (@onekingwest) to leave a comment! #StayHomeWithOneKingWest
Serves 10-12 | Prep Time: 20 Mins | Total Time: 35 Mins
WHAT YOU'LL NEED
For the Dough:
1 cup all-purpose flour
3 tsp. canola oil
1 pinch of salt
¼ cup water
For the Ramp, Rhubarb & Honey Chutney:
1 tbsp. canola oil
1 stalk of ramps, roughly chopped (if not available, use 1 garlic clove and 2 spring onions)
4 stalks of rhubarb, peeled and roughly chopped
1 Red Finger Chilli, roughly chopped
1 tbsp. ginger, roughly chopped
1 tsp. coriander seeds
1 Star Anise
½ tsp. cinnamon
2 cups red wine vinegar
½ cup water
1/3 cup sugar
1 tbsp. honey
For the Cheesy Chicken Filling:
2 tbsp. canola oil
1 tsp. coriander seeds
1 whole shallot, finely chopped
1 Red Finger Chilli, finely chopped
1 garlic clove, thinly sliced
Pinch of turmeric
1 tsp. cumin powder
1 tsp. Garam Masala
1 russet potato, peeled and finely chopped
2 cups water
1 tbsp. peas
5oz chicken breast (1 piece), fully cooked and finely chopped
Salt to taste
½ cup mozzarella
HOW TO PREPARE (step-by-step video demonstration is posted on social media):
Combine dry ingredients in a bowl, add oil and rub for 2 to 3 minutes.
Add water and knead into a dough for a hard consistency, if required add little water.
Wrap in plastic wrap and set aside.
For the chutney, heat 1 tablespoon canola oil in a pot, add ramps, rhubarb, chilli, ginger, coriander seeds, star anise, and cinnamon. Sauté for 2 mins.
Add water, red wine vinegar, sugar, and simmer until it is all cooked down to a mash like consistency.
Remove from the heat and let cool down. Roughly blend in a food processor and set in a bowl. Add honey and mix.
For the Cheesy Chicken Filling, temper coriander seeds in a pot heat oil, sauté shallots, chilli, and garlic until golden brown, then add turmeric, cumin and garam masala. Sauté for 20 seconds. Add potatoes and water and fully cook, about 5 to 10 minute on slow heat.
Add peas, chicken, and cook all the water until it evaporates, season with salt and let cool.
Add ½ cup of mozzarella and mix into the mixture.

To assemble the samosa, roll the dough into a cylindrical shape. Cut a small round (about 2 inches thick) off the dough and roll thin with a rolling pin into

a

 oval shape. Cut in half, take the half in your hand apply water on the edges for sticking, form a cone shape. Put the stuffing inside and apply water on the edges again. Press to seal on one side and then 

overlapping on the other. Nicely press so it does not open up while deep frying. Repeat process for the remainder of the dough and filling. For further guidance, please see the video demonstration found on Instagram or Facebook

.
Deep Fry in high heat till nice golden-brown colour.
Garnish with mint leaves and red chilis for a pop of colour.
Top Tip: Make it vegetarian by omitting the chicken and replacing with more green peas and potatoes.