Click Here to receive our best rate guarantee & free wireless Internet
Dinner with Akshay: Fennel Sausage and Mussels in Brodo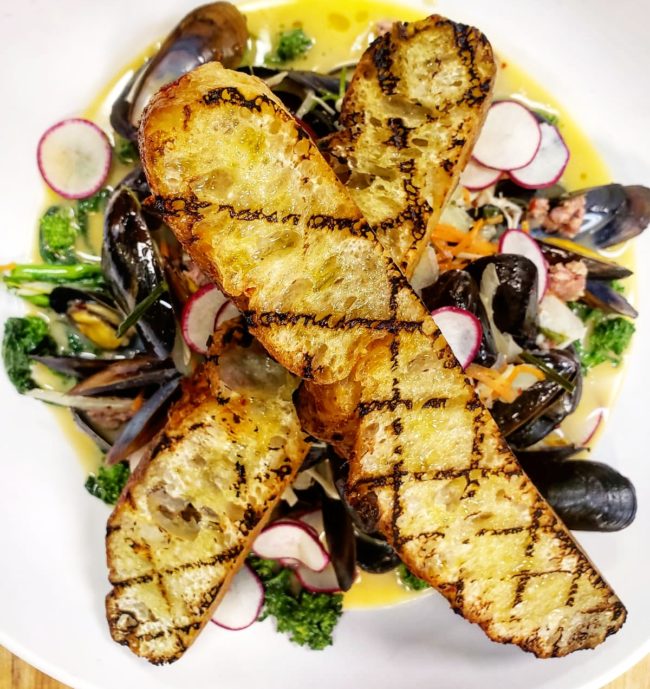 Fennel Sausage, Rapini and Mussels in Brodo with Grilled Focaccia
Chef Akshay has done it again- he's sharing another recipe that we can't wait to try in the comfort of our homes! While the restrictions may be slowly lifting in Ontario, we're still loving the homemade meals we're making as we continue to hone our kitchen skills. This week's Dinner with Akshay dish features flavourful fennel sausage and rapini with mussels in a tasty brodo (that's Italian for broth). Not only is it simple but it only takes about 25 minutes to prepare, making it the perfect weeknight dinner! Scroll down for the full recipe and if you have any questions or feedback, visit the Facebook or Instagram posts (@onekingwest) to leave a comment! #StayHomeWithOneKingWest
Serves 2 | Prep Time: 15 minutes | Total Time: 25 minutes
WHAT YOU'LL NEED
1 bunch of rappini
50 grams ground pork
1 tbsp. fennel seeds
1 tbsp. canola oil
1 shallot, finely sliced
Salt to taste
150 grams of enoki mushrooms
1 Finger Red Chilli, sliced
100ml white wine
2lb of mussels, washed and cleaned
½ of a fennel bulb, finely sliced
250ml seafood stock
2 stalks of thyme
3 parsley stalks, washed
2 stalks of garlic scapes
½ carrot, peeled and julienned
30 grams butter
1 tsp. red chilli flakes
Salt to taste
1 long piece of focaccia or baguette
2 radishes, thinly sliced
HOW TO PREPARE (FIND A STEP-BY-STEP VIDEO DEMONSTRATION ON SOCIAL MEDIA):
In a pot with boiling water, blanch rappini for 1 to 2 minutes and shock in ice cold water. Drain all water and set aside.
In a bowl, mix the ground pork with fennel seeds.
Heat canola oil in a pan. Once heated, add shallots, a pinch of salt and garlic and sauté untl light golden brown. Add enoki mushrooms, sliced chillies and ground pork mixture. Fully cook, then add white wine and de-glaze.
Add mussels, fennel and seafood stock. Cover and cook until the mussels open.
After the mussels open, add thyme, parsley stalks, garlic scapes and boil for 1 to 1 ½ Add carrots and butter and cook for 30 to 60 seconds until a sauce consistency is achieved. Add red chilli flakes and salt to taste if required.
Meanwhile, season the rappini with olive oil and a pinch of salt.
Brush the bread with olive oil and a pinch of salt and grill until char marks appear. Set aside.
In a bowl, place the rappini at the bottom, then carefully place the mussels on top. Pour the sauce over the mussels and present with grilled bread to be dipped in the sauce.
Garnish with sliced radishes on top.
Top Tip: You know the mussels are cooked when they open and if they don't, we suggest removing them as they may be unsafe to eat.