Click Here to receive our best rate guarantee & free wireless Internet
Dinner with Akshay: Spring Risotto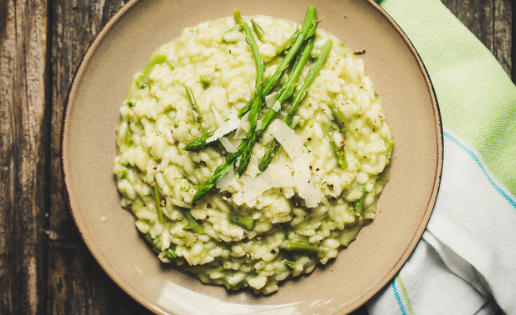 Spring Risotto
Have you always wanted to know how to make the perfect risotto? Same with us. Well Executive Chef Akshay Shastry is here to teach us just that! This week on Dinner With Akshay, we're learning how to make a creamy, fresh and flavourful Spring Risotto, using seasonal ingredients to ensure a restaurant-quality dish. Scroll down for the full recipe and if you have any questions or feedback, visit the Facebook or Instagram posts (@onekingwest) to leave a comment! #StayHomeWithOneKingWest
Serves 2 | Prep Time: 20 minutes | Total Time: 35 minutes
WHAT YOU'LL NEED
10ml olive oil
2 stalks of ramps, roughly chopped (if ramps aren't available to you, use Spring onions)
1 shallot bulb, finely diced
1 stalk of thyme
100 grams arborio rice
50ml white wine
200ml vegetable stock or chicken stock, divided
35 grams butter, cubed and divided
1 garlic clove, thinly sliced
½ cup fiddleheads, clean in cold water to get rid of brown husk very well. Boil for 5 – 10 minutes and shock in ice cold water. Disperse the water carefully without any cross contamination
5 snap peas, blanched and shocked and cut on angle thinly
2 stalks of asparagus, peel and cut on angle
Salt for seasoning
1 tsp. grainy mustard
50 grams Parmesan, grated
Zest of one fresh lemon
15ml fresh chillies in oil
1 tbsp. Mascarpone cheese
HOW TO PREPARE:
In a heavy bottom pan, add olive oil and heat gently. Sauté ramps, shallots and thyme to sweat with a pinch of salt. Add arborio rice and sauté on low heat for 1 minute. Add white wine and reduce, then gradually add vegetable/chicken stock one ladle at a time and cook until 60% cooked. Set aside.
In another pan heat butter and sauté garlic, fiddleheads, ramp leaves, snap peas and asparagus. Season with salt and set aside.

Take the pan with the 60% cooked arborio rice add 1 ladle of stock and gently heat. Cooked to the desired texture by adding more stock if necessary. Add the cubed butter, Parmesan, grainy mustard, and Mascarpone and fold the sautéed vegetables in.

Season to your liking and serve in a flat plate/bowl.

Garnish with grated cheese, Lemon Zest, and/or small salad on the top. 

For maximum flavour, serve this dish with fresh Chilis in oil and Parmesan cheese on the side.
Top Tip: You can use any Spring vegetables if the ones used in this recipe are unavailable to you.