One King West Hotel & Residence
Amenities
One King West offers the finest in personalized boutique hotel amenities, including full concierge services, valet parking, and a modern rooftop fitness centre.
Rooftop Fitness Centre
There is nothing better than watching the sun rise or set, or simply enjoying the breathtaking panoramic views of Lake Ontario, while working out in our 17th Floor Rooftop Fitness Centre. State-of-the-art equipment and amenities, including treadmills, ellipticals, stationary bikes, free weights, leg and upper body machines, yoga mats, a whirlpool and separate men's and women's saunas are available to make your work out complete.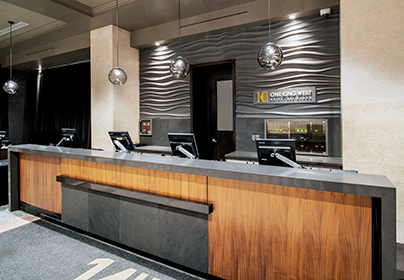 Concierge Services
Our attentive concierge staff are ready to assist you with first-class hospitality. Whether you need restaurant reservations, theatre tickets, directions around the city or even an extra pillow, our friendly concierge team will ensure your stay exceeds all expectations.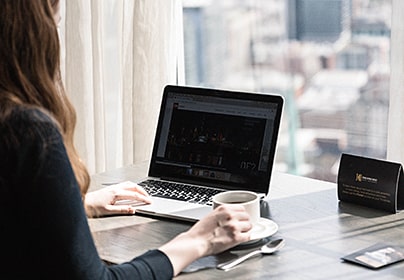 Internet Access
Both high-speed wired and wireless Internet access is available in all guestrooms and complimentary one-hour Wi-Fi access is available in our lobby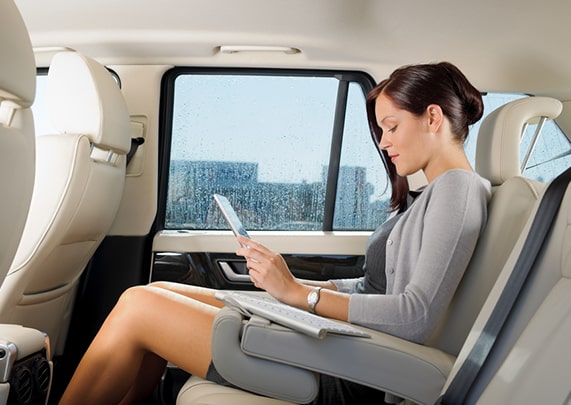 Private Limousine Services
We offer private limousine pick-up and drop-off (additional fee) to Pearson International Airport for our guests. Please contact us at 1-866-470-5464 and a member of our Service Team will be happy to take care of the arrangements for you.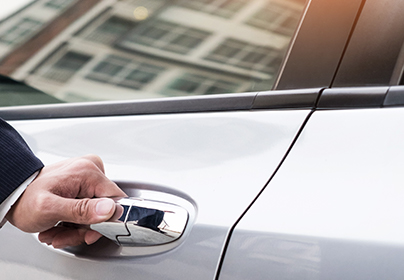 Valet Parking
Daily valet parking, with in and out privileges, is available for hotel guests and visitors at the following parking rates:
$49 + tax overnight (with in/out privileges), valid until check-out time of 11am.
$35 + tax 3-hour visitor rate 8:00 AM – 4:00 PM
(no in/out privileges), maximum of 3 hours.
$5 each additional hour. Overnight rate applies after 7:00 PM.
Our on-site parking facility is situated at the hotel's Melinda Street entrance and is available on a first-come, first-served basis. Please be advised that due to physical limitations, we are unable to accommodate over-sized vehicles. For further details please contact our reservations department at 1-866-470-5464.
Electric Vehicle Charging Stations
As part of our green initiatives, One King West is pleased to offer charging stations for electric vehicles. There are two Tesla Connectors (80A) and one universal charger (40A), available on site (patrons only). Please contact our Concierge for more information.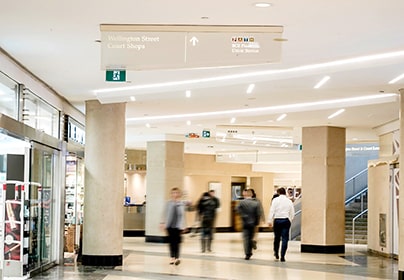 Direct Access to Toronto's P.A.T.H and TTC
One King West is connected directly to Toronto's PATH, an underground downtown walkway linking 27 kilometres of shopping, services, entertainment, and office towers. Toronto's King Subway station entrance is also steps away from the hotel entrance.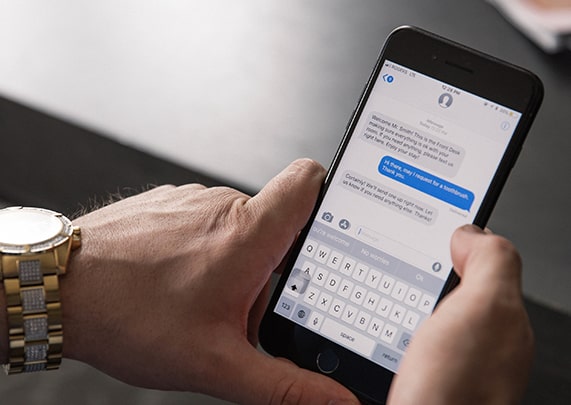 Direct Texting
To simplify communication for One King West Hotel & Residence clients and event planners, you can now send texts directly to our dedicated Banquet Manager when additional necessities are required with the help of our in-house messaging system (Zingle).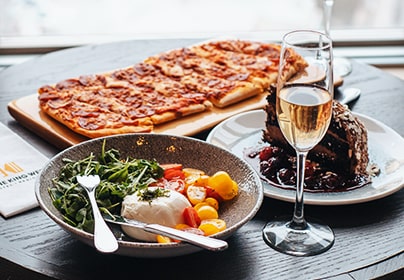 In-Room Dining
Relax and enjoy an intimate dining experience in the comfort and privacy of your own room. Whether you crave a full meal or a light snack, our culinary team will be happy to prepare a variety of mouth-watering bites that will satisfy any palate.
Amenities Menu
New to One King West Hotel & Residence hotel guests, pre-order from our Amenity Menu crafted by Executive Chef Akshay. The extensive selection of delicious offerings is guaranteed to make your stay with us even more memorable.
Amenity Guide 2021
PRE-ORDER NOW