Begin and end your day at the Daily Ritual Cafe. Whether you are looking for a freshly brewed coffee and breakfast to begin your day, picking up lunch and a fresh juice while on the go or meeting a friend for a midday glass of wine and charcuterie — our cafe has it all.
A curated selection of grocery items will also be available to pick up on your way home or enjoy in-suite during your stay.
Daily Ritual Cafe is located at 1 King St. West at the corner of Yonge Street — steps from the King Street subway station and is accessible for guests through the lobby of One King West Hotel & Residence.
What's your daily ritual?
Phone Number: (416) 548-8181
HOURS
Monday - Friday: 7:00am to 5:00pm
Weekends and Public Holiday's: 8:00am to 1:00pm
upmarket bistro fare
Teller's Bistro & Bar
Step through the door and back in time as you enter our vibrant restaurant and bar which brings over 100 years of history to life… Nestled within our Ontario Heritage hotel in the heart of downtown Toronto, Teller's Bistro and Bar is your home for after-work fun, warm hospitality and creative, gourmet meals available for both dine-in or take-out.
The Teller's Bistro & Bar not only incorporates historical pieces, such as the original Dominion Bank's teller wickets into the design, but also ensures a comfortable and safe dining experience with enhanced cleanliness and safety measures in place.
Join us at Teller's Bistro & Bar for gourmet cuisine, exquisite cocktails, and exceptional service.
(416) 548-8100
HOURS
Open daily from 12:00pm to 1:00am
Lunch menu available from 12:00pm to 2:00pm
Lounge menu available from 2:00pm to 4:00pm and 10:30pm to 1:00am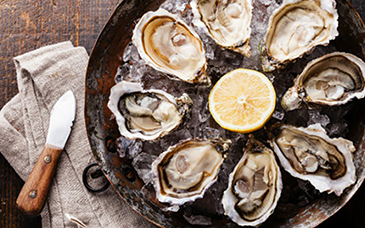 Raw Bar Thursday's
Seafood, wine, and live music make Teller's the place to be every Thursday evening from 5:30pm-9:30pm. Fresh oysters, shrimp cocktail, and other delectable seafood items are on the menu, while local Toronto-based artists supply the vibe.

*Oysters available while quantities last.
BOOK A RESERVATION
Great cuisine in your suite
In-Room Dining
Spoil yourself by relaxing and enjoying an intimate dining experience in the comfort and privacy of your suite, or order your favourite dishes by calling 416-548-8242 today! Our extensive selection of full meal menus or a light snack is certain to satisfy any craving.
HOURS
Available daily from 5:00pm to 6:00am
Dinner Menu available from 5:00pm to 10:30pm
Late Night Menu available from 10:30pm to 6:00am
IN-ROOM DINING MENU
make your stay even more special
Amenities Menu
One King West Hotel & Residence hotel guests can pre-order from our Amenity Menu. Our extensive selection of delicious offerings is guaranteed to make your stay with us even more memorable.
One king west hotel & residence
Catering
From elaborate to simple; from full healthy meal service to quick nutrition breaks; our Catering Team can meet your group's food and beverage needs.