Click Here to receive our best rate guarantee & free wireless Internet
Christmas Dinner in Toronto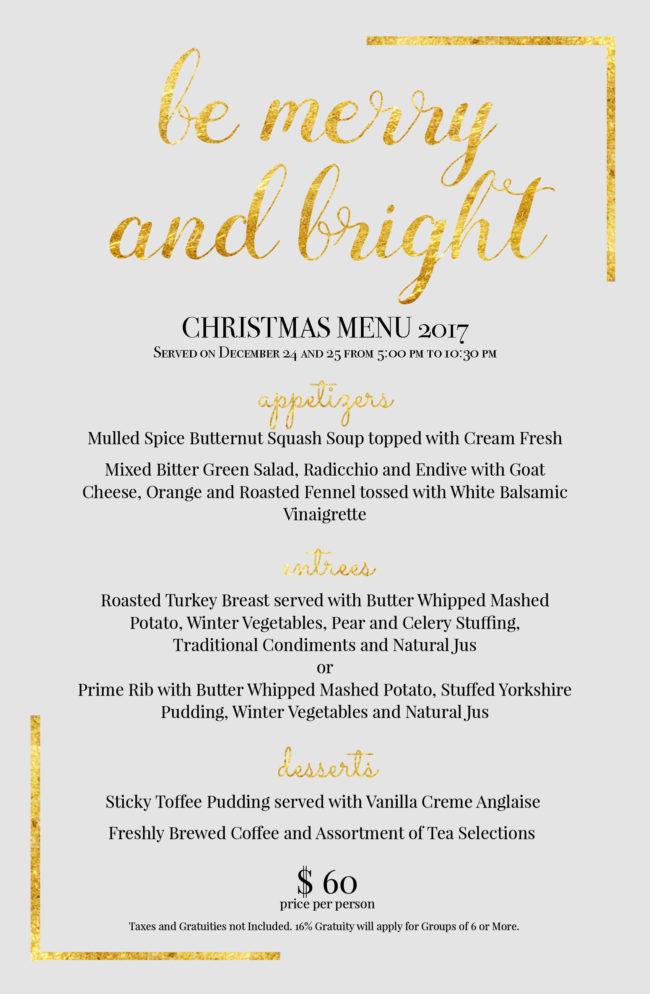 'Tis the season for eating, spending time with family, but mostly eating… We are firm believers in being able to relax and really enjoy those couple days of Christmas without the hassle of cooking. That's why we've created a four-course prix fixe dinner for both Christmas Eve and Christmas so instead of shedding blood, sweat and tears over preparing dinner for your loved ones, come dine with us!
Christmas dinner in Toronto has never been better. Not only does Teller's Bar offer a historically charming and festive atmosphere, it is also in the heart of downtown Toronto, making it easily accessible from every which direction. So if you have friends and family coming from all over the city, or possibly the province, they'll be quite pleased to know that Teller's Bar is steps away from TTC's King Subway Station, but also about a 5 minute walk from Union Station.
In addition to the impeccable service, the dishes of this Christmas dinner in Toronto are beyond comparison. From the perfectly roasted Turkey Breast, to the melt-in-your-mouth Sticky Toffee Pudding, you and your guests will be wondering why you didn't think of doing this sooner.
With the holidays fast approaching, we suggest making your reservations for this incredible dinner ASAP! Both our Christmas Eve and Christmas dinners in Toronto are popular ones so make sure you get your table before it's too late.
Call 416-548-8100 or visit http://www.tellers.bar/  to make a reservation!