Click Here to receive our best rate guarantee & free wireless Internet
Dinner with Akshay: Spaghetti & Meatballs in a Napolitana Sauce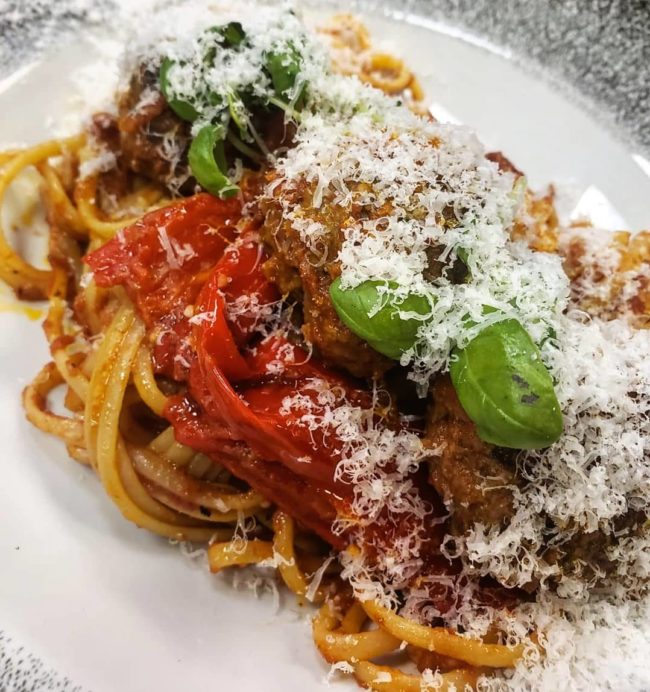 Spaghetti & Meatballs in a Napolitana Sauce
You can never go wrong with a classic Spaghetti and Meatballs recipe, especially when it's prepared from scratch with homemade Napolitana Sauce! As his daughter's favourite meal, this comfort dish is one that Chef Akshay's enjoys to cook the most for his loved ones. And he's especially excited to share this in hopes that you'll enjoy cooking it for your family just as much! Scroll down for the full recipe and if you have any questions or feedback, visit the Facebook or Instagram posts (@onekingwest) to leave a comment! #StayHomeWithOneKingWest
Serves 4-5 | Prep Time: 30 Mins | Total Time: 45 – 55 Mins
WHAT YOU'LL NEED
For the Napolitana Sauce:
1 tbsp. olive oil
1 garlic clove, roughly chopped
½ white onion, finely diced
1 Banana Pepper or Finger Hot Chilli (optional)
2 tbsp. salt
¼ cup white wine
660ml peeled, canned tomatoes
5 fresh basil leaves, roughly torn
For the Meatballs:
1 slide of white bread, roughly torn
½ cup milk
½ cup water
2 tbsp. olive oil
1lb. lean ground beef
½ cup parsley, finely chopped
1 whole egg
1 garlic clove, thinly sliced
1 cup Parmesan, grated
1 tbsp. of salt
1 tbsp. olive oil
1 cup of vegetable or chicken stock
For the Pasta:
5 litres of water
2 cups salt
250 grams of spaghetti
1 tsp. olive oil
2 tbsp. butter
Basil leaves and grated Parmesan for garnish
HOW TO PREPARE (step-by-step video demonstration is posted on social media, here):
For the sauce, heat olive oil over high heat in a large sauce pan. Add onion, garlic and salt. Sauté until golden brown.
Once golden brown, add one whole chilli if desired.
Add white wine and reduce.
Squeeze the tomatoes by hand in a bowl. Add the tomatoes to the pan after the wine is reduced.
Simmer for 25 to 30 minutes and add basil in the last 5 minutes. When oil is floating on the top, the sauce is ready.
For the meatballs, soak the roughly torn bread in ½ cup of milk and water.
Combine lean ground beef, 2 tbsp. olive oil, garlic, chopped parsley, egg, Parmesan, 1 tbsp. salt and mix.
Squeeze the bread to drain all of the liquid and mix with the meatball mixture.
Shape the mixture into your preferred meatball size and set aside.
Use the same pan as Napolitana Sauce and add 1 tbsp. olive oil. Sear the meatballs.
Once golden brown, add veggie or chicken stock and add the Napolitana sauce and let simmer until fully cooked.
For the pasta, boil 5 litres of water in a large pot and add 2 cups of salt. When the water is boiling, add pasta.
Cook for about 2 ½ minutes for al dente or longer for preferred texture. Drain and transfer to a pan with 1 tsp. olive oil and butter.
Add the Napolitana Sauce and cook for 1 minute. Taste to see if more seasoning is needed.
Plate the spaghetti in a bowl and add meatballs on top.
Garnish with basil leaves and grated Parmesan.
Top Tip: Use Pomodoro Pelati Tomatoes as they have a natural sweetness and provide a delicious flavour for the sauce.