Click Here to receive our best rate guarantee & free wireless Internet
Toronto Thanksgiving Takeout Menu
Why cook…when One King West can cook for you!
Although Thanksgiving 2020 is going to look a little bit different this year, we are excited to share with you our Thanksgiving Takeout Menu. Teller's Bar has created the most delicious menu that you can enjoy in the comfort of your own home. This three-course meal includes Roasted Kabocha Squash Soup, Turkey Roulade (with all the fixings), Whole Roasted Prime Rib 10oz (for an additional $16) and Mango Coconut Cranberry Cheesecake. We also will be offering 1/2 price bottles of wine on a selected variety.
To place your order, please call 416-548-8100 or email elsworth.hayes@onekingwest.com
Find the full, mouth-watering menu below: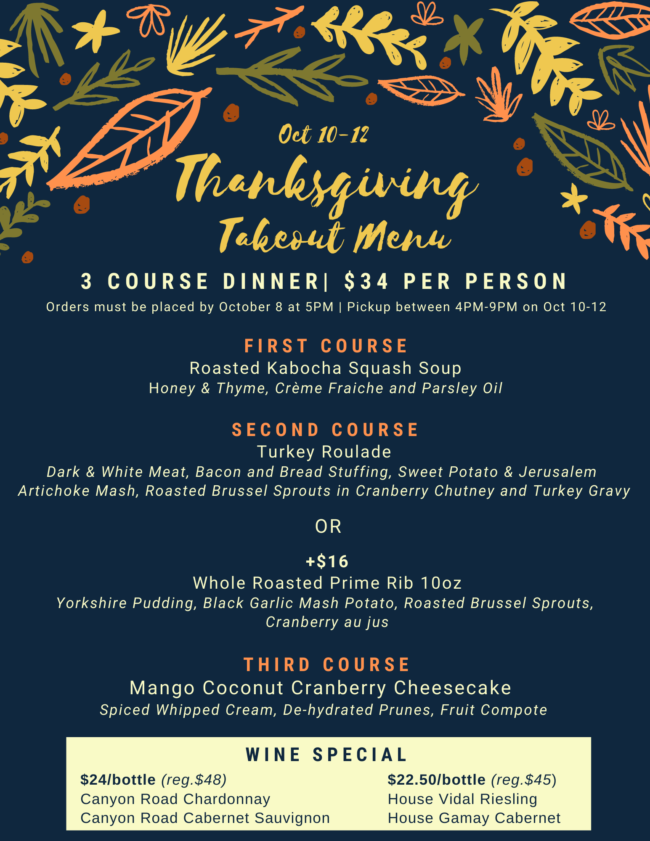 Please note that all orders must be placed by October 8 at 5pm. Orders can be picked up from October 10 to 12 from 4pm – 9pm.