We're firm believers in treating yourself or a special someone while enjoying a visit to our downtown Toronto hotel. That's why Executive Chef Sevilla has created an extensive food and beverage Amenity Menu. Our goal is to provide guests with the opportunity to elevate their experience, ensuring a memorable stay by engaging all five senses no matter the occasion.
Sweet Celebration
Whether you're celebrating an anniversary, birthday or are just in the mood to be spoiled, there are delicious options to select. Although we must say that it may be a difficult decision… Choose between the decadent Chocolate Strawberries, Mini Cupcakes, a Bag of Macarons and Mary's Authentic Brazilian Chocolate Brigadeiros. If you'd like to add some bubbly because let's be honest, why wouldn't you, you have your choice between our Anniversary Celebration or Birthday Celebration package. But don't let their names throw you off because these items are appropriate for any occasion – even if it's just to stay in and watch TV all evening long!
Game Day Eats
As we're a downtown Toronto hotel near Scotiabank Arena and Rogers Centre, we often welcome guests heading to hockey, basketball or Blue Jays games, as well as concerts. Ahead of these events, it's always nice to take time to enjoy the modern, home-inspired suites with some cold beers and salty snacks. If this sounds like the perfect treat, you'll be interested in our Trunk O Beers or Beer Bites. Our Beer Bites amenity includes two local craft beers, house-made kettle chips, pretzels, and popcorn – the perfect tasty eats before a sporting or music event!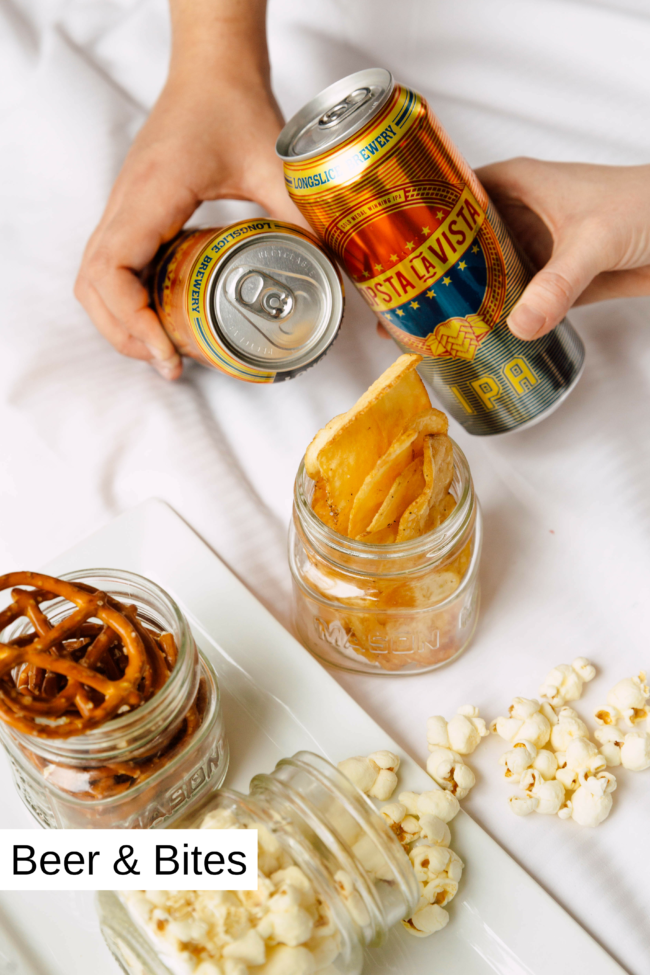 Fresh & Convenient Fuel
Although this menu includes more than just lavish treats, it also includes items that are ideal to maintain a healthy lifestyle and fit into a busy schedule when you're on the go. Being a hotel in the heart of Toronto's Financial District, we attract many corporate travelers who are spending their days in meetings and conferences and may not have time to stop for breakfast or wholesome snacks to keep them going. Keeping this in mind, our team crafted some options, including our Seasonal Sliced Fruit Plate, Whole Fruit Basket and On The Go. Together, two pieces of whole seasonal fruit, a protein bar, a granola bar and two bottles of water ensure the fuel you need to get you through a hectic workday.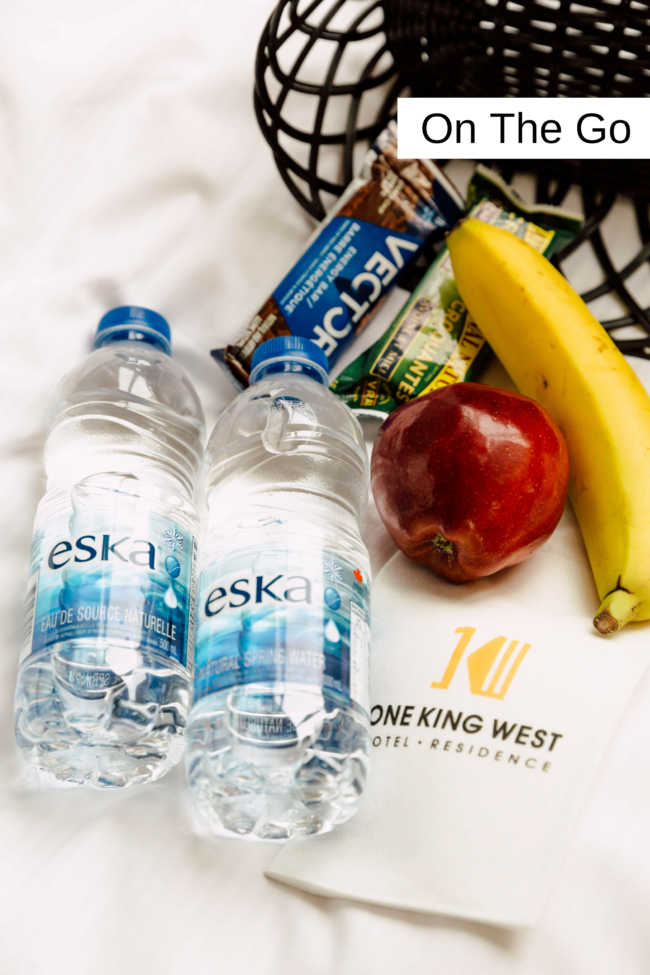 Satisfy Your Cheese Cravings
If you're looking for a hearty, yet scrumptious snack to savor while enjoying a luxurious stay in downtown Toronto, there are a selection of meat and cheese plates that are calling your name. Between the Globally Inspired Cheese Plate, the Charcuterie and the Cheese & Charcuterie, your cheese cravings will be satisfied. These plates are the perfect addition to ensure a spectacular and unforgettable stay as you look out onto Toronto's skyline from the comfort of your suite.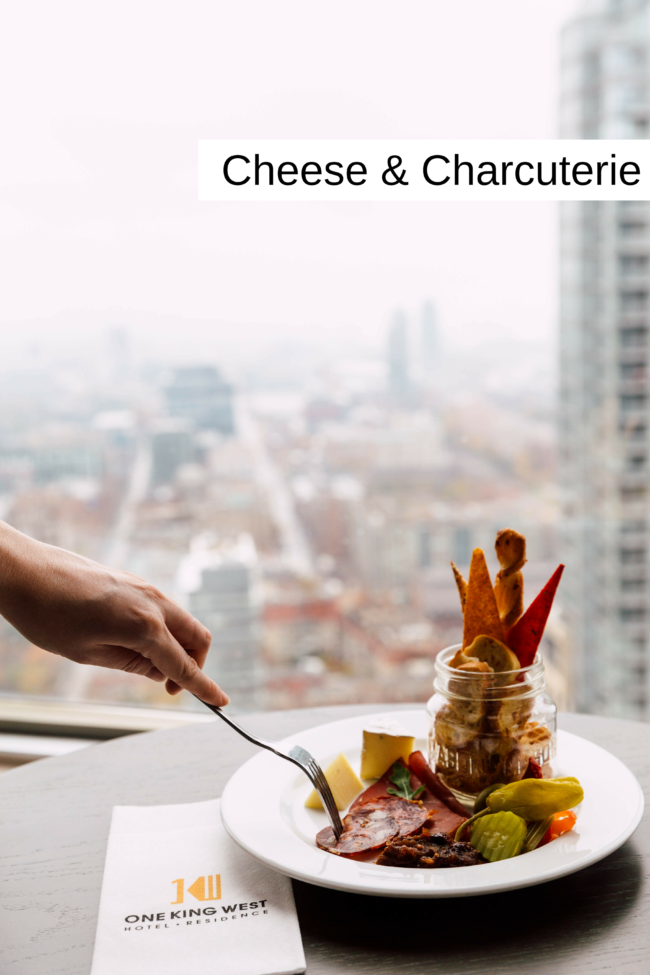 Ahead of your stay, don't forget about these details to ensure you get exactly what you want:
Some menu items require a minimum of 24 hours notice while a 48-hour notice is required for cake orders. Amenities may contain nuts. Please inquire when placing your order. All order are subject to a $5 service fee, 15% gratuity, and 13% HST. Please note, ordered items cannot be delivered before 5:30 pm.
TO PLACE YOUR ORDER, PLEASE CONTACT IN-ROOM DINING at 416.548.8136 OR EMAIL amenities@onekingwest.com