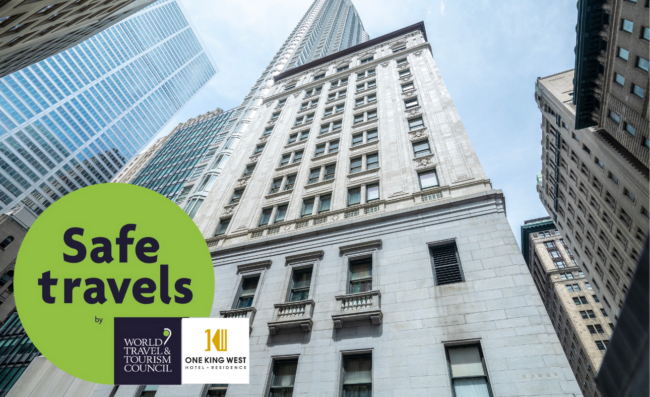 As the COVID-19 situation rapidly evolves, rest assured that our hotel management team continues to follow the advice and guidance of leading health agencies and governments, taking the necessary steps to maintain a safe environment for our staff, residents and hotel guests. 
– All "high-touch" areas are treated with EPS rated hospital grade disinfectant/sanitizer using Electrostatic Sprayers (this includes, but is not limited to, guest room key cards, elevator doors and buttons, door handles, locks and latches, light switches, desk surfaces, telephones, television remote controls, bathroom fixture handles, etc)
– Please be advised that due to the newly imposed City of Toronto by-law no. 541-2020, all persons entering or remaining in One King West public areas, are required to wear a mask or face covering at all times. All masks or face coverings must cover the nose, mouth and chin.
– Protective barriers have been installed on our Front Desk and Valet Desk.
– Hand sanitizer is available in the common areas and all elevators for your use.
– Our staff are trained in preventing the spread of germs.
– Hygiene and cleanliness remain our top priority throughout every facet of our operations.
– No Hotel personnel will enter a guest's room during their stay without permission.
– Regular training is provided to hotel associates highlighting the latest safety and cleanliness guidance.
– Social-distancing measures have been implemented in all public, event and back-of-house areas of the hotel.
– Take a breath of clean air in our rooms, restaurants and public areas which are fitted with individual air-conditioning ventilation. Engineering protocols have been adapted to include more frequent cleaning and inspection of air-conditioning units.
– Our imagination in culinary arts is parallel to our desire for crafting a safe dining experience. We adhere to the seven principles of HACCP, the internationally recognised hallmark of excellence for food preparation and hygiene. All dry and fresh produce are disinfected and packed outside the kitchen before being stored to avoid contamination.
– All guests and visitors to One King West must complete a COVID-19 Self-Assessment Questionnaire. Based on the information provided in the questionnaire, individuals who wish to gain access to One King West for the purpose of self-isolating will be denied entry, regardless of whether they have a reservation and/or are visiting a resident in the building.
In addition to the above, we continue to take the necessary steps to ensure the safety and well-being of the One King West community. As a result, we have updated our COVID-19 Safety Protocol, which includes enhanced social distancing measures and adjusted service levels to help slow down the spread of this virus. For complete details, please click on the following link:
COVID-19 SAFETY PROTOCOL 
Updated Monday, September 14, 2020