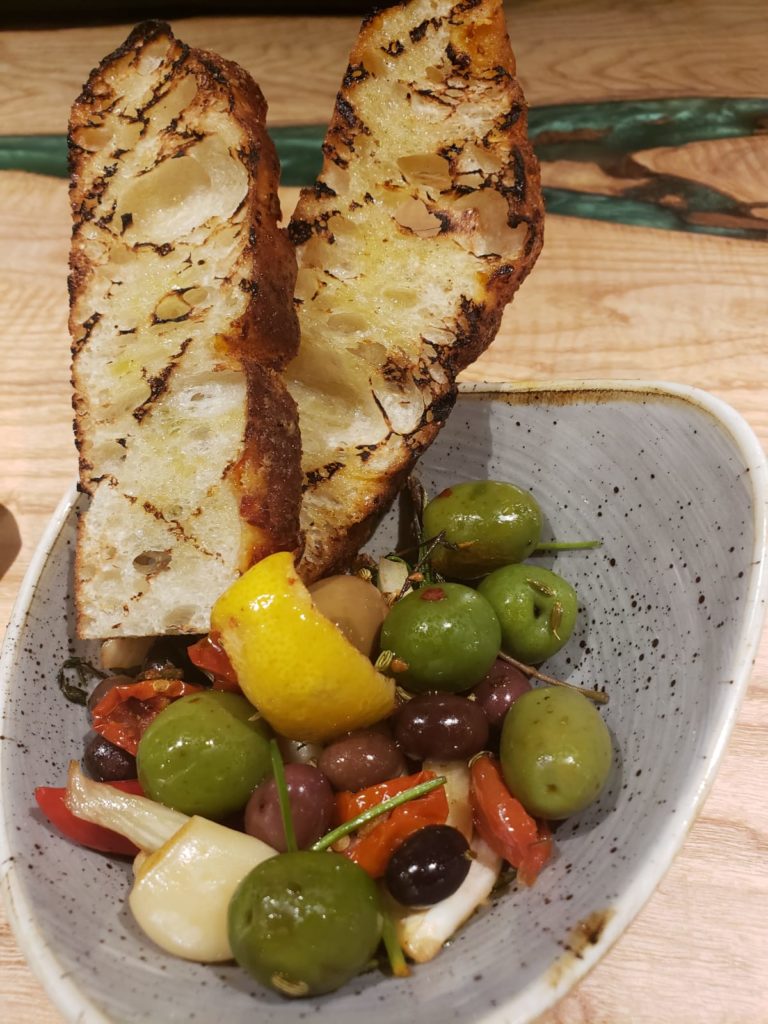 This week, Chef Akshay is teaching us how to marinate olives. This recipe is a delicious option to serve as a pre-dinner snack or as the star on your charcuterie plate. We're showing you how to make a large batch of our house olives, but you can always scale down the recipe if you're looking for a smaller snack or save the olives in smaller jars to save for later.  Scroll down for our house olives recipe and if you have any questions or feedback, visit our Instagram pages to leave a comment.
House Olives
Prep Time: 10 minutes | Total Time: 20 minutes | Serves: 20
WHAT YOU WILL NEED:
1 Jar Barese Olives Green (large)
1 Jar Green Castelvetrano
1 Jar Green Cerignola
1 Jar Gaeta Olives
1 Jar Kalamata Olive
1 Jar Red Cerignola
1 Head Fresh Fennel
20 Grams Fresh Bay Leaves
300 Grams Garlic
2 Cups Fennel Seeds
Lemon Rinds from 4 Lemons
Orange Rinds from 4 Oranges
1 Lb Red Finger Chilly
1 Bunch of Thyme
1 Bunch Rosemary
2 Litres EVOO
½ cup Red Chilli Flakes
HOW TO PREPARE (FIND A STEP-BY-STEP VIDEO DEMONSTRATION ON OUR SOCIAL MEDIA CHANNELS):
Drain all olives into one perforated pan and leave till all water has drained out.
Peel orange rind, lemon rind and set aside.
Heat the EVOO to a warm temperature and set it aside. Add garlic and half-cut finger hot chilli and leave inside for 5 – 10 mins, do not let It cook, we are only tempering it.
Drain the garlic and chillies.
Add fennel seeds, and fresh fennel in the olive oil and thyme and rosemary and pour over the olives.
Add the garlic and chilli in the olives as well.
Add the lemon & orange rind and red chilli flakes as well.
Mix all ingredients well. And store in sterilized mason jars and seal properly. Store at room temperature or cold room.
Warm-up and serve with some grilled bread.
Click here to view more Dinner with Akshay recipes or order house olives for takeout from Teller's Bistro & Bar here!