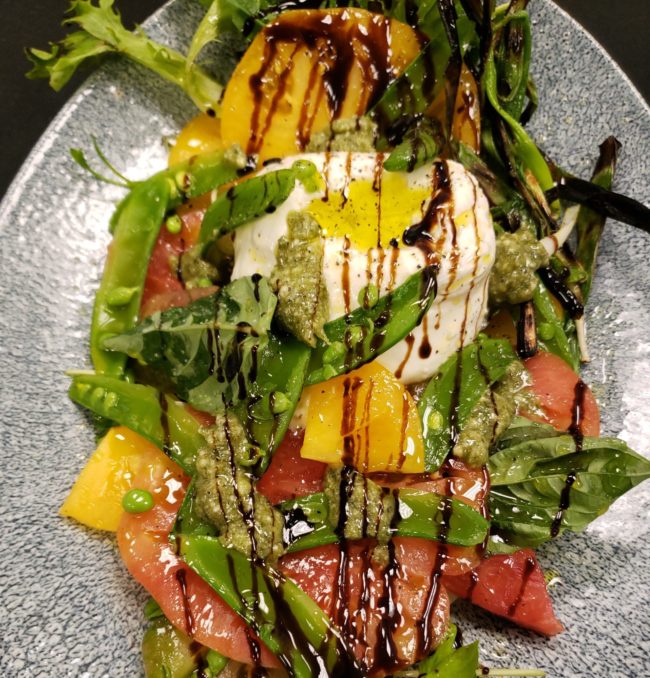 Spring Burrata Salad
One King West's Executive Chef Akshay Shastry is making the most of this beautiful Spring weather and is treating our palates to a fresh and delicious dish… Spring Burrata Salad. This recipe choice won't come as a surprise to those who know how much we love our Burrata! Scroll down for the full recipe and if you have any questions or feedback, visit the Facebook or Instagram posts (@onekingwest) to leave a comment! #StayHomeWithOneKingWest
Serves 2-4 | Prep Time: 20 Mins | Total Time: 30 Mins
WHAT YOU'LL NEED
For the Salad:
2 pieces of Burrata
3 tri-colour heirloom tomatoes (1 tomato per colour)
50 grams Spring greens
10 pieces sugar snap peas
1 bunch Spring onions/Ramps
Handful of arugula
Drizzles of olive oil as instructed
For the Pesto:
2 bunches basil
1 garlic clove
10 tbsp. olive oil
2 tbsp. grated Grana Padano
20 grams black walnuts
Juice of 1 lemon
Sea salt to season
For the Topping:
Drizzle of vincotto (reduction of non-fermented grapes)
Sea salt to season
Black pepper to season
HOW TO PREPARE:
1. De-stem and wash basil leaves, dry in a paper towel.
2. Blanch sugar snap peas and immediately submerge in ice water to retain colour.
3. Dress spring onions/ramps with olive oil, sea salt and grill. Set aside.
4. For the pesto, combine basil leaves, 1 garlic clove and chopped Ramp stem, 8 tbsp olive oil, grated Grana Padano, toasted black walnuts & a hint of lemon juice in food processor and blend until a coarse texture is achieved. Set aside.
5. Tear the Burrata in 2 pcs, drizzle olive oil and sea salt. Set aside.
6. Wash and cut heirloom tomatoes into slices, drizzle with olive oil and sea salt, toss. Set aside.
7. Toss sugar snap peas, arugula & grilled Spring onions/ramps in olive oil and freshly squeezed lemon juice with sea salt and cracked black pepper. Set aside.
8. Plate the Burrata, heirloom tomatoes and snap pea arugula mixture together. Play around with plating!
9. Drizzle olive oil, basil pesto, sprinkle sea salt and freshly cracked black pepper on top. Tear 3–4 basil leaves to spread on the plate. To finish, drizzle a few drops of Vincotto.
10. Serve and enjoy!
Top Tip: Ramps are available for a very short period in Spring – try to pickle the last of the season's ramps to be used in the Winter months. Pickle and seal in a mason jar, store in a cool area.