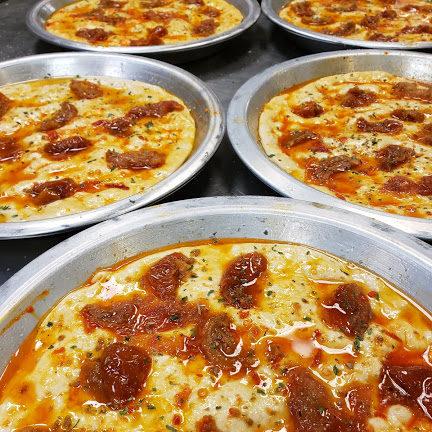 Sun-Dried Tomato Focaccia
We hear many of you have taken to baking your own bread while staying home, so Executive Chef Akshay Shastry has a tasty recipe to add to your repertoire… This week on Dinner With Akshay, we're bringing you a scrumptious Sun-Dried Tomato Focaccia! Scroll down for the full recipe and if you have any questions or feedback, visit the Facebook or Instagram posts (@onekingwest) to leave a comment! #StayHomeWithOneKingWest
Serves 6-10 | Prep Time: 1 Hour, 15 Mins (including 45-minute rest period) | Total Time: 26 Hours and 40 Mins (including 24-hour rest period)
WHAT YOU'LL NEED
1 tbsp. active dry yeast
½ cup granulated sugar
½ cup extra virgin olive oil
2.75kgs all purpose flour
½ cup kosher salt
Spoonful of semolina
4 tbsp. grated Grana Padano
2 tbsp. sundried tomatoes
1 tsp. oregano
1 tsp. dehydrated parsley
HOW TO PREPARE:
1. Dissolve ½ tbsp. dry active yeast in 150ml warm water with a good pinch of sugar in a small bowl.
2. Cover and let sit until slightly bubbly. A few minutes in a warm location in the kitchen.
3. Meanwhile, put 1.75L warm water in the Planetary Mixer and add ½ cup granulated sugar to the mixing bowl along with the yeast mixture. If a Planetary Mixer is not available to you, use a large mixing bowl and whisk instead.
4. Rinse the yeast bowl with an additional 50 ml water and add. Whisk all together to dissolve the sugar.
5. Add ½ cup extra virgin olive oil, approximately 2.75kg all purpose flour and ½ cup Kosher salt to the mixing bowl.
6. Start mixing on the slow setting with the dough hook. Gradually mix in another 200 grams of all purpose flour if required.
7. When the flour is absorbed, increase the speed so that the dough slaps roughly against the sides of the mixing bowl.
8. When sufficient flour is added, the dough should "ball up" around the dough hook, it should be soft with little to no stickiness.
9. Remove the dough from the bowl and place on a floured work surface.
10. Make into a large circle, tucking edges underneath so that the dough has a smooth surface all around.
11. Rub the entire surface of the dough with olive oil, cover with cling wrap or a clean plastic bag, let proof for 1 hour or so in a warm location until roughly doubled in bulk.
12. Divide dough into smaller portions and place on baking sheet with parchment paper dusted with semolina.
13. Brush the dough portions with a mix of olive oil, dehydrated parsley & oregano.
14. Top the dough with sundried tomatoes & grated Grana Padano (or whatever you like) and press down.
15. Cover the trays with parchment and wrap well with cling wrap or clean plastic bags. Place in the refrigerator for at least 24 hours to allow for slow fermentation.
16. Let the dough come to room temperature (1 hour or more). Proof in the proofer.
17. Bake at 325°F for 20 to 25 minutes, while turning the tray around every 10 minutes.
Top Tip: If you want to try out different toppings, rosemary, olives and garlic make for some tasty additions!