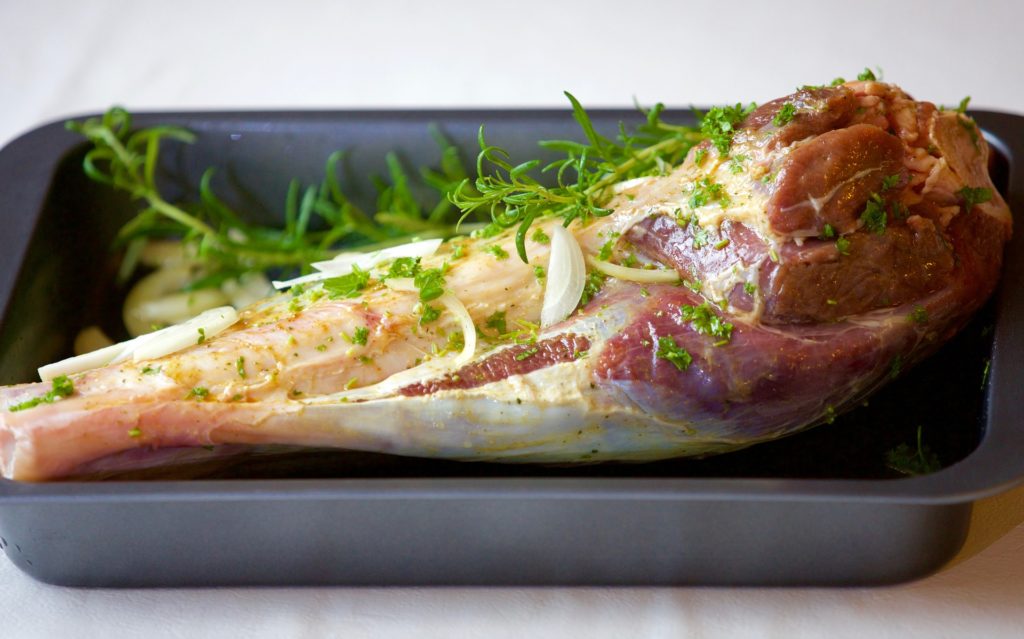 This week on Dinner with Akshay, Chef Akshay is teaching us how to prepare Lamb Leg Roast. This deliciously tender entree is perfect for a Sunday night family dinner, best served with roasted vegetables. Scroll down for this easy recipe and if you have any questions or feedback, visit our Instagram page.
Lamb Leg Roast
Prep Time: 25 minutes | Total Time: 2.5 hours | Serves: 6-8
WHAT YOU WILL NEED:
6-8 Lbs – Lamb Leg (Bone In)
1 Bunch – Rosemary
2 Onions
2 Carrots
6 Celery Stalks
1 Bunch of Thyme
3 Litres – White Wine
2 Cups – Fresh Lemon Juice
10 Cloves of Garlic
2 Litres – Lamb Stock
Salt to Taste
HOW TO PREPARE (FIND A STEP-BY-STEP VIDEO DEMONSTRATION ON OUR SOCIAL MEDIA CHANNELS):
1. Wash and dry the lamb leg. Score in a criss-cross pattern with a knife. Season well and set aside.
2. In a blender, add white wine, rosemary, garlic, half of the onions, carrots and celery and blend to form a smooth paste and pour it over the lamb.
3. Add the remaining onions, carrots, and celery after sautéing in the lamb.
4. Ensure the lamb is covered in the liquid. Cover with parchment and foil and cook at 350°F for 3 hours or overnight.
5. Remove from the oven and let cool down. Take the meat out of the liquid and set it aside. Let the sauce cool down and all the fat will form on top. Scoop off the fat and discard.
6. In a pot reduce the sauce and adjust thickness.
7. Put the lamb in a roasting pan and back in the oven to make it crispy at 300°F for 30 – 45 mins, ensure to temp the centre of the meat to the required temperature. Baste with the sauces as required.
8. Serve the lamb with the sauce, potatoes, and veggies.
Click here to view more Dinner with Akshay recipes!