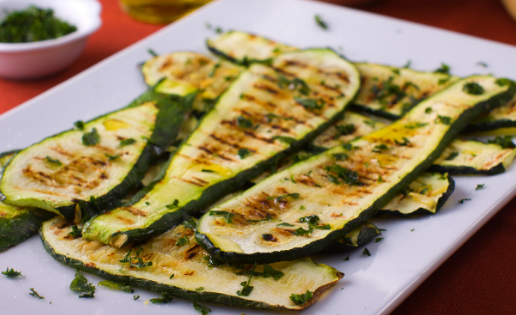 Grilled & Marinated Zucchini
As we get into peak garden season, we're looking for any inspiration to use the fresh produce from our own gardens at home. This Grilled and Marinated Zucchini recipe from Chef Akshay is the perfect dish to recreate if you're craving seasonal, local, and light flavours! Scroll down for the full recipe and if you have any questions or feedback, visit the Facebook or Instagram posts (@onekingwest) to leave a comment.
Serves 2 | Prep Time: 5 minutes | Total Time: 12 hours for draining + 20 minutes
WHAT YOU'LL NEED
1 large yellow zucchini
1 large green zucchini
1 garlic clove, finely chopped
2 stalks flat Italian parsley, finely chopped
6 basil leaves, finely chopped
3 tbsp. olive oil
3 tbsp. dark balsamic vinegar
1 pinch red chilli flakes
1 pinch dried oregano
Salt to taste
HOW TO PREPARE (FIND A STEP-BY-STEP VIDEO DEMONSTRATION ON SOCIAL MEDIA):
1. Cut the zucchini in half lengthwise and thinly slice on a mandolin.
2. Lay a row of zucchini flat on a pan and lightly sprinkle the layer with salt. Layer another row of zucchini and lightly salt. Repeat these steps until you layer all of the zucchini.
3. Top the layers of zucchini with a heavy weight and leave in the fridge overnight to drain the water out.
4. Carefully drain and press the zucchini the next day. On medium heat, grill them until fully cooked, being careful not to burn them.
5. Allow the grilled vegetables to cool down to room temperature.
6. Marinate with olive oil, balsamic vinegar, fresh parsley and basil, garlic, dry oregano, chilli flakes, and salt.
7. Gently mix the vegetables and ensure the marinade is evenly spread through the vegetables.
8. Pack it into a mason jar or serve guest with some crust bread.
Top Tip: You can top the flatbread with any fresh, seasonal vegetables of your choice!