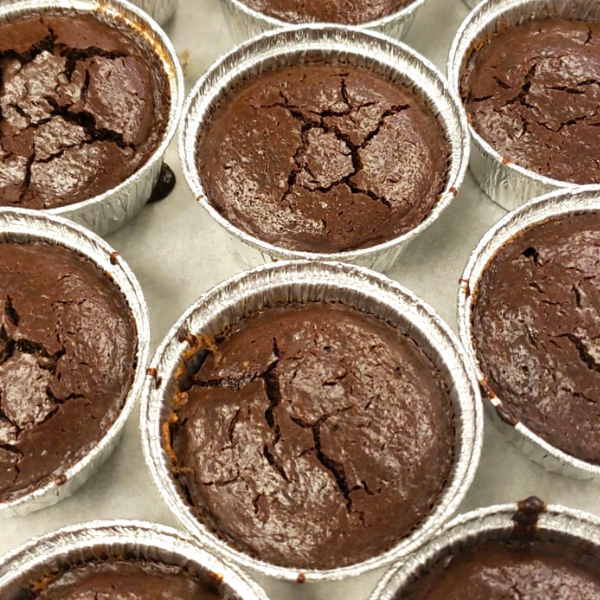 Gluten-Free Brownie
This week on Dinner with Akshay, Chef Akshay teaches us how to make gluten-free brownies. If you are looking for a fudgy, gooey, delicious gluten-free brownie recipe, look no further. Scroll down for the incredibly easy recipe and if you have any questions or feedback, visit our Facebook or Instagram pages to leave a comment.
Prep Time: 10 minutes | Total Time: 50 minutes | Serves: 14
WHAT YOU'LL NEED
447 grams of Callebaut Dark Chocolate
135 Grams of Unsalted Butter
1 cup of water
1/4 cup of white sugar
6 whole eggs
HOW TO PREPARE (FIND A STEP-BY-STEP VIDEO DEMONSTRATION ON OUR SOCIAL MEDIA CHANNELS):
1. Boil butter, sugar, and water in a pot and let it cool down for 1 minute.
2. Add the chocolate to a mixing bowl with the whisk attachment and add the boiled mixture of water, butter, and sugar and let sit for 5 minutes until it cools down.
3. Add six eggs and whisk for a minute or two.
4. Take the desired cups and spray with pam spray and pour the brownie mixture halfway through.
5. Bake at 325 degrees Fahrenheit for 24 minutes. Do not open the oven door.
6. After 25 minutes without opening the oven door, shut the oven down and let ut sit for 15 to 20 minutes.
Chef tip: Enjoy the brownie with an ice-cream, gelato, or decorate with kids at home.