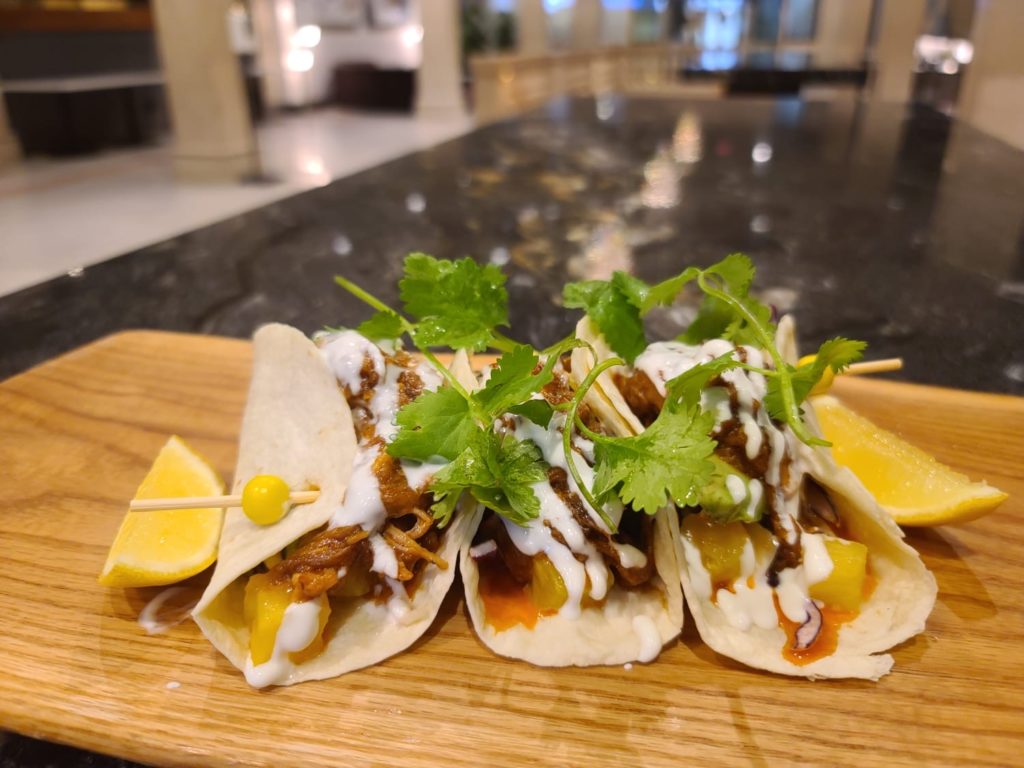 BBQ Pulled Pork Tacos
This week on Dinner with Akshay, Chef Akshay is teaching us how to prepare BBQ Pulled Pork Tacos. These tacos are so tasty! The tangy BBQ pulled pork and sweet coleslaw create an amazing combination of flavours. Scroll down for this must-make recipe and if you have any questions or feedback, visit our Facebook or Instagram pages to leave a comment.
Prep Time: 6 hours | Total Time: 6 hours and 20 minutes | Serves: 2
WHAT YOU WILL NEED:
4 lbs of Boneless Pork Butt
1 bottle of Beer
1 cup of Green & Red Cabbage
6 pcs of Flour Tortilla Shells
2 tbsp. of Cole Slaw Dressing
1 tbsp. of Pineapple (chopped)
1 tbsp. of BBQ Sauce
1 tsp. of Pork Seasoning
1 tsp. of Lime Sour Cream
6 stalks of Cilantro
½ piece of Lemon
Salt to taste
Pork seasoning:
1 tbsp. of Smoked Paprika
1 tsp. of Dry Oregano & Parsley (on each)
Salt to taste.
1 tbsp. of Cracked Black Pepper

HOW TO PREPARE (FIND A STEP-BY-STEP VIDEO DEMONSTRATION ON OUR SOCIAL MEDIA CHANNELS):
1. Wash the pork butt, pour the beer and use the pork seasoning to season the pork. Cover and braise for 4 hours @ 350F. Then let it cool down and then pull the pork apart. Set aside.
2. In a mixing bowl take the cabbage and toss in coleslaw dressing and set aside.
3. In a pan, heat the pork with the liquid from the pork, add BBQ sauce, and heat up.
4. On a flat top warm the taco shells and set them on a chopping board.
5. Equally distribute the coleslaw on the 3 pieces of tacos. Add chopped pineapple.
6. Add 1 wedge of avocado on each shell. Equally distribute the pulled pork.
7. Drizzle lime sour cream, cilantro, and serve with 2 wedges of lemon.
Click here to view more Dinner with Akshay recipes!