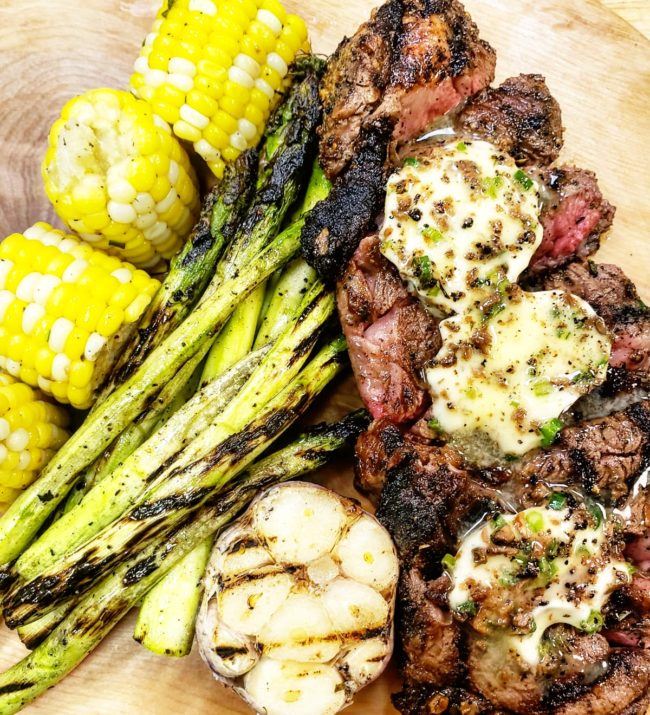 Grilled Rib Eye Steak, Corn on the Cob & Asparagus with Porcini & Garlic Scapes Compound Butter
BBQ season is upon us and what better way to put those grills to use than with some Summer staples, including rib eye steak, corn on the cob and asparagus? For this week's Dinner with Akshay recipe, Chef Akshay is sharing a simple, yet scrumptious dish that we suggest trying for your next family BBQ dinner when the sun is out and shining. You can thank us later! Scroll down for the full recipe and if you have any questions or feedback, visit the Facebook or Instagram posts (@onekingwest) to leave a comment! #StayHomeWithOneKingWest
Serves 1 | Prep Time: 10 minutes | Total Time: 25 minutes
WHAT YOU'LL NEED
12oz Canadian AAA Rib Eye Steak
Olive oil
2 tbsp. dry spice rub
1 tbsp. dry rub spice
1 corn-on-the cob
10 grams porcini butter + slices for steak topping
4 stalks of chives, finely chopped
Juice of 1 lemon
Salt to taste
Coarse ground black pepper to taste
1 bunch of asparagus
½ garlic bulb
Click here for the Dry Spice Rub and Porcini & Garlic Scapes Compound Butter Recipe
HOW TO PREPARE (FIND A STEP-BY-STEP VIDEO DEMONSTRATION ON SOCIAL MEDIA):
1. Rub the steak with enough olive oil to lightly coat and season with the dry spice rub.
2. Take the whole corn on the cob and put it on the grill. Once the corn husk is blackened, remove the corn from the grill, peel and then cut into about 4 even pieces. Then toss with porcini butter, olive oil, chives and lemon juice, salt, and black pepper to taste.
3. For the asparagus, cut the bottom woody part out and peel. Season with olive oil, salt and pepper and set aside.
4. Place the halved garlic bulb face down on the grill and cook for about 2 minutes.
5. Place the asparagus on the grill and let cook for about 2 to 4 minutes.
6. Place the steak on the hot grill. For nice char marks, place on at a 45-degree angle for 40 seconds. Turn to the other side and let cook for another 40 seconds to make a criss-cross pattern.
7. Turn the steak around and repeat the process until it's cooked to your desired temperature.
For medium rare, cook about 3 minutes on both sides. For medium, cook about 3 1/2 minutes on both sides.
8. Let the meat rest so all of the juices are intact and connective tissues rest- about 5 minutes.
9. Garnish the steak with a few slices of the porcini compound butter and rub the slices of butter into the steak with the half-grilled garlic bulb.
10. Thinly slice or as per your liking and serve with grilled asparagus and corn.
Top Tip: When choosing your rib eye steaks, go for the meats with more marbling (white flecks and streaks of fat within the lean sections of meat).