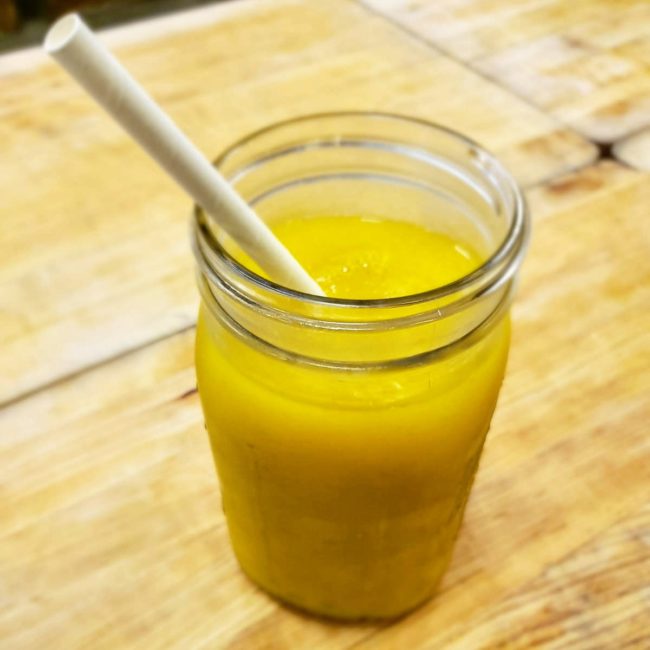 Mango Juice
"My mom always used to make this in the Summer for us kids. Not only is it cool, refreshing and flavourful, it also helps strengthen the immune system and hydrates the body, making it the perfect drink for a hot day." Needless to say, this special family recipe from Chef Akshay is a must-try this Summer. Scroll down for the full recipe and if you have any questions or feedback, visit the Facebook or Instagram posts (@onekingwest) to leave a comment. #StayHomeWithOneKingWest
Serves 4 | Prep Time: 60 minutes | Total Time: 90 minutes
WHAT YOU'LL NEED
7 whole raw and ripe mangoes
½ cup sugar
2 litres + 500ml cold water
1 tbsp. roasted and powdered cumin
Pinch of salt
HOW TO PREPARE (FIND A STEP-BY-STEP VIDEO DEMONSTRATION ON SOCIAL MEDIA):
1. Wash and dry the mangoes. Immerse them in boiling water for about 45 minutes or until the mangoes become discoloured. Remove the mangoes and let cool.
2. Fill a large bowl or pot with 2 litres of cold water. Squeeze the mangoes in the water until they are broken down completely.
3. Pass the liquid through a chinois strainer and let the liquid rest until cooled.
4. Take the cool downed, strained liquid and add sugar, roasted cumin powder and a pinch of salt. Whisk well until it all combines. To achieve the consistency of orange juice, add 500ml of water if necessary.
5. Serve in a mason jar or glass with a reusable straw if available to you. Store in the refrigerator.
Top Tip: Adjust the consistency of the strained liquid so it's not too watery and not too thick at the same time.