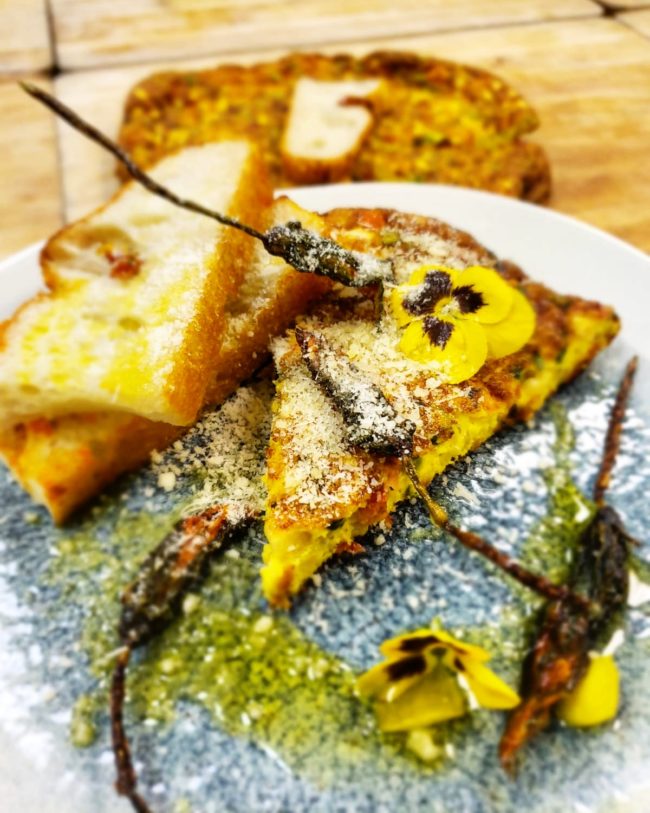 Summer Vegetable Frittata
The ultimate question… Are frittatas a breakfast, lunch or dinner dish? Can we say all of the above?? This Summer Vegetable Frittata is a super fresh and simple recipe that Chef Akshay is sharing for this week's Dinner with Akshay Series. We're loving the local, seasonal ingredients incorporated into this dish, like zucchini and asparagus, and we can't wait for you to try it! Scroll down for the full recipe and if you have any questions or feedback, visit the Facebook or Instagram posts (@onekingwest) to leave a comment. #StayHomeWithOneKingWest
Serves 2-4 | Prep Time: 15 minutes | Total Time: 45 minutes
WHAT YOU'LL NEED
8 eggs, organic if available
½ cup yellow zucchini, finely diced
1 green chilli, finely sliced
½ garlic scape, finely sliced
2 asparagus stalks, finely chopped
½ stalk of fresh tarragon, finely chopped
1 shallot, finely diced
½ cup Parmigiano Reggiano
½ cup whipping heavy cream
Salt to taste
HOW TO PREPARE (FIND A STEP-BY-STEP VIDEO DEMONSTRATION ON SOCIAL MEDIA):
1. Crack the eggs in a large bowl and add the zucchini, green chilli, garlic scapes, asparagus, tarragon, shallots, Reggiano, heavy cream and salt.
2. Mix well for 3 to 4 minutes.
3. Take the dish you would like to bake the frittata in and coat well with cooking spray.
4. Pour the egg mixture into the dish and bake in the oven at 350F for 25 to 30 minutes.
5. Remove the dish from the oven once complete and let cool. You will know it's done when you are able to stick a toothpick in the frittata and it comes out clean.
6. Cut the frittata into wedges and serve with any bread. Traditionally focaccia or a crusty bed pairs best.
7. Optional: garnish with olive oil, Parmiggiano Reggiano, de-hydrated & deep-fried zucchini flowers and some fresh local pansies if they are easily available to you.
Top Tip: Whisk the egg mixture very well to ensure the frittata comes out nice and fluffy after baking!