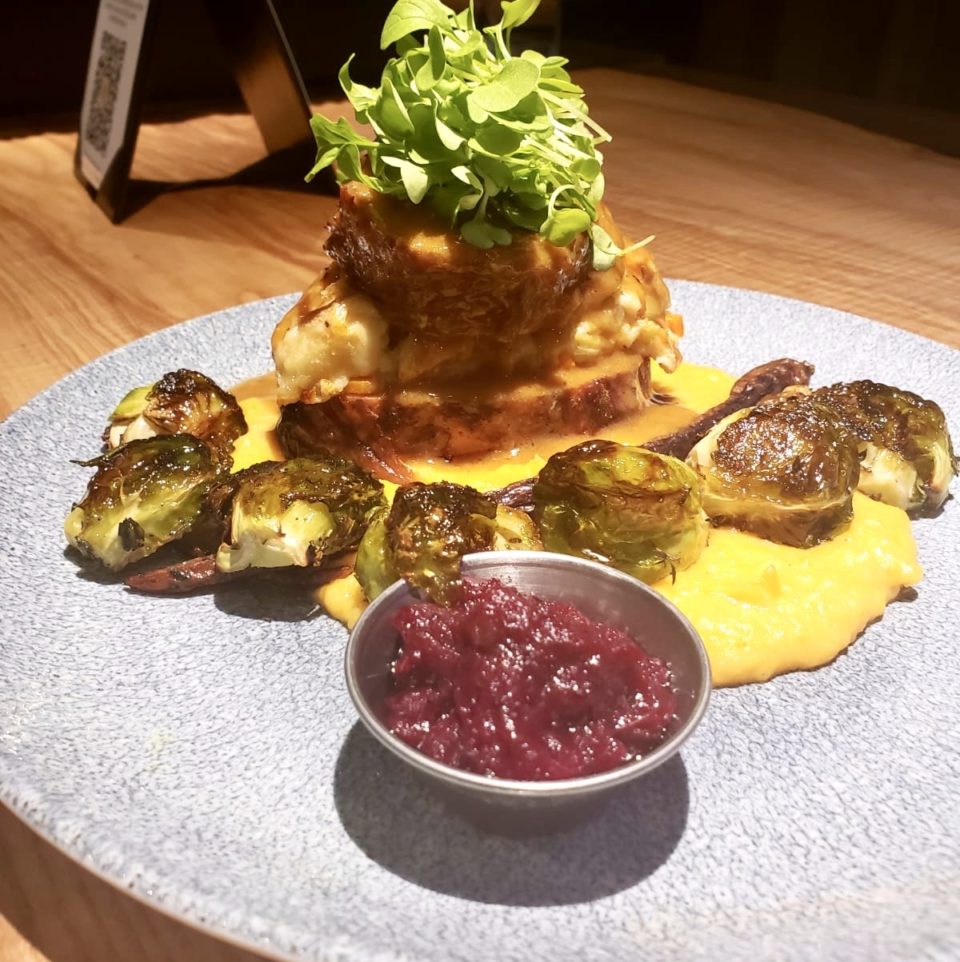 Butter Turkey Roulade
To help spice up your Thanksgiving dinner this weekend, Chef Akshay is bringing you Butter Turkey Roulade. This modern twist on a classic turkey dish will have you wanting seconds, thirds and leftovers! Scroll down for the full recipe and if you have any questions or feedback, visit our Facebook or Instagram posts (@onekingwest) to leave a comment.
Prep Time: 60 minutes | Total Time: 90 minutes
WHAT YOU'LL NEED
1 whole turkey (fully deboned)
3 onions roughly chopped
4 whole garlic cloves
2 carrots peeled and roughly chopped
1/2 head of celery roughly chopped
Butter Stuffing
1lb of unsalted butter
1 tbs. salt
1 tbs. smoked paprika
1 tbs. garlic powder
1 bunch of sage finely chopped
1 bunch of rosemary finely chopped
Spice Mix
2 tbs. salt
1 tsp. paprika
1 tsp. dehydrated oregano
1 tbs. dehydrated parsley
HOW TO PREPARE (FIND A STEP-BY-STEP VIDEO DEMONSTRATION ON SOCIAL MEDIA):
1. Butter Stuffing – Combine all ingredients in a bowl and whisk together (could use a food processor as well). Set aside after mixing well.
2. Spice Mix – Combine all ingredients in a bowl, mix well and set aside.
3. Take the roughly chopped onions, carrots, celery and garlic in a roast pan.
4. Wash all the turkey bones and place over the vegetables in the roasting pan and roast for 25 minutes at 350 degrees Fahrenheit.
5. Take the two turkey breasts, carefully flatten and pound with the help of a steak hammer and a thick plastic bag. Do the same with the thigh meat.
6. Spread the butter and roll the meat and start trussing it with the help of a butcher's twine.
7. Do the same process for both the turkey breast and thigh meat.
8. Pull the roasted bones out and place the turkey in there and cook at 350 degrees Fahrenheit for 25 – 30 minutes.
9. After the turkey is fully cooked, pull it out and carefully take out the 4 pieces of roulade and set aside.
10. Use the vegetables and bones to place in a stockpot and add 2 – 3 liters of water and let simmer.
11. Carefully discard the bones and blend the liquid to form the turkey gravy.
Chef Tip: Let the roulade cool down for a day in the refrigerator before slicing the next day and warm it up. It will hold the shape better this way.