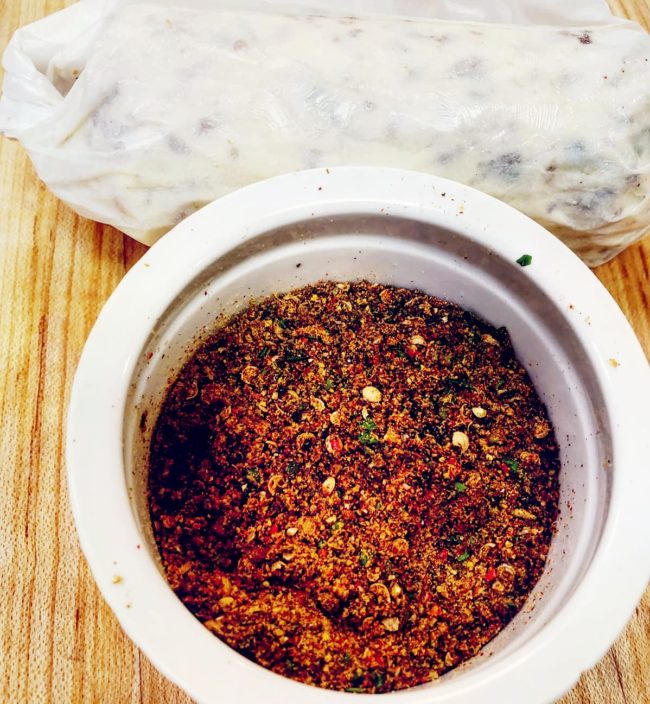 Dry Spice Rub and Porcini & Garlic Scapes Compound Butter
Finding the perfect dry spice rub can be a tall task but once you try Chef Akshay's homemade creation, you'll finally be able to put your search to bed! Seriously, this dry spice rub perfectly complements any cut of meat, and is especially tasty on rib eye steaks… And if you really want to elevate your grilled steak this Summer season, we suggest topping it with this Porcini & Garlic Scapes Compound Butter. Scroll down for the full recipe and if you have any questions or feedback, visit the Facebook or Instagram posts (@onekingwest) to leave a comment! #StayHomeWithOneKingWest
Serves 4 | Prep Time: 10 minutes | Total Time: 20 minutes
WHAT YOU'LL NEED
3 stalks fresh flat parsley
1 stalk rosemary, leaves only
2 stalks thyme, leaves only
25 grams dry porcini mushrooms
1 tsp. black peppercorn
½ tsp. coriander seeds
1 tsp. yellow mustard seeds
1 tsp. celery salt
1 tsp. paprika
1 tsp. pink peppercorns
½ tsp. lemon pepper
2 bay leaves, finely chopped
200 grams unsalted butter, softened
3 stalks garlic scapes
Salt to taste
HOW TO PREPARE (FIND A STEP-BY-STEP VIDEO DEMONSTRATION ON SOCIAL MEDIA):
1. Finely chop parsley, thyme leafs and rosemary and set aside.
2. Soak porcini mushrooms in hot water for 10 to 15 minutes and drain the water. Chop and set aside.
3. Combine all the dry spices in a spice grinder and grind. Transfer to a bowl.
4. Combine the chopped herbs and spices in a bowl and mix well.
5. In a bowl, add the soft butter, garlic scapes and chopped hydrated porcini mushrooms and evenly mix.
6. Take half a sheet of parchment paper and spread the compound butter evenly. Roll to form a cylindrical shape and set it in the fridge.
Top Tip: The compound butter is a great addition to mix with grilled veggies, or perhaps used in a garlic bread recipe for a super flavourful final product!