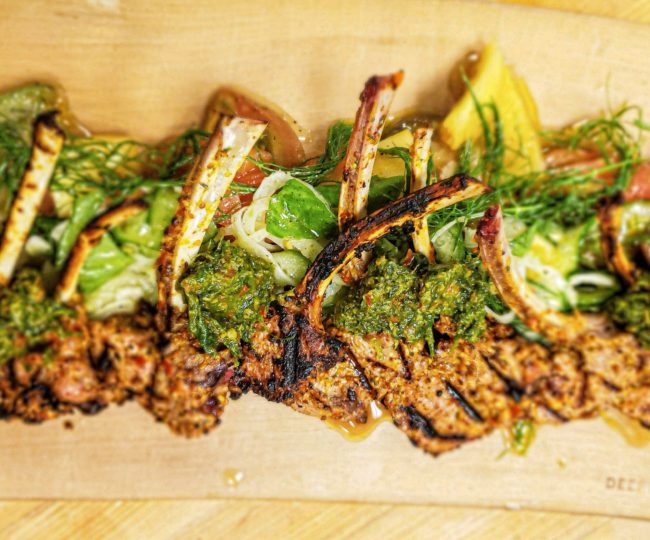 Herb & Mustard Grilled Lamb Chops with Tomato, Cucumber & Fennel Salad
Is it just us or was that the shortest Spring ever?? Well good news, grilling season has arrived that much sooner and Chef Akshay has a lamb recipe that's perfect for your first time firing up the grill. We're talking tasty chops with a flavourful marinade, served with a fresh salad- all made with locally-sourced ingredients to support nearby vendors. Scroll down for the full recipe and if you have any questions or feedback, visit the Facebook or Instagram posts (@onekingwest) to leave a comment! #StayHomeWithOneKingWest
Serves 2 | Prep Time: 20 minutes, 30 minutes for marination | Total Time: 60 minutes
WHAT YOU'LL NEED
1 rack of lamb (6-7 chops), Frenched and portioned
4 tbsp. olive oil, divided
1 whole Red Finger Hot Chilli
1 garlic clove
1 tbsp. rosemary, finely chopped
1 tbsp. thyme, finely chopped
1 tbsp. Italian parsley, finely chopped
Zest of 2 lemons
Juice of 1 lemon, divided
1 tbsp. grainy mustard
1 yellow tomato
1 red tomato
1 baby cucumber
½ of a fennel bulb
¼ cup fennel fronds
5 basil leaves, torn
Salt and pepper to taste
1. Clean and portion lamb chops. For the marinade, combine olive oil, red finger hot chilli, garlic, rosemary, thyme, parsley, lemon zest and half of the lemon juice in a Vitamix or blender, and blend to get a coarse texture.
2. In a bowl, rub the lamb chops with 1 tbsp. of grainy mustard and the marinade. Marinate for 30 mins.
3. Cut tomatoes into wedges and/or slices. Shave fennel and cucumber on a mandolin slicer, or slice thinly manually. Clean and wash fennel fronds.
4. Combine the tomatoes into one bowl with the basil and toss in 1 tbsp. of olive oil with salt and pepper to taste.
5. Combine the fennel, fennel fronds and sliced cucumbers in a bowl. Add some olive oil and 2 tsp. lemon juice and salt and pepper to taste. Set aside.
6. Grill the lamb chops each side on a hot grill for 2-3 mins approximately. Cook to your desired doneness. Be sure to rest the meat when it comes of the grill.
7. To serve, lay the marinated tomatoes on a plate and beside it lay the fennel, fronds and cucumbers and Lamb chops.
Top Tip: The lamb can be topped with homemade Ramp & Sundried Tomato Pesto. Visit our IGTV here to find step-by-step instructions on how to make it!