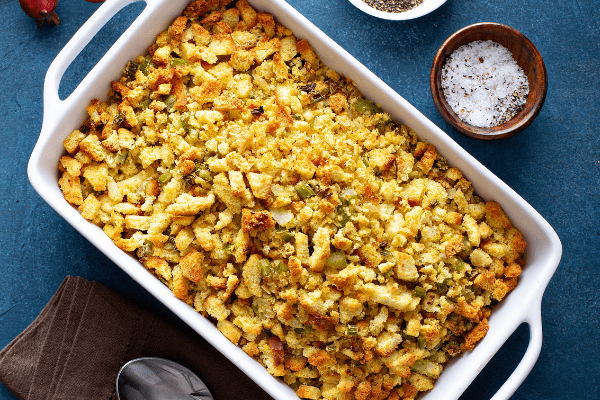 Bacon & Apple Stuffing
This is the last week of our Christmas Recipe Series! Today Chef Akshay is teaching us how to make Bacon & Apple Stuffing for your Holiday Dinner. The addition of bacon helps take this stuffing to the next level, as it goes perfectly with the flavours of a turkey. Scroll down for this festive recipe and if you have any questions or feedback, visit our Facebook or Instagram pages to leave a comment.
Prep Time: 15 mins | Total Time: 45 mins| Serves: 6-8
WHAT YOU WILL NEED:
1 Loaf of White Sandwich Bread (Diced)
2 cups of Mozzarella Cheese (Shredded)
4 Whole Eggs
1 ½ cups of Milk
5 Slices of Peameal bacon (Chopped and Sauteed)
1/3 cup of Cranberries (De-seeded)
3 stalks of Thyme (Chopped)
4 stalks of Italian Flat Parsley (Chopped)
Salt to Taste
HOW TO PREPARE (FIND A STEP-BY-STEP VIDEO DEMONSTRATION ON OUR SOCIAL MEDIA CHANNELS):
1. Combine all ingredients in a bowl and mix well. Adjust seasoning if needed.
2. Follow the direction to roll into cylinder shape from the video posted on social media.
3. Bake it at 325 degrees Fahrenheit for 30 mins.
4. Let cool down before slicing and serve with turkey gravy.
Click here to view the other posts from Dinner with Akshay!