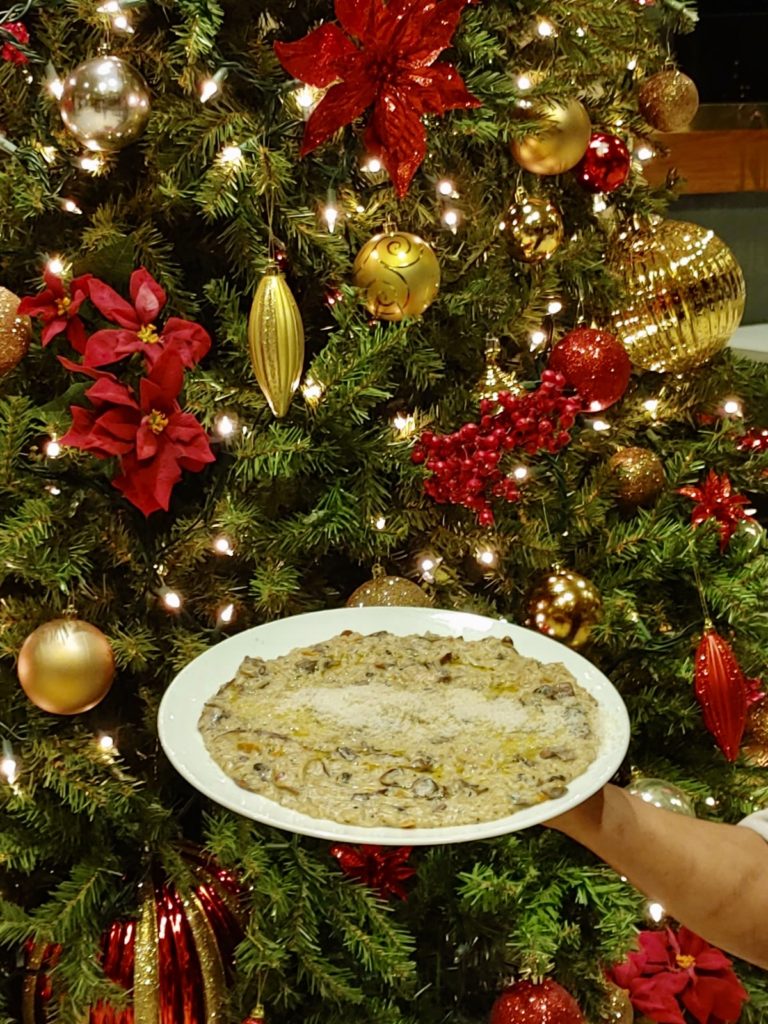 Mushroom Risotto
This week on Dinner with Akshay, Chef Akshay is teaching us how to make an authentic Italian-style mushroom risotto topped with a white truffle oil drizzle and freshly grated Grana Padano cheese. This dish can be served alone or with grilled meats and chicken dishes. Scroll down for this perfectly flavoured recipe and if you have any questions or feedback, visit our Facebook or Instagram pages to leave a comment.
Prep Time: 15 minutes | Total Time: 30 minutes | Serves: 4
WHAT YOU'LL NEED
2 cups Arborio Rice
10 pcs of shitake mushrooms (take the stems out and tear roughly – but keep the stems)
10 pcs of button mushrooms (sliced)
2 pcs of portobello mushrooms (take the skin out and inside scooped and torn – save the stems)
1 garlic (sliced)
1 shalllot (sliced)
5 cubes of butter
1 tbsp. of olive oil
3 tbsp. of Grana Padano
1 tsp. of black truffle paste
1 sprig of thyme
1/2 tsp. of white truffle oil
1/2 tsp. of bomba
1 cup of white wine
salt to taste
HOW TO PREPARE (FIND A STEP-BY-STEP VIDEO DEMONSTRATION ON OUR SOCIAL MEDIA CHANNELS):
1. Wash the stems of mushrooms and in a pot add 2 liters of water and add the stems and 1 crushed garlic. Let it simmer for 15 mins, strain, and set aside.
2. In a pan heat olive oil, sautee sliced garlic, and shallots.
3. Add arborio rice and sautee for 5 mins on slow heat. Add white wine and cook it down.
4. Slowly add the mushroom stock, one ladle at a time, and repeat the procedure till the rice is 50 percent cooked. Set aside and let cool down.
5. In a pan add olive oil, saute mushrooms, garlic, and shallots. Add white wine and reduce.
6. Add the mushroom stock and add the par-cooked arborio rice. Slowly cook and add butter.
7. To finish, add bomba, grated Grana Padano, and black truffle paste.
8. Ensure the consistency is not too runny or not too thick. Just right to pour on a plate.
9. Drizzle white truffle oil and more grated Grana Padano cheese.