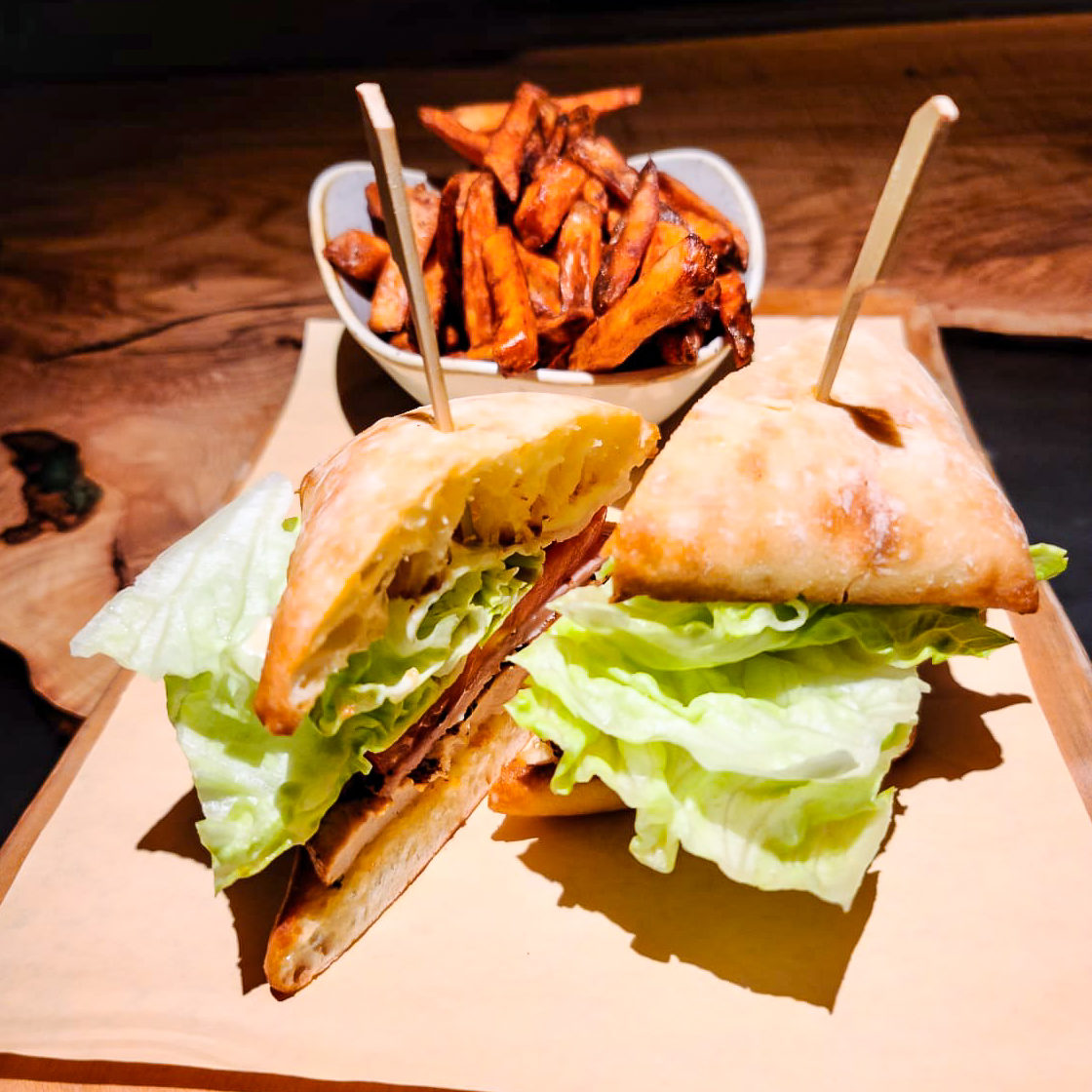 Tower Club Sandwich
This week on Dinner with Akshay, Chef Akshay is teaching us how to prepare a Tower Club Sandwich. To be served with a salad or french fries, this sandwich has a tower of flavours and textures that your palate will adore. The Teller's Bistro & Bar Tower Club Sandwich is made with marinated grilled chicken, Canadian back bacon, crisp lettuce, a large tomato, and mayo, on a toasted ciabatta bun. Scroll down for this memorable recipe and if you have any questions or feedback, visit our Facebook or Instagram pages to leave a comment.
Prep Time: 10 minutes | Total Time: 20 minutes| Serves: 1
WHAT YOU WILL NEED:
1 pc of Ciabatta Bread Square
4 – 5 oz of Chicken Breast (boneless/skinless)
1 slice of Canadian Back Bacon
1 Leaf of Iceberg Lettuce
2 slices of Beefsteak Tomato
2 tbsp. of Mayonnaise
1 tsp. of Paprika
1 pinch of Dehydrated Parsley
1 pinch of Dehydrated Oregano
1 pinch of Cajun Seasoning
Salt to taste
HOW TO PREPARE (FIND A STEP-BY-STEP VIDEO DEMONSTRATION ON OUR SOCIAL MEDIA CHANNELS):
Butterfly the chicken and marinated with paprika, cajun, parsley, oregano, and salt.
Cut the ciabatta bread in half, butter on both sides, and toast on a hot surface.
Grill the chicken breast and fully cook. Grill the back bacon and ensure it is fully cooked.
Take the toasted bread and spread mayonnaise on both sides.
On the top side of the bread, put the lettuce and tomato.
On the bottom of the bread, put the fully cooked chicken breast and Canadian back bacon.
Serve with a nice salad or fries.
Click here to view more Dinner with Akshay recipes!