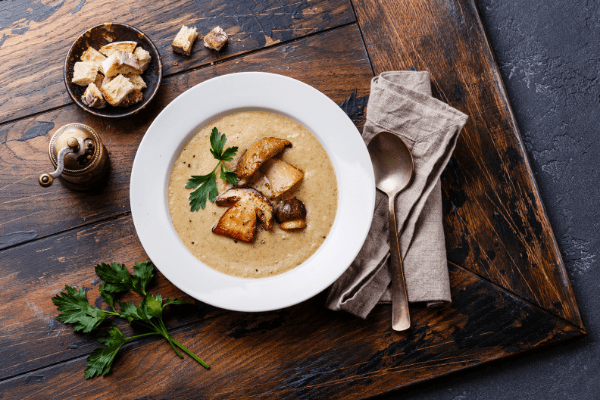 Mushroom Soup
This week on Dinner with Akshay, Chef Akshay is teaching us how to prepare Mushroom Soup. This warm bowl of soup, filled with 3 types of mushrooms, flavored with garlic and onions, and drizzled with truffle oil, can't be beaten. Scroll down for this comforting soup recipe and if you have any questions or feedback, visit our Facebook or Instagram pages to leave a comment.
Prep Time: 20 minutes | Total Time: 60 minutes | Serves: 4
WHAT YOU WILL NEED:
1lb of Button Mushrooms
½ lb of Shitake Mushrooms
1.2 cups of Dry Porcini Mushrooms
4 pcs. of Onions Sliced
5 pcs. of Garlic Cloves
1 cup of White Wine
2 tbsp. of Canola Oil
1 ltr. of Water or Vegetable Stock
4 pcs. of Peeled and Diced Potatoes
5 tbsp. of White Rice
2 cubes of Butter
1 tbsp. of Heavy Cream (To Finish)
1 tbsp. of Grated Grana Padano
1 tsp. of White Truffle Oil
Salt to Taste
HOW TO PREPARE (FIND A STEP-BY-STEP VIDEO DEMONSTRATION ON OUR SOCIAL MEDIA CHANNELS):
1. Heat canola oil, add garlic cloves and sliced onions with a pinch of salt, and Sautee till onions are cooked.
2. Add white wine and reduce. Add all 3 kinds of mushrooms and sauté for a couple of minutes.
3. Add vegetable stock or water and simmer. Add the peeled potatoes and rice and simmer till all ingredients are fully cooked and to the desired consistency.
4. Puree the soup into a fine puree.
5. Add the butter, cream and taste the salt.
6. To finish, add a drizzle of truffle oil and grated Grana Padano cheese.
Click here to view more Dinner with Akshay recipes!