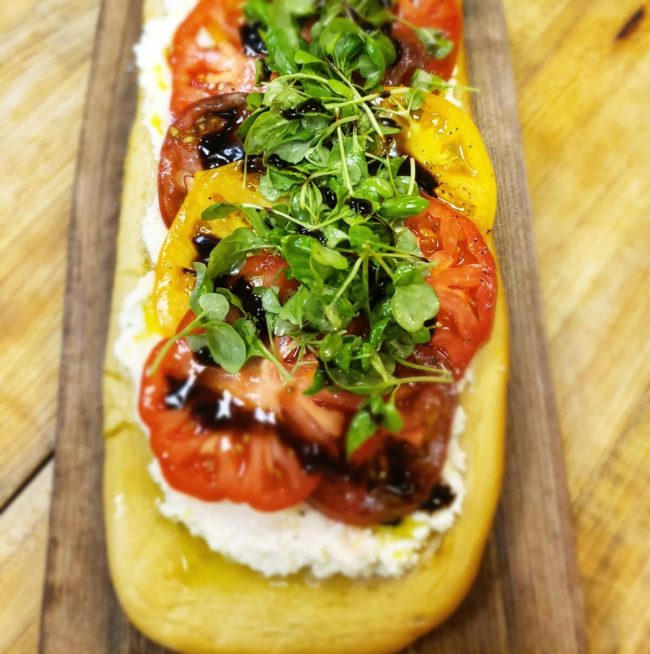 Lemon Ricotta & Heirloom Tomato Flatbread
This week's Dinner with Akshay dish is presented by Dawn, One King West's Chef de Partie! One of her favourite recipes is this Summer fresh flatbread which incorporates a flavourful combination of juicy heirloom tomatoes, ricotta cheese and arugula. Not only do these ingredients create a delicious final product, but a super colourful and 'Instagrammable' one as well! Scroll down for the full recipe and if you have any questions or feedback, visit the Facebook or Instagram posts (@onekingwest) to leave a comment.
Serves 2 | Prep Time: 5 minutes | Total Time: 20 minutes
WHAT YOU'LL NEED
1 store-bought flat bread
4 tbsp. extra virgin olive oil + drizzle for garnish
1 cup Ricotta
Kosher salt to taste
Coarsely ground black pepper to taste
Juice and zest of 1 fresh lemon
1 pint micro basil
1 pint micro arugula
3 whole heirloom tomatoes (1 red, 1 yellow and 1 purple if possible), sliced
Drizzle of balsamic glaze
HOW TO PREPARE (FIND A STEP-BY-STEP VIDEO DEMONSTRATION ON SOCIAL MEDIA):
1. Heat oven to 360F.
2. Spread the extra virgin olive oil on the flatbread and bake for 10 minutes.
3. Combine Ricotta and salt and pepper. Add the grated lemon zest and squeeze in 2 teaspoons of lemon juice and mix everything together.
4. Spread mixture on the flatbread evenly. Arrange the sliced tomatoes to cover the flat bread.
5. Top it with micro arugula and micro basil tossed in a home-made lemon vinaigrette (or any citrusy dressing) and spread evenly on the entire flatbread.
6. Drizzle with extra virgin olive oil around the edges and balsamic glaze overtop. Serve at room temperature.
Top Tip: You can top the flatbread with any fresh, seasonal vegetables of your choice!