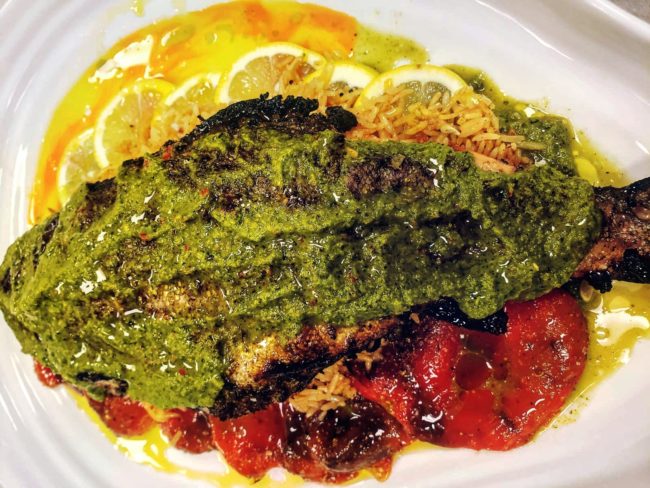 Roasted Rainbow Trout with Lemon and Saffron Rice Pilaf and Charred Red Peppers
For this week's Dinner with Akshay recipe, Chef incorporates an extensive selection of spices and herbs into this Roasted Rainbow Trout to create an incredibly flavourful, delicious and perfect meal for Summer! Reminiscent of Chef Akshay's childhood when he sat around the table enjoying family-style dinners with loved ones, he's certain that once you try this dish for yourself, it will soon become a staple at your dinner table as well. Scroll down for the full recipe and if you have any questions or feedback, visit the Facebook or Instagram posts (@onekingwest) to leave a comment! #StayHomeWithOneKingWest
Serves 2-3 | Prep Time: 30 minutes | Total Time: 60 minutes
WHAT YOU'LL NEED
4 tbsp. canola oil
Juice of 4 fresh lemons
7 garlic cloves
2 oz. ginger
10 leaves of fresh basil leaves
1 bunch of cilantro
1 bunch of mint
1 whole shallot
1 tbsp. coriander
2 whole Red Finger Chillis
2 tbsp. mustard seeds
6 dry red Chillis
2 red bell peppers
1 onion, sliced
Salt to taste
1 tsp. cumin powder
125 grams Basmati rice, cooked
2 bay leaves
4 cloves
salt
1 tsp. Kashmiri chilli powder
1 pinch saffron
1 whole leek
HOW TO PREPARE (FIND A STEP-BY-STEP VIDEO DEMONSTRATION ON SOCIAL MEDIA):
1. Combine 2 tbsp. canola oil, juice of 2 lemons, garlic, ginger, basil, cilantro, mint, shallots and 2 Red Finger Chillis in a food processor and blend to make a smooth paste for the marinade.
2. Slit the fish all over and rub the marinade on. Set aside for 40 mins.
3. Combine 1 tbsp. coriander seeds, 1 tbsp. mustard seeds and 2 dry red chillies in a spice grinder and make a fine spice mix set aside.
4. Char red peppers on a grill and cover in a bowl and let cool down. Once cool, peel all the black skin and de-seed. Marinate with 1 tbsp. canola oil and the spice mix and set aside.
5. To cook the Basmati rice, wash 3 times and drain. Add 500 ml of water and salt , bay leaf and cloves and salt to taste. Add the rice and boil until 90% cooked. Drain the water and set aside.
6. Temper 1 tbsp. mustard seeds to crackle in a pan with 1 tbsp. canola oil and 4 dry red chillies. Sauté the onion to golden brown with a pinch of salt. Add rice and sautée.
7. Add the cumin powder, Kashmiri chilli powder and saffron. Season with salt and add lemon juice from 2 lemons.
8. Spread the rice on a tray carefully without damaging the grains. Add 1 tbsp. oil and gently mix. Set aside and let cool.
9. Stuff the full leek inside the fish. Bake in the oven at 350F for 10 to 15 minutes, until fully cooked.
10. Once fully cooked, carefully place the fish on a bed of rice and charred red peppers.
Top Tip: Cook the fish well so the bone will peel off very easily.