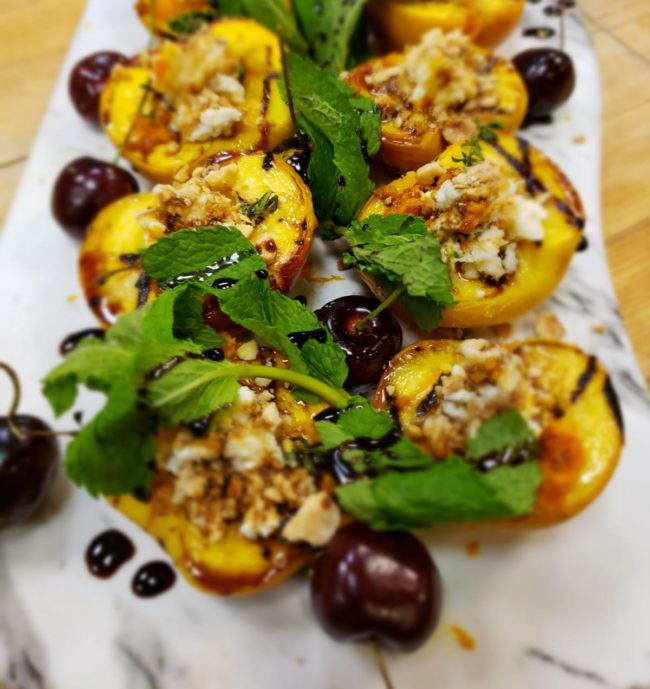 Grilled & Baked Ontario Peaches with Ricotta, Hazelnut Crush, Honey & Saba
Peaches are finally in season and Chef Akshay won't let you miss out on an opportunity to elevate this sweet and juicy fruit by preparing them in a way that's perfect for a Summer soiree! By simply grilling and baking the peaches and plating them with colourful ingredients, not only is the flavour totally transformed, but you will enjoy visually stunning dish that will surely win over your guests. Scroll down for the full recipe and if you have any questions or feedback, visit the Facebook or Instagram posts (@onekingwest) to leave a comment.
Serves 2 | Prep Time: 20 minutes | Total Time: 30 minutes
WHAT YOU'LL NEED
3 Ontario Peaches
3 tbsp. honey
1 tbsp. olive oil
6 sprigs thyme
6 Ontario Cherries
2 tbsp. Ricotta
Zest of half an orange
4 sprigs wild mint
1 tbsp. toasted and crushed hazelnut
1 tbsp. saba
HOW TO PREPARE (FIND A STEP-BY-STEP VIDEO DEMONSTRATION ON SOCIAL MEDIA):
1. Cut peaches in half and de-seed. On a hot grill, place cut side down to achieve grill marks.
2. Take the peaches off the grill and drizzle with honey, olive oil and thyme sprigs. Bake at 350F for 18 minutes.
3. Allow peaches to cool down to room temperature then arrange peaches on a platter, and place cut side up.
4. Scatter the cherries around the platter.
5. Pipe or scoop the ricotta into the center of the each of the peaches. Lightly drizzle with honey and sprinkle with orange zest.
6. Arrange mint carefully on the platter for colour and sprinkle hazelnuts over-top.
7. Drizzle with Saba and serve at room temperature.