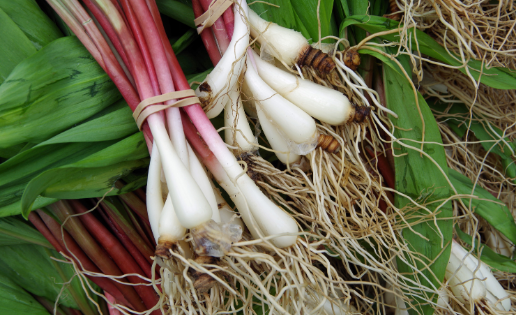 Ramps Brine
Here's to making the most of the fresh produce Summer brings… Chef Akshay is starting a Pickling Series featuring ingredients that we typically don't get to enjoy once Fall rolls around. First up is a ramps brine which pairs well with BBQ fish or chicken, and is a great addition to a charcuterie or cheese platter. Scroll down for the full recipe and if you have any questions or feedback, visit the Facebook or Instagram posts (@onekingwest) to leave a comment.
Prep Time: 10 minutes | Total Time: 20 minutes
WHAT YOU'LL NEED
2 cups water
1 ½ cup apple cider vinegar
½ cup Kosher salt
½ cup sugar
1 tbsp. coriander seed
1 Star Anise
1 tbsp. pink peppercorn
4 bay leaves
15 ramp stems
1 mason jar
HOW TO PREPARE (FIND A STEP-BY-STEP VIDEO DEMONSTRATION ON SOCIAL MEDIA):
1. In a pot, boil the water, apple cider vinegar, salt and sugar. After the first boil add all of the spices. Set aside and let cool.
2. Clean ramp steps in cold water and dry.
3. Sterilize the mason jar, dry and fill with the ramps.
4. Pour the cold brine liquid over the ramps to submerge in liquid and seal the lid.