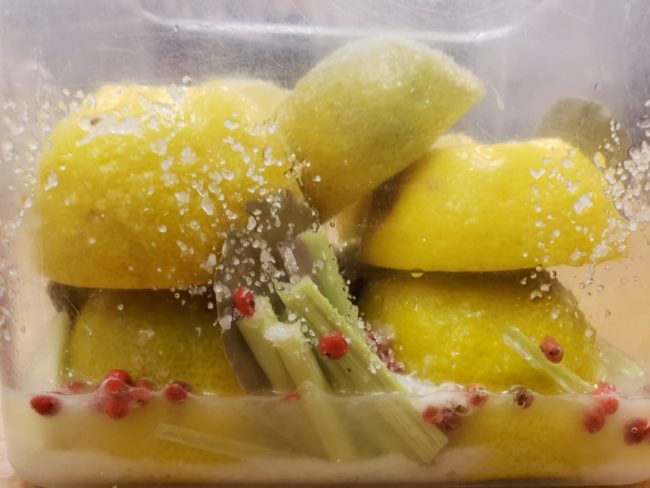 Preserved Lemons
This week on Dinner with Akshay, Chef Akshay teaches us how to make preserved lemons, which will help add that delicious lemony taste to a dish. Preserved lemons are quick and easy to make and are a common ingredient in Moroccan and Middle Eastern cooking. Scroll down for the full recipe and if you have any questions or feedback, visit our Facebook or Instagram posts (@onekingwest) to leave a comment.
Prep Time: 10 minutes | Total Time: Marinate for 30 days
WHAT YOU'LL NEED
5 lemons (cut in half)
3 lemons (juiced)
1/4 cup of salt
6 bay leaves
1 tbs. of pink peppercorn
1 stock of lemon grass (cut into small pieces)
HOW TO PREPARE (FIND A STEP-BY-STEP VIDEO DEMONSTRATION ON SOCIAL MEDIA):
1. Juice 3 lemons and set aside.
2. Cut the 5 lemons into halves and set aside.
3. Take a sterilized mason jar or Cambro container and add salt to the bottom.
4. Salt the lemons and pack into mason jar/Cambro container and press down.
5. Add spices and bay leaf.
6. Repeat the process until all lemons are salted and packed down. Add the lemon juice over top.
7. Cover tightly and store in the fridge. If packing in a mason jar store in a cool dry place for 30 days.
8. After 30 days, squeeze as much as juice, strain, and store to make a dressing or sauce for a seafood dish.