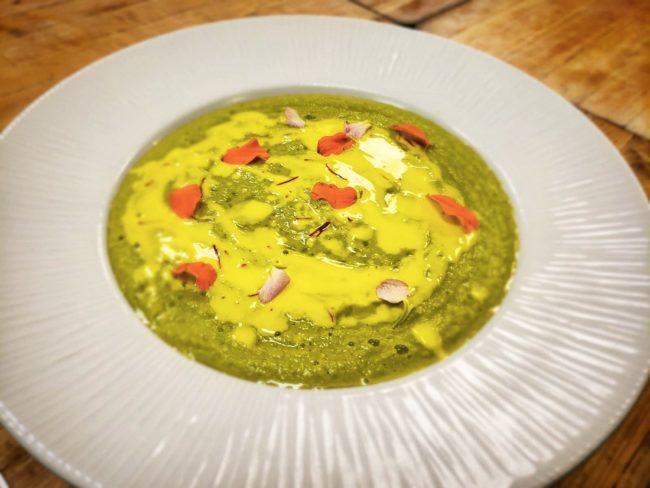 Chilled Summer Vegetable Soup
Once Summer rolls around and we're surrounded by the hot, humid weather this season brings, we find that we're more in the mood for a light, fresh dish that can either be served as the main course, or as a side. With this is mind, Chef Akshay created a delicious Chilled Summer Vegetable Soup which, as always, is made with by seasonal, locally-sourced produce to ensure maximum freshness! Scroll down for the full recipe and if you have any questions or feedback, visit the Facebook or Instagram posts (@onekingwest) to leave a comment. #StayHomeWithOneKingWest
Serves 2 | Prep Time: 20 minutes | Total Time: 30 minutes
WHAT YOU'LL NEED
1 bunch asparagus, peeled and roughly chopped
½ carrot, peeled and roughly chopped
Small knob of ginger, peeled and roughly chopped
½ English cucumber, peeled, de-seeded and roughly chopped
1 bunch fresh mint, leaves only
1 garlic bulb, peeled
1 fresh green chilli, roughly chopped
Juice of 2 lemons
½ cup olive oil
Fleur de sel or Kosher salt to taste
½ cup cold water, if needed
1 tbsp. coconut milk
1 pinch saffron
Edible pansy flower petals for garnish (optional)
HOW TO PREPARE (FIND A STEP-BY-STEP VIDEO DEMONSTRATION ON SOCIAL MEDIA):
1. Soak the saffron in warm coconut milk and set aside.
2. Combine all ingredients in a Vitamix or a juicer, except for the saffron in the coconut milk and edible flowers.
3. Puree the soup for 1 to 1 ½ minute at low to achieve a silky-smooth texture, slightly thick. Add cold water to the mixture if necessary to achieve texture.
4. To keep the soup cold, fill a large bowl with ice and place another bowl overtop the ice. Pour the soup into the top bowl.
5. Garnish with edible pansy petals and the saffron soaked in coconut milk.
Top Tip: Ensure all vegetables are peeled, washed and dried well before pureed.