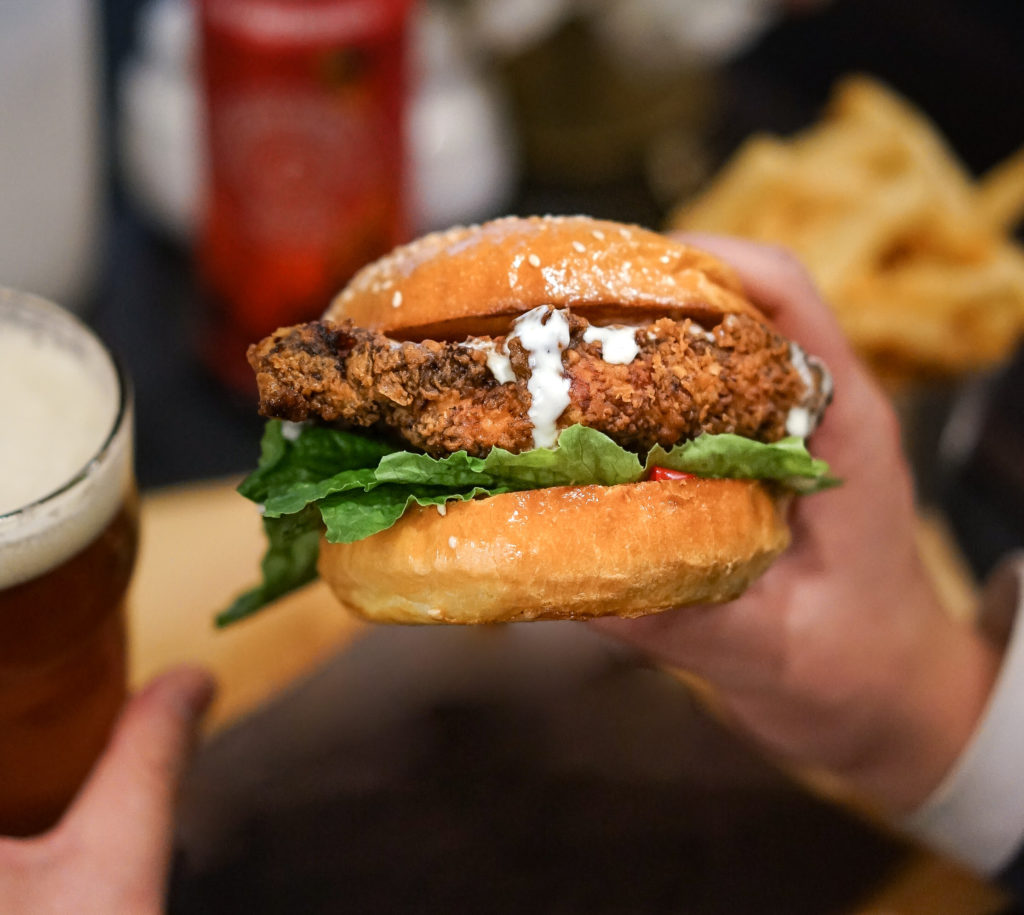 Crispy Chicken Sandwich
This week Chef Akshay is teaching us how to make Teller's famous Crispy Chicken Sandwich. This juicy and tender sandwich, with a crispy well-seasoned crust, sits perfectly on a seared brioche bun. Scroll down for this unforgettable sandwich recipe and if you have any questions or feedback, visit our Facebook or Instagram pages to leave a comment.
Prep Time: 10 minutes | Total Time: 20 minutes| Serves: 1
WHAT YOU WILL NEED:
5-6 oz Chicken Breast (Butterflied)
1 teaspoon of Sweet Smoked Paprika
Cracked Black Pepper to Taste
Salt to taste
1 Brioche Bun
2 tablespoons of Ranch
2 Leaves of Iceberg Lettuce
1 Red Pepper (Finely Diced)
1 Yellow Pepper (Finely Diced)
½ piece of Habanero Chilly (Deseeded and Finely Diced)
2 tablespoons of Sugar
2 Sprigs of Thyme
½ of a Garlic Clove (Crushed)
150 ml of Water
Salt to taste
HOW TO PREPARE (FIND A STEP-BY-STEP VIDEO DEMONSTRATION ON OUR SOCIAL MEDIA CHANNELS):

1. Butterfly the chicken and marinate it in paprika, salt and pepper and soak it in buttermilk, and set aside.
2. In a pot, combine water, diced peppers, garlic, sugar, habanero chilly, and thyme. Boil for 20 mins to form a relish like consistency.
3. In a bowl take the all-purpose flour mix, salt, and add the chicken and coat well. Fry in a deep fryer for 5 – 7 minutes and be sure to check if it is fully cooked with the help of a food thermometer.
4. Cut the brioche bun and butter and sear on a flat top.
5. Spread the pepper relish on both sides of the bun, add lettuce and the crispy chicken drizzle ranch on the chicken and serve with fries or salad.
Click here to view more Dinner with Akshay recipes!