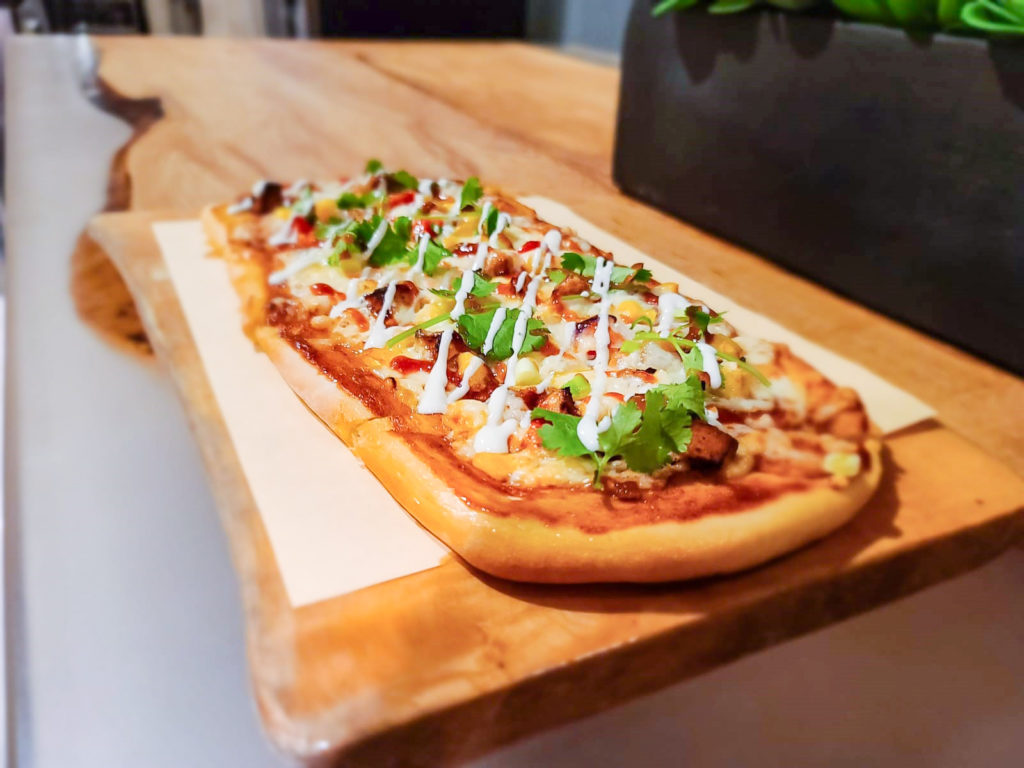 BBQ Chicken Pizza
This week on Dinner with Akshay, Chef Akshay is teaching us how to make BBQ Chicken Pizza. One of our favorite pizzas at Teller's Bistro & Bar is this classic BBQ chicken pizza with tangy BBQ sauce, chicken, red pepper, corn, red onions, and mozzarella, topped with fresh cilantro. Scroll down for this weeknight or weekend pizza recipe and if you have any questions or feedback, visit our Facebook or Instagram pages to leave a comment.
Prep Time: 5 minutes | Total Time: 15 minutes| Serves: 1
WHAT YOU WILL NEED:
1 pc of a round or rectangular Pizza Shell
4 oz of BBQ Sauce
4 oz of Chicken Breast (cooked and diced and marinated in BBQ sauce)
1 tablespoon of Bacon Bites
1 tablespoon of Red Pepper (diced)
1 tablespoon of Corn Niblets
1 cup of Shredded Mozzarella (enough to cover the pizza)
1 tablespoon of Red onions (diced)
1 oz of Olive oil
1 tablespoon of Scallions (chopped)
10 leaves of Cilantro
1 tablespoon of Ranch
Salt to taste
HOW TO PREPARE (FIND A STEP-BY-STEP VIDEO DEMONSTRATION ON OUR SOCIAL MEDIA CHANNELS):

1. Spread olive oil on the pizza base and spread the BBQ sauce.
2. Evenly spread the diced chicken, bacon, red pepper, corn, red onions, and cheese.
3. Bake in the oven @360 F for 10 mins.
4. Cut in triangles and top with scallions and cilantro.
5. Drizzle with BBQ sauce and ranch to finish.
Click here to view more Dinner with Akshay recipes!