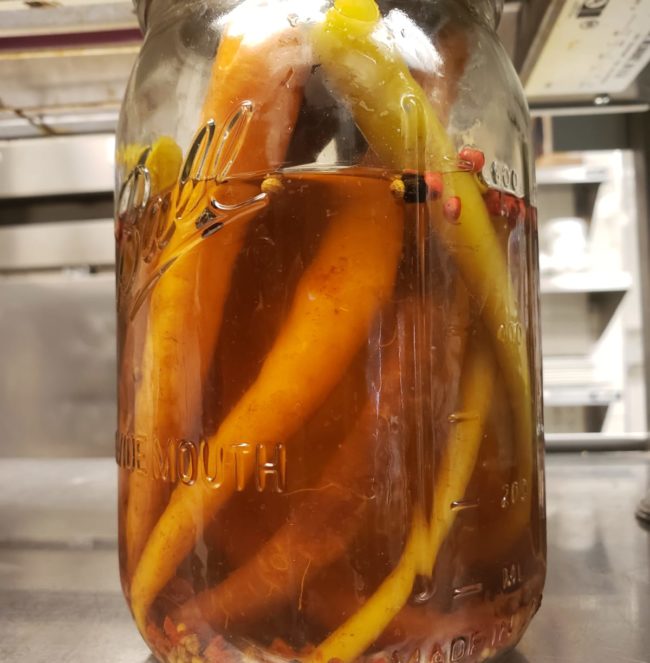 Pickled Baby Heirloom Carrots
Continuing with our Picking Series to ensure we make the most of Summer produce, Chef Akshay is bringing you Pickled Baby Heirloom Carrots. Quick and simple, this spicy yet tangy recipe perfectly complements cheeses and salumi and would add some beautiful colouring to a charcuterie board! Scroll down for the full recipe and if you have any questions or feedback, visit the Facebook or Instagram posts (@onekingwest) to leave a comment.
Prep Time: 10 minutes | Total Time: 20 minutes
WHAT YOU'LL NEED
1 ½ cup white vinegar
1 ½ cup water
1 tbsp. salt
1 tsp. coriander seeds
2-3 pieces of whole cloves
1 tsp. dry chillies
1 tsp. black peppercorn
1 tsp. mustard seeds
1 bunch baby heirloom carrots
1 tbsp. granulated or brown sugar (optional)
HOW TO PREPARE (FIND A STEP-BY-STEP VIDEO DEMONSTRATION ON SOCIAL MEDIA):
1. Clean, wash and dry heirloom carrots and put in a mason jar.
2. Blanch and shock the carrots until 40% cooked, about 2 to 4 minutes.
3. Combine the white vinegar, water and spices (excluding peppercorn) in a pot and bring to a boil.
4. Remove from heat and let sit until it's at room temperature.
5. Pour the room temperature brine liquid into the mason jar with the carrots.
6. Seal the mason jar and store in a cool, dry place.
Top Tip: To avoid discolouration of the pickling liquid, don't boil the peppercorns, or incorporate purple carrots.