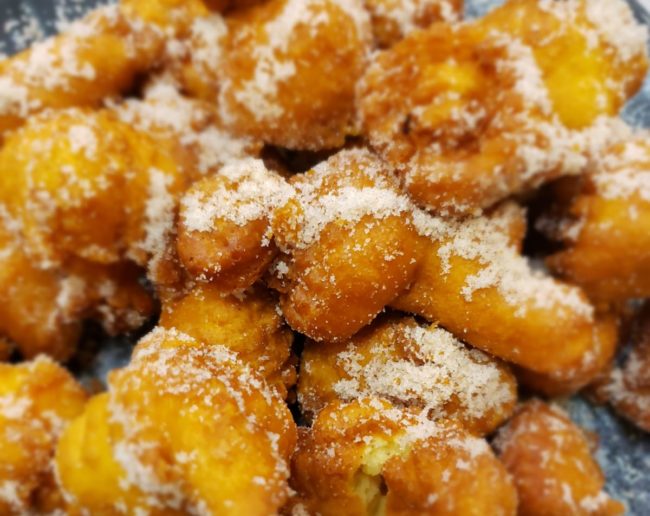 Zeppole
Crisp, light and fluffy… Could you ask for more from a deep fried Italian doughnut tossed in cinnamon and sugar?! This Zeppole recipe from Chef Akshay is a winner that you HAVE to try for yourself. Scroll down for the full recipe and if you have any questions or feedback, visit the Facebook or Instagram posts (@onekingwest) to leave a comment. #StayHomeWithOneKingWest
Makes 20 | Prep Time: 15 minutes | Total Time: 25 minutes
WHAT YOU'LL NEED
Zest of 3 lemons
4 eggs
1 cup milk
4 tsp. baking powder
1 pinch of salt
¼ tsp. vanilla essence extract
2 cups all purpose flour
Vegetable oil
¼ cup sugar
1 tsp. cinnamon powder
HOW TO PREPARE (FIND A STEP-BY-STEP VIDEO DEMONSTRATION ON SOCIAL MEDIA):
1. Combine lemon zest, eggs, milk, baking powder, salt and vanilla essence in a bowl and whisk until a smooth consistency is achieved.
2. Add flour gradually while whisking to form a semi-thick batter
3. Pour in enough oil into a large, heavy pot and bring to 350F.
4. With a small ice-cream scoop or a spoon sprayed with pam spray, take the batter, and drop into hot oil, stirring from time to time to achieve even colour on all sides. Fry until dough is a dark golden brown. Repeat until all batter has been used.
5. Drain the oil and toss in the sugar and cinnamon mixture.
Top Tip: Top the Zeppole with a dollop up Nutella or chocolate sauce for maximum flavour!