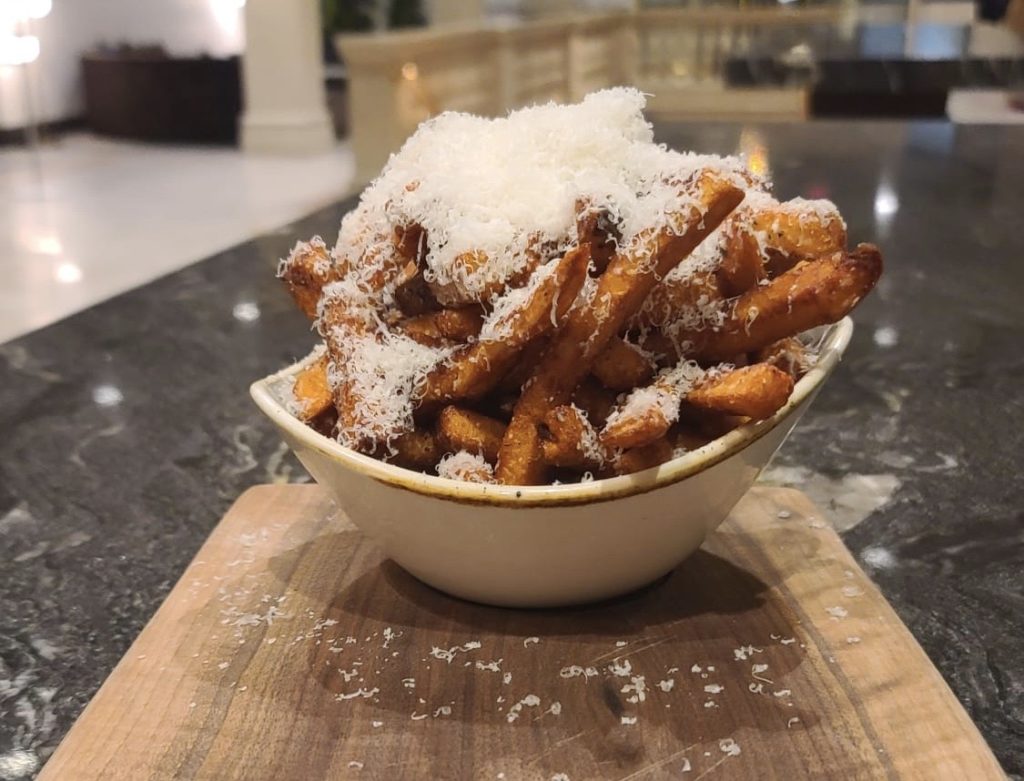 Truffle Fries
This week on Dinner with Akshay, Chef Akshay is teaching us how to prepare tasty Truffle Fries. For all the fellow truffle lovers out there, this crispy potato, truffle oil, and Parmesan cheese recipe is perfect for you. Scroll down for this decadent truffle fries recipe and if you have any questions or feedback, visit our Facebook or Instagram pages to leave a comment.
Prep Time: 5 minutes | Total Time: 10 minutes | Serves: 1
WHAT YOU WILL NEED:
2 cups of Fresh Cut Fries
1 tbsp. of Maratelli White Truffle Oil
Parmiggiano Reggiano (enough to grate with the help of a zester)
1 tbsp. of Grated Parmiggiano Reggiano
1 tsp. of Martelli Black Truffle Paste
1 tsp. of White Truffle Oil
5 tbsp. of Mayonnaise
Salt & Cracked Black Pepper to taste
HOW TO PREPARE (FIND A STEP-BY-STEP VIDEO DEMONSTRATION ON OUR SOCIAL MEDIA CHANNELS):
1. In a bowl combine mayonnaise, black truffle paste, and white truffle oil Mix well and taste.
2. Deep fry the fresh-cut fries, in a bowl add salt & cracked black pepper to taste, drizzle white truffle oil, and grated parmesan. Toss well.
3. Dish in a bowl and with a zester, grate parmesan to cover the fries like snowflakes.
4. Serve with a side of truffle aioli
Click here to view more Dinner with Akshay recipes!