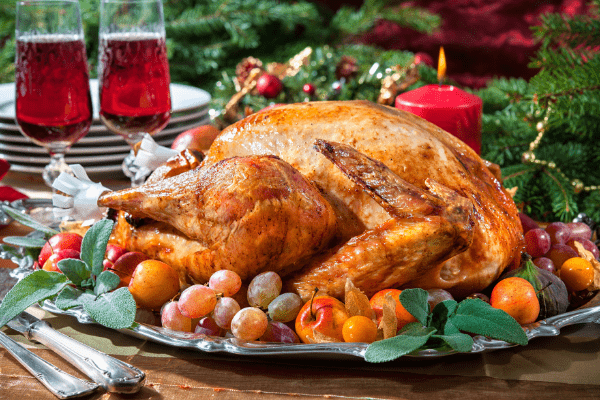 Brined and Roasted Turkey
Another week into our Christmas Recipe Series! This week Chef Akshay is teaching us how to make Brined and Roasted Turkey for your Christmas Dinner. Thanks to a simple brine, this roasted turkey is anything but dry, ensuring the perfect centerpiece for a flavourful feast. Scroll down for this festive recipe and if you have any questions or feedback, visit our Facebook or Instagram pages to leave a comment.
Prep Time: 24 hours | Total Time: 30 hours| Serves: 6-8
WHAT YOU WILL NEED:

For the Brine
10 ltrs of Water
2 cups of Salt
1 tbsp. of Pickling Spice
2 stalks of Rosemary
5 cloves of Garlic
2 stalks of Sage
For the Turkey
1 Whole Turkey (10 to 12 Lbs)
1 lbs of Unsalted Butter (Softened at Room Temperature)
1 bunch of Rosemary (Chopped)
1 bunch of Sage (Chopped)
1 tbsp. of Garlic Powder
1 tbsp. of Paprika
Salt to Taste
HOW TO PREPARE (FIND A STEP-BY-STEP VIDEO DEMONSTRATION ON OUR SOCIAL MEDIA CHANNELS):

1. For the brine – Bring water to a boil with salt and pour in a large container with all spices, herbs, and garlic. Let it cool down.
2. After cooling, insert the turkey and let sit for 24 hours.
3. Whip all the turkey ingredients (butter and spices) in a mixer to combine and set aside.
4. Stuff the turkey with the butter and spices and lightly season.
5. Bake in the oven at 350 degrees Fahrenheit for 3 – 4 hours.
Click here to view the other posts from Dinner with Akshay!