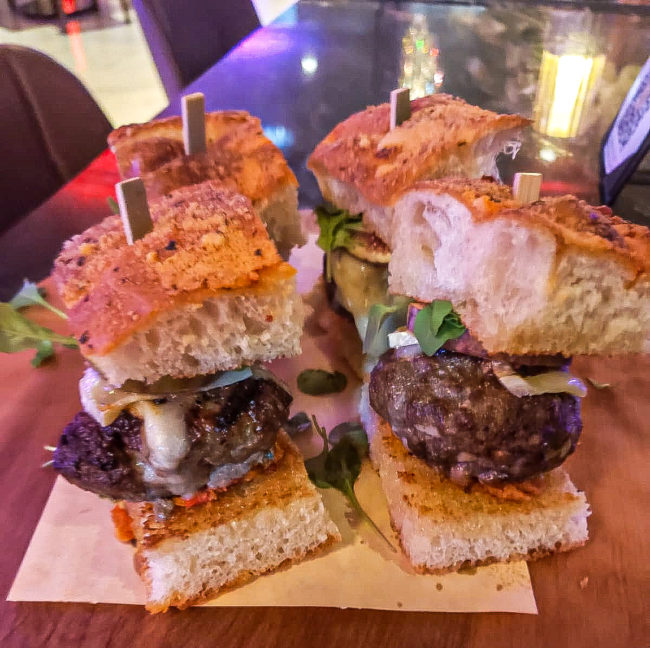 Lamb Kofta Sliders Stuffed with Brie
Anything stuffed with brie is bound to be super tasty and these Lamb Kofta Sliders are no exception. Dawn, One King West's Chef de Partie, is back for another week to share a mouth-watering recipe that incorporates a hefty dose of spices, homemade focaccia, fresh figs and of course, lamb, for a flavourful, gourmet slider… Yum! Scroll down for the full recipe and if you have any questions or feedback, visit the Facebook or Instagram posts (@onekingwest) to leave a comment.
Serves 2 | Prep Time: 20 minutes | Total Time: 30 minutes
WHAT YOU'LL NEED
1lb ground lamb
Kosher salt to taste
3 tbsp. fresh chopped parsley
1 tbsp. ground coriander
1 tbsp. ground cumin
½ tbsp. gound cinnamon
¼ tsp. cayenne pepper
½ tsp. gound ginger
½ tsp. ground black pepper
4 slices of freshly baked focaccia or 2 slider buns
30 grams brie cheese
1 tbsp. Bomba sauce
Handful of arugula
2 fresh figs
HOW TO PREPARE (FIND A STEP-BY-STEP VIDEO DEMONSTRATION ON SOCIAL MEDIA):
1. In a bowl, combine the lamb with all of dry spices and parsley. Mix well.
2. Divide the lamb into four even portions, form into patties and make an indent in the middle with your thumb.
3. Stuff each portion of lamb with one portion of brie to form a ball. Flatten each ball once complete.
4. Place the lamb sliders on a hot grill. After about 1 minutes of grilling on each side, remove the lamb, top with slices of brie and place in the oven at 350F. Remove once the lamb is fully cooked, about 10 to 14 minutes, and the brie cheese melted.
5. Toast the bread/buns and evenly spread the bomba on one side.
6. Place the sliders on a bun and top with arugula and 1 to 2 slices of figs.
7. To serve, use skewers to keep the slider's shape and plate on a wooden board or platter.
Top Tip: Make sure to mix the meat well with the spices to ensure an even taste and a nice texture.