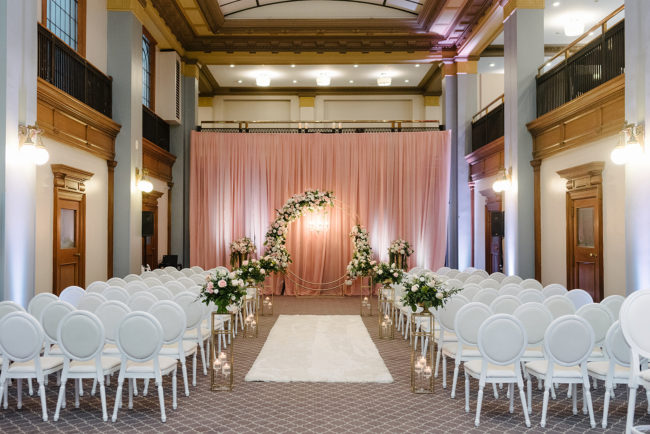 Another successful Wedding Open House in the books for the One King West Team and the many vendors who helped ensure that this was the best one yet! Working hard as a team to bring the unique venues to life as beautiful wedding celebrations, we were thrilled to see guests walking into each space and in total awe as they envisioned how incredible their wedding in Toronto could be. Each area featured an array of dreamy decor, immersive experiences with Toronto's top vendors and suppliers, and offered some delicious treats, ensuring that each sense was engaged. In case you missed it, here are some highlights from the One King West Wedding Open House…
On February 1st, 2020, invited guests traveled to the heart of downtown Toronto to the historic site of One King West Hotel and Residence. Whether coming from near or far, attendees had convenient access to the event as we are located right at Yonge and King Streets, attached to King Subway Station and an 8-minute walk from Union Station.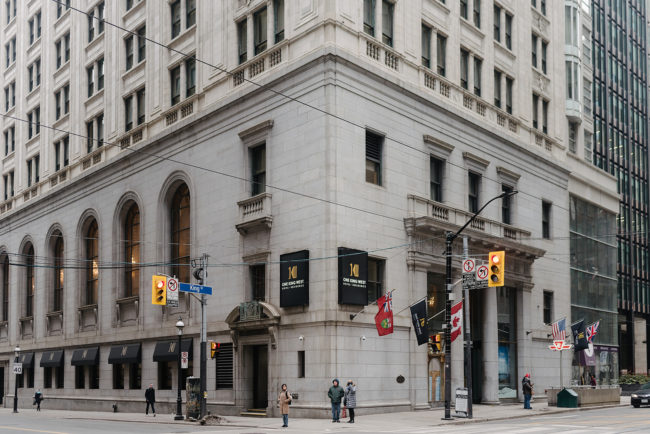 Upon entering the doors and registering with our welcome desk, guests found this reminder of the wonderful vendors and suppliers, as well as where to find them.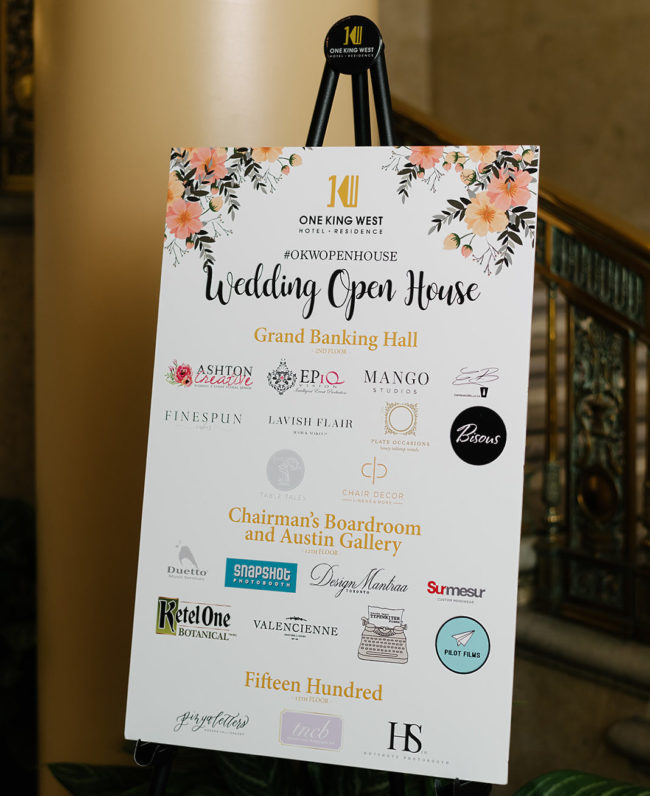 Walking up the glamorous Grand Staircase and into the Grand Banking Hall like so many brides and grooms have before, guests were blown away as they entered this iconic, historic venue. Encompassed with florals, decor, candles and more, there wasn't an area of the space that wasn't emitting beauty and elegance.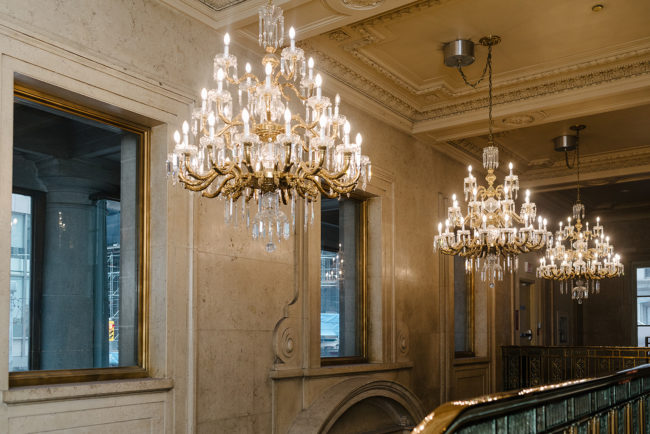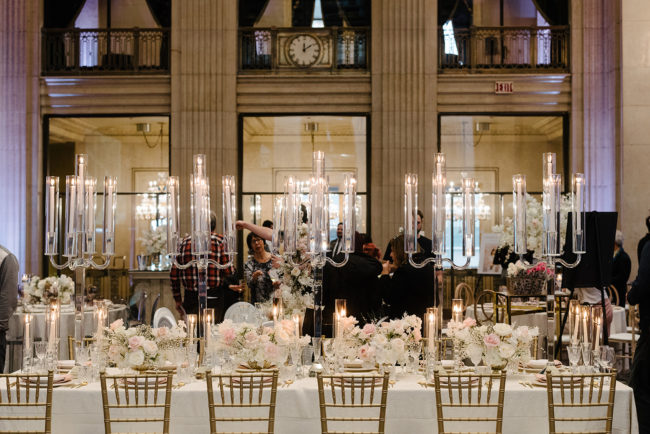 The first experience guests were introduced to were the equally stunning and delicious creations of Finespun Cakes who transformed the original Dominion Bank bank teller's tables into the dreamiest sweet table. Displaying their cakes, as well as offering tastings, this set the tone for the great experience that was to come…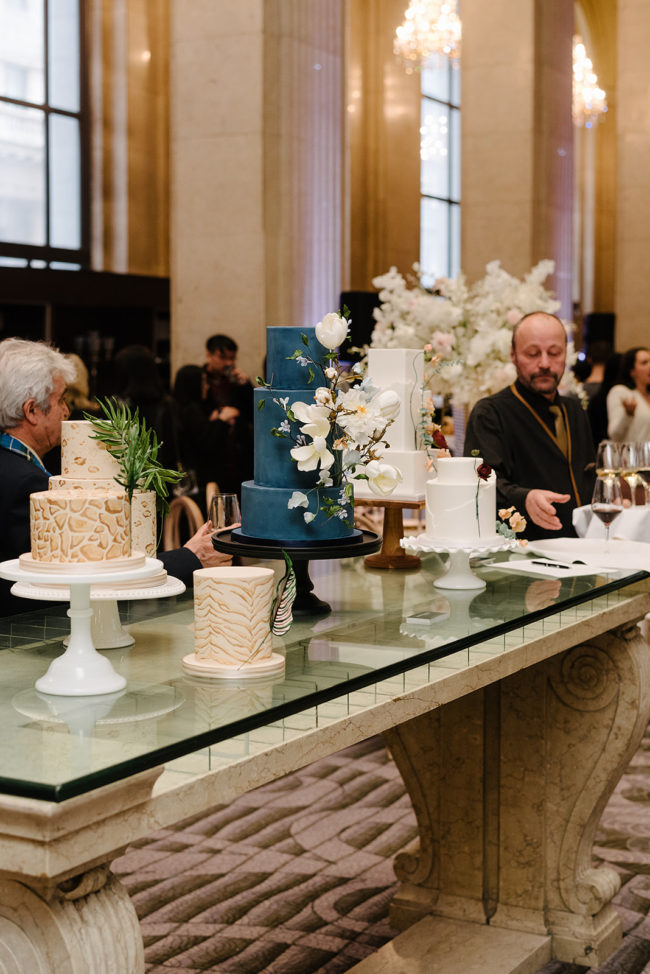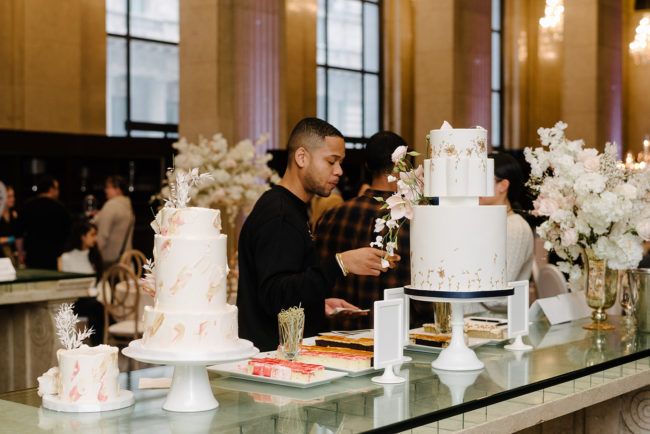 Moving further into the Grand Banking Hall, attendees came across the stunning wedding reception tables created by Ashton Creative. Four very different but gorgeous tables were dressed with florals and decor that any bride or groom would dream of for their big day. Collaborating with Table Tales, Plate Occasions and Chair Decor, each centerpiece, place setting, and chair came together to truly WOW everyone! Scroll down for some wedding reception inspiration…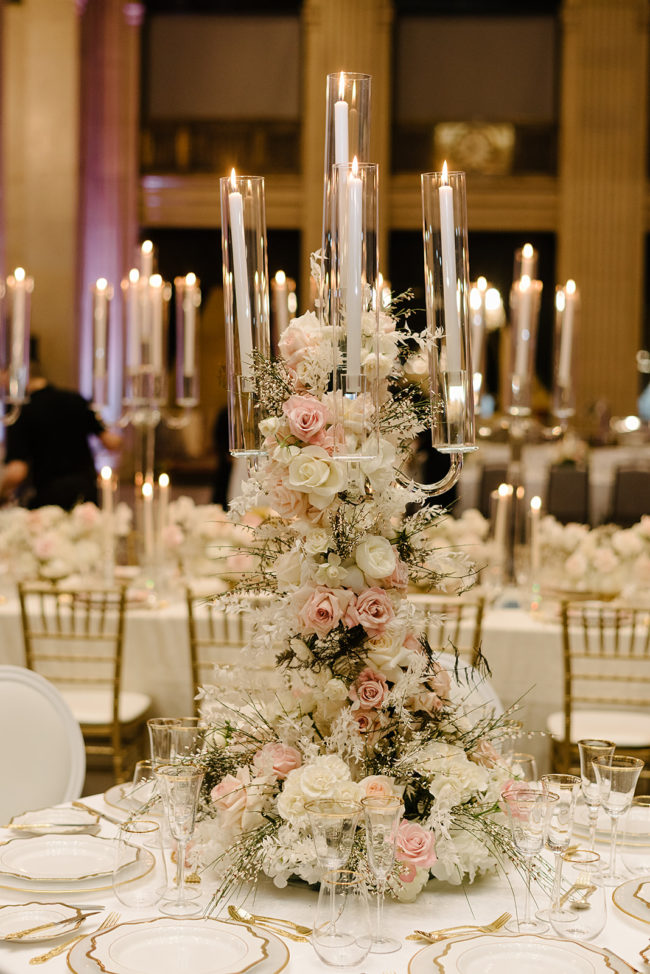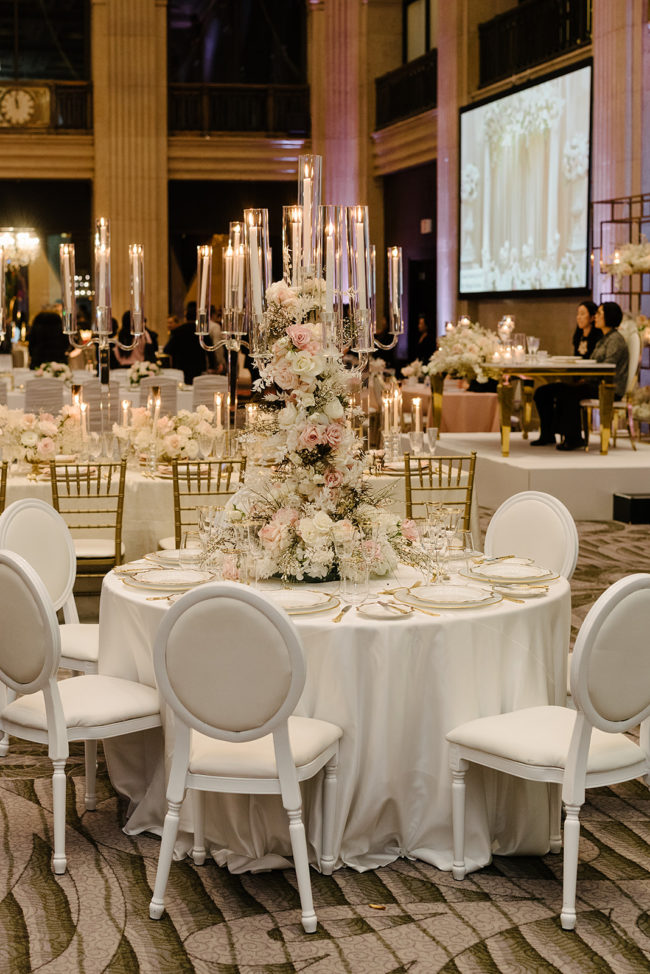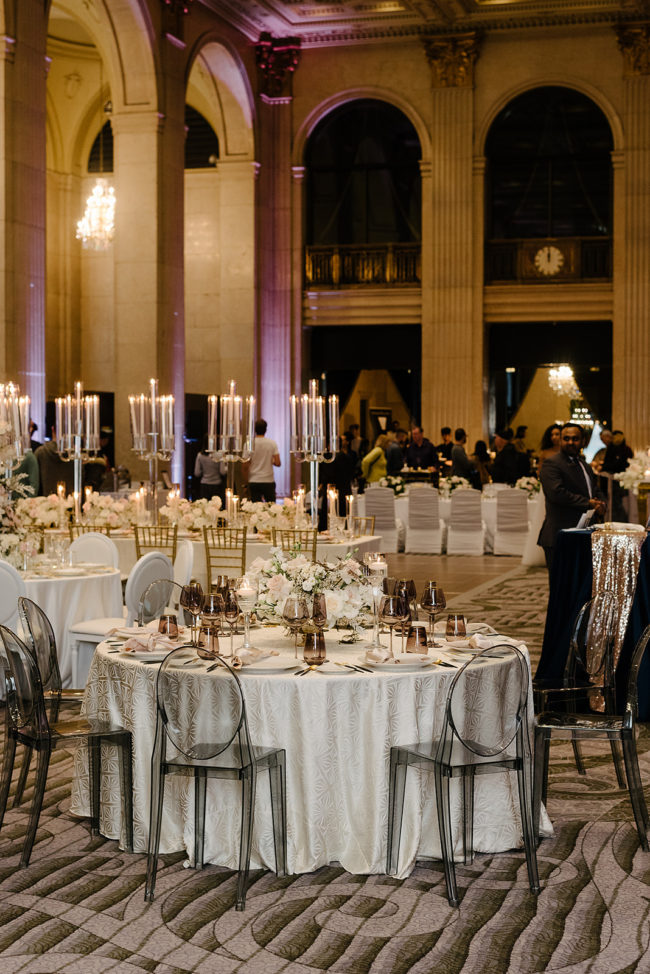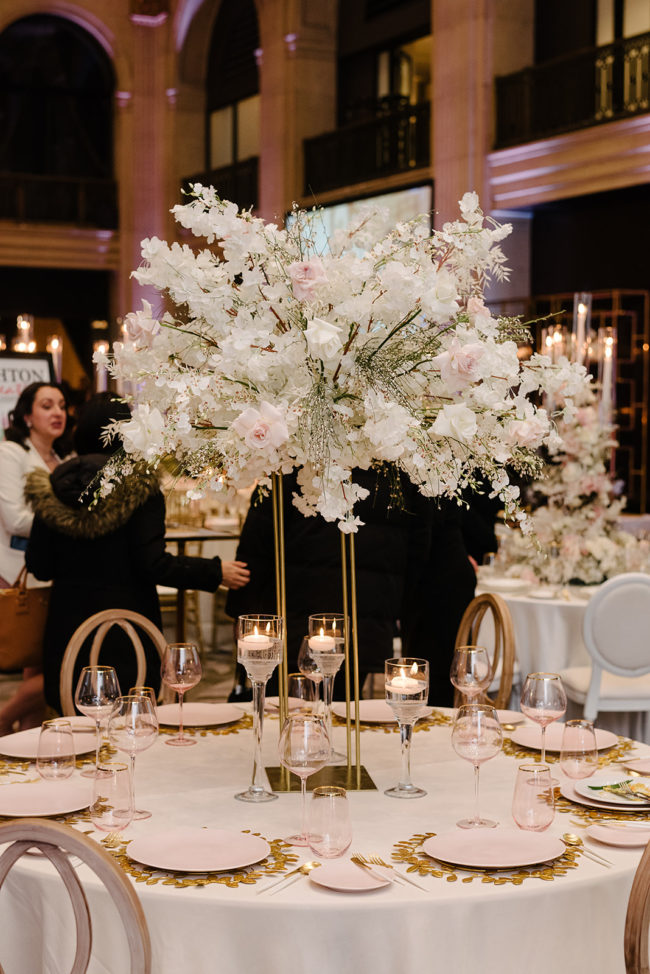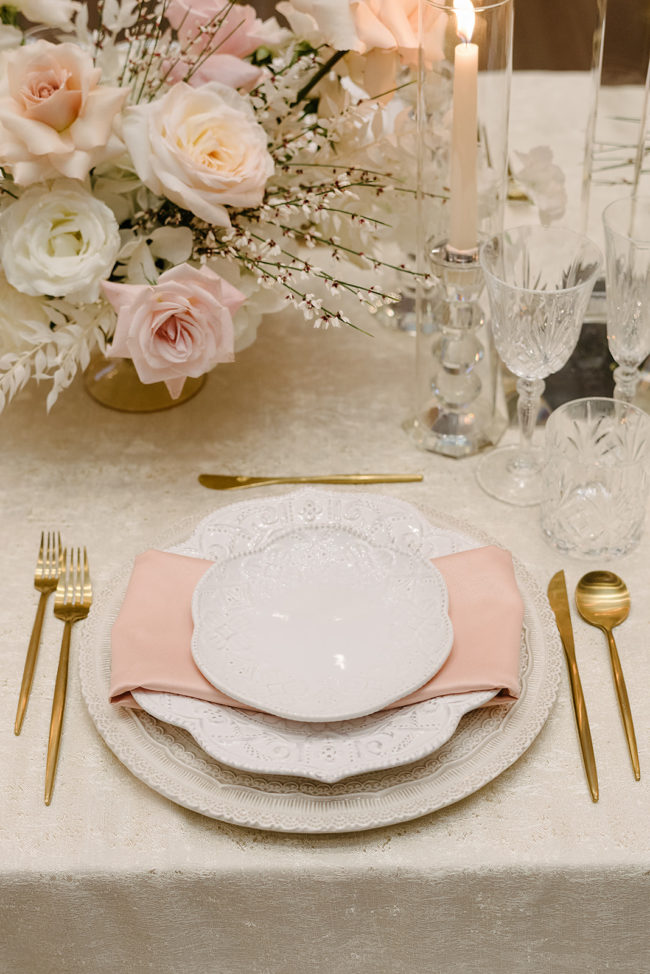 The next immersive, tasty experience was with Bisous Experience, who were offering guests an incredibly unique dessert… Edible Balloons! It's safe to say that there's nothing else like this out there and is a great addition to any wedding (or event) to ensure a special and memorable celebration!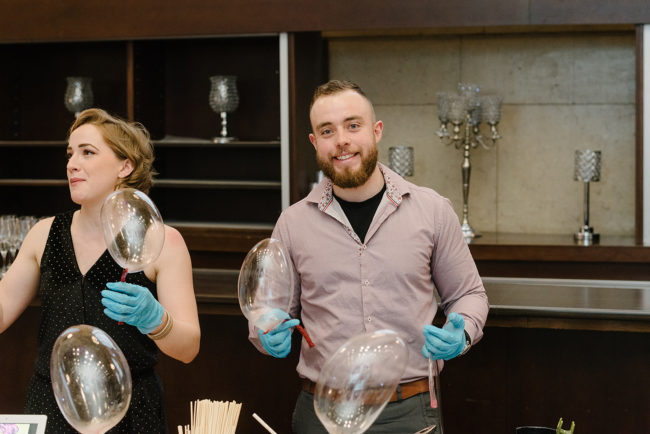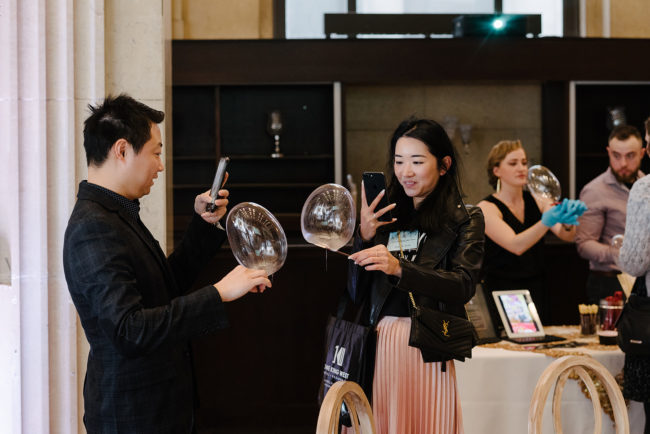 Lavish Flair was at the Wedding Open House offering attendees a real pampering experience with hair and make-up touches. Future brides and her bridesmaids were treated to this service to get an idea of their services and were not disappointed with the results. Picking the right MUA vendor for your wedding is an important detail not to be overlooked and Lavish Flair may be just the company for you!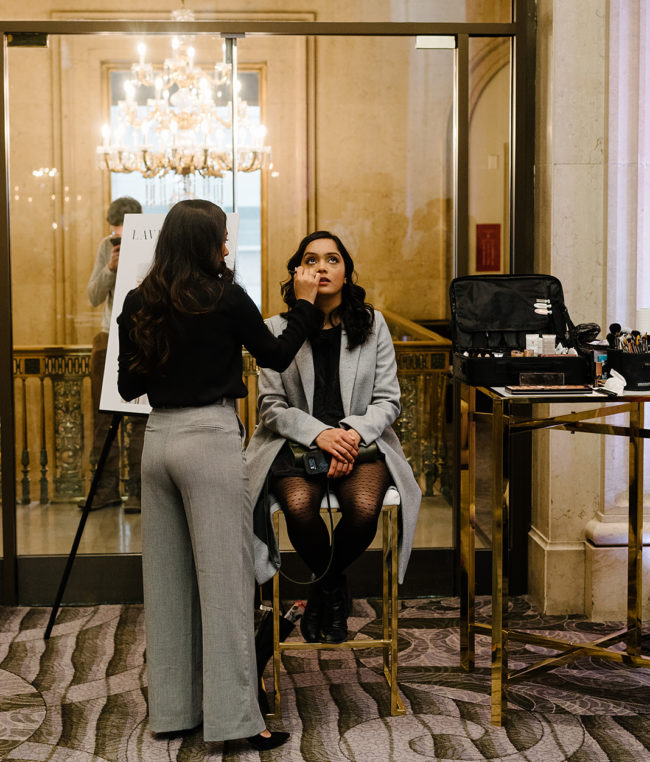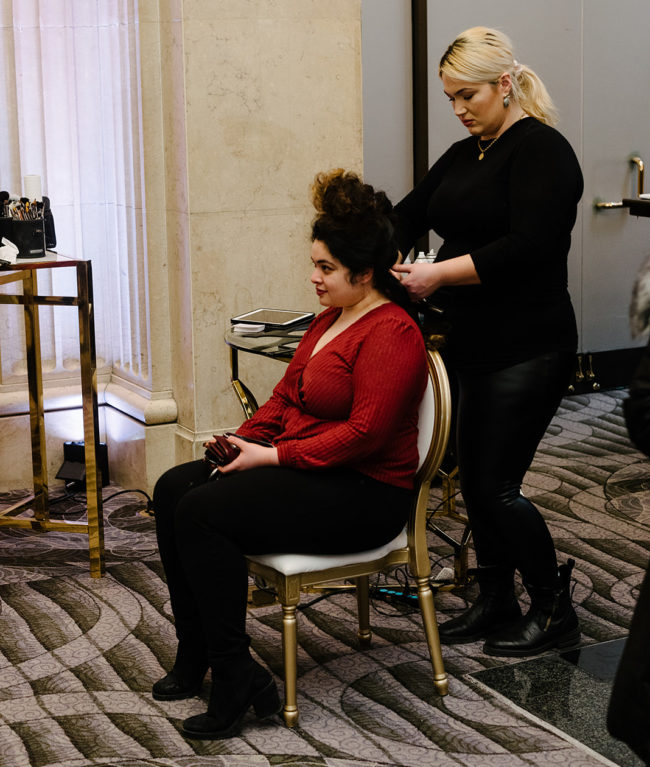 A longtime partner of One King West, Mango Studios was back for another year to not only take the beautiful photos featured here but to display their work to future bride and grooms. With many past couples choosing Mango Studios as their photographer, you can trust that they know how to shoot every angle of every space for the most beautiful captures. These are the photos you'll be holding onto forever so working with a photographer who knows the space and is reputable is important!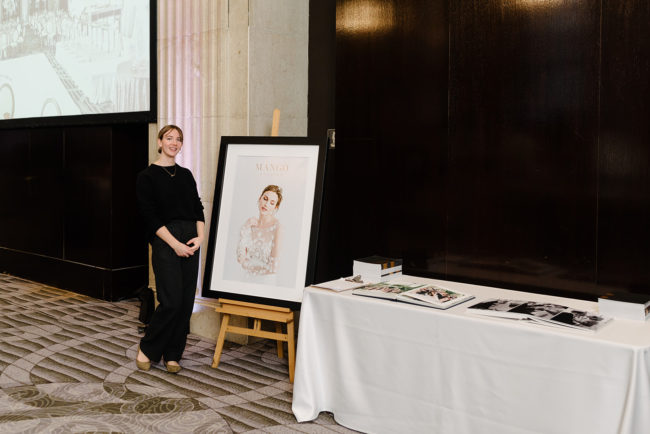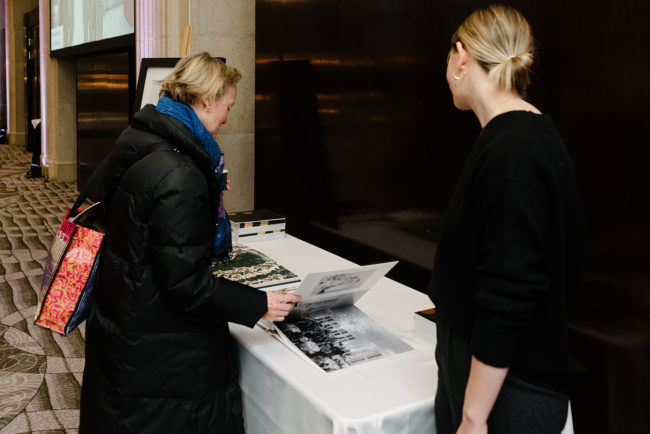 EPiQ Vision, our in-house Audio Visual company, kept the great vibe alive with their live entertainers, including a DJ and solo guitarist, which totally captivated attendees out on the dance floor. With the perfect up-lighting, show-stopping performers and cutting edge technology, EPiQ Vision brought together the best AV components to ensure a spectacular event as they continue to do for past, current and future weddings and events.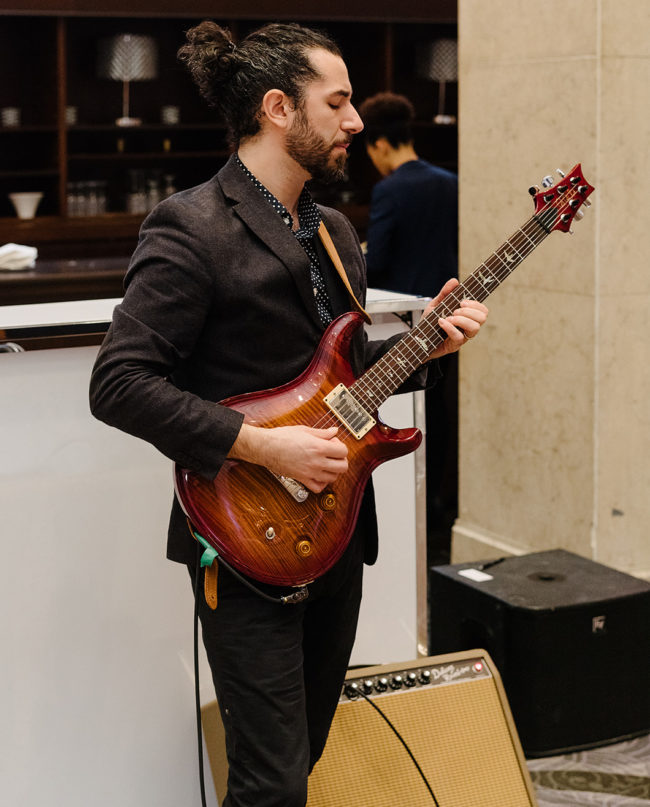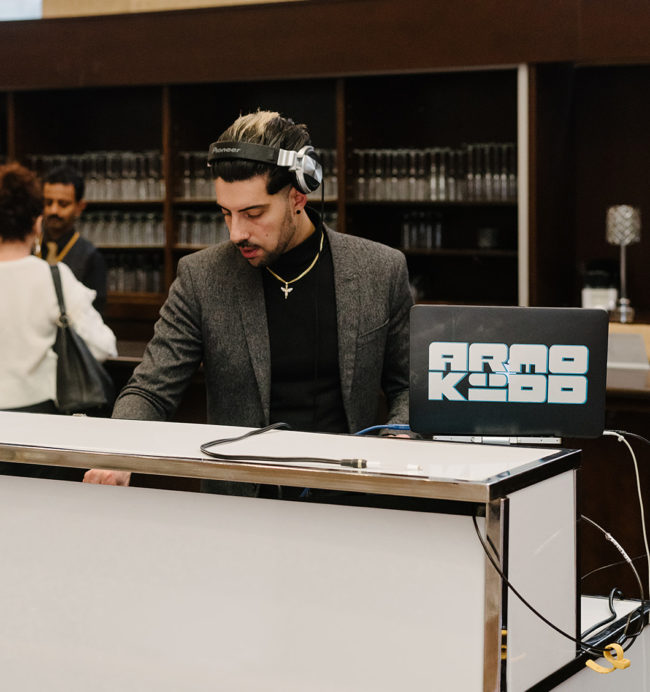 But first coffee! Espresso Bella Inc. was back for another year to treat guests to made-to-order espresso drinks, like a classic cappuccino, latte and more. After a long wedding day, both couples and guests alike are forever grateful for the addition of an espresso station to keep the party going into the night.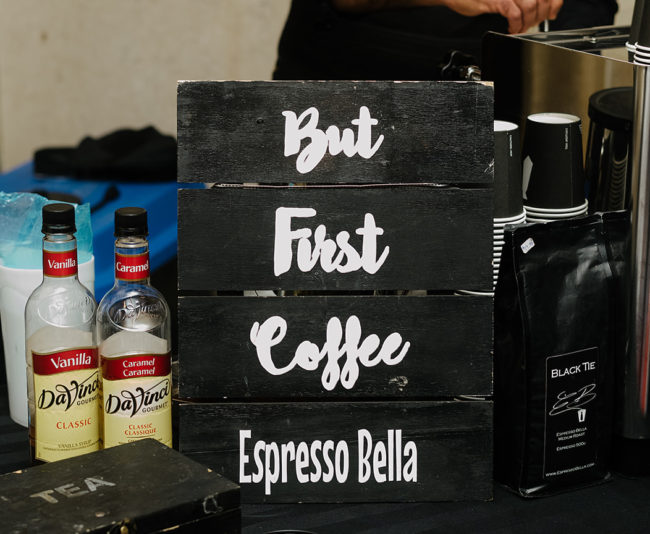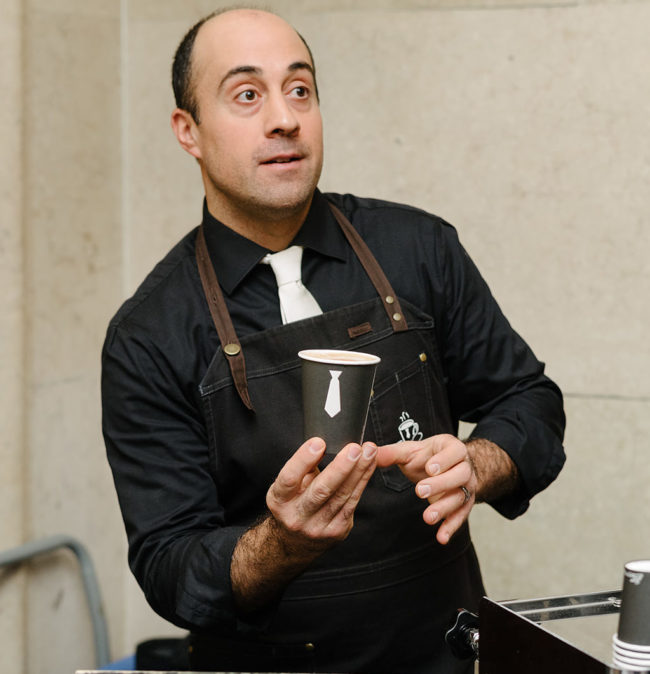 As we move up to the 12th floor, guests are again mesmerized as they walk off the elevator and are greeted to a beautiful ceremony, the sounds of live music, photo booth and custom poems in Chairman's Boardroom…
Design Mantraa transformed the historic and opulent Chairman's Boardroom into a dreamy ceremony. Complementing the beauty of the original walnut paneling, Design Mantraa added simple yet beautiful touches to ensure the perfect inspiration.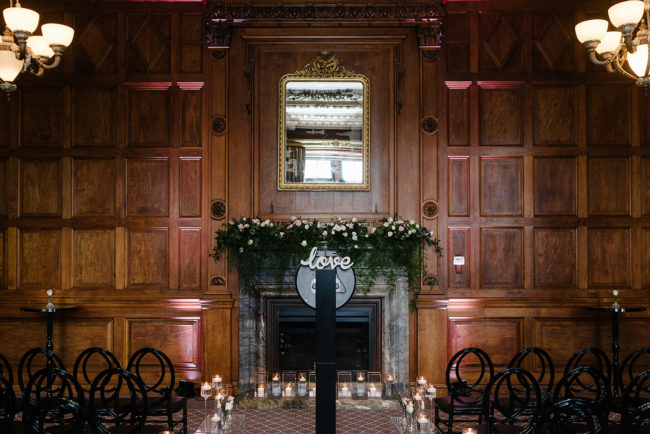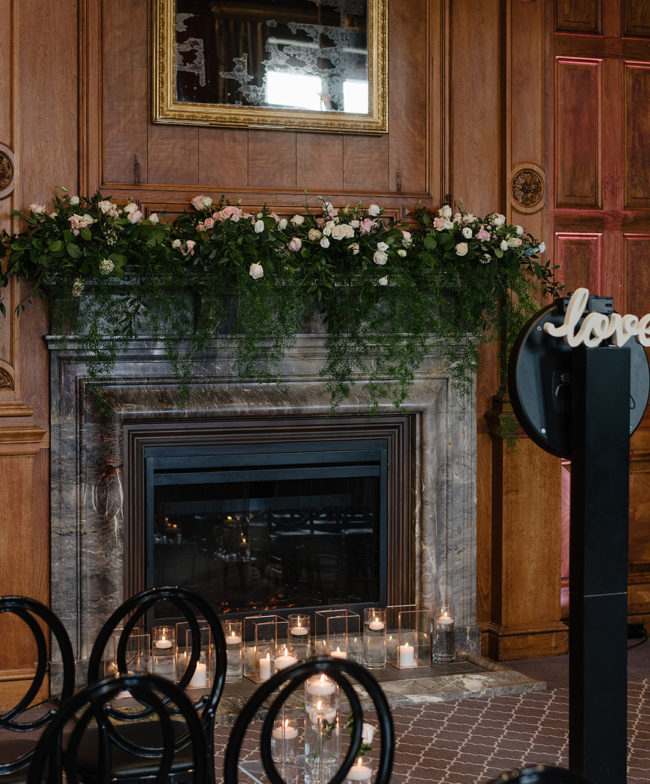 With the fireplace providing a picture-perfect background, Snapshot Photo Booth helped guests enjoy yet another immersive experience with their photo booth. Taking photos, boomerangs, and GIFs, guests were digitally sent their captures ready to post to their social media. This was a paperless photo booth as Snapshot Photo Booth wanted to ensure a sustainable experience for all!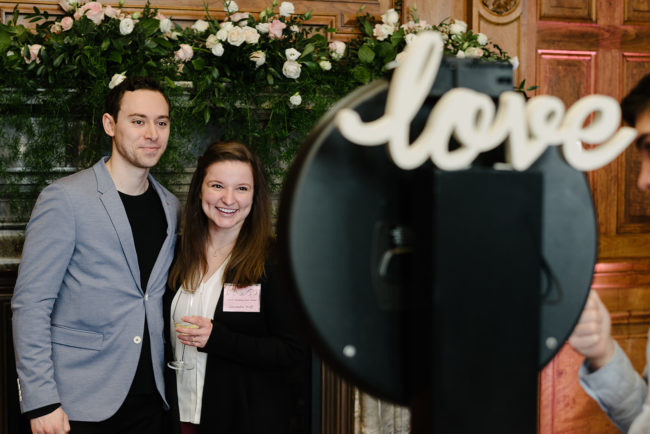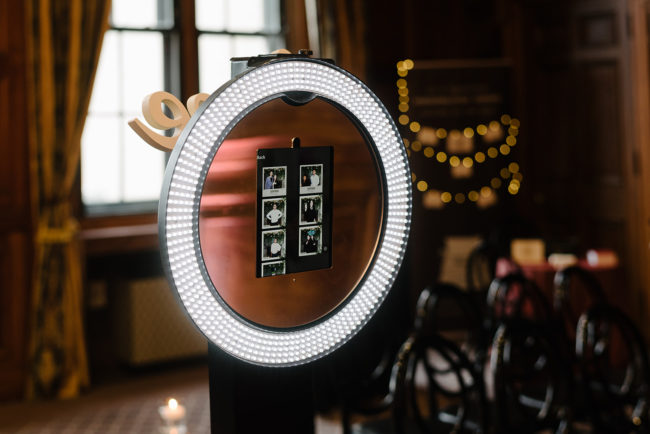 As guests explored Chairman's Boardroom, lovely live music played in the background from Duetto Music Services. In addition to this fabulous trio captured below, we were also treated to vocalists, saxophonist and more. Having a long and great relationship with Duetto, we highly recommend their musical services to ensure a wonderful celebration.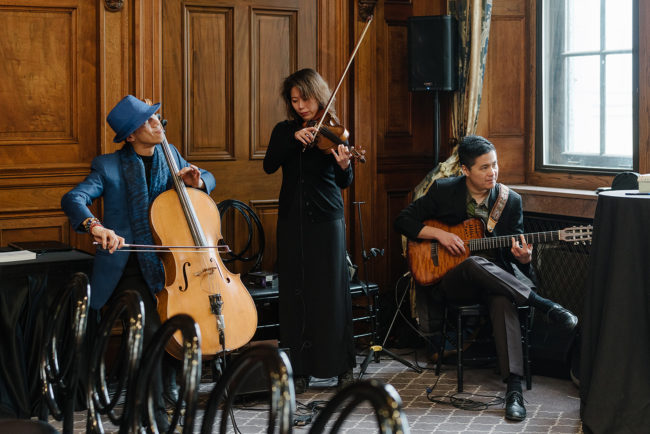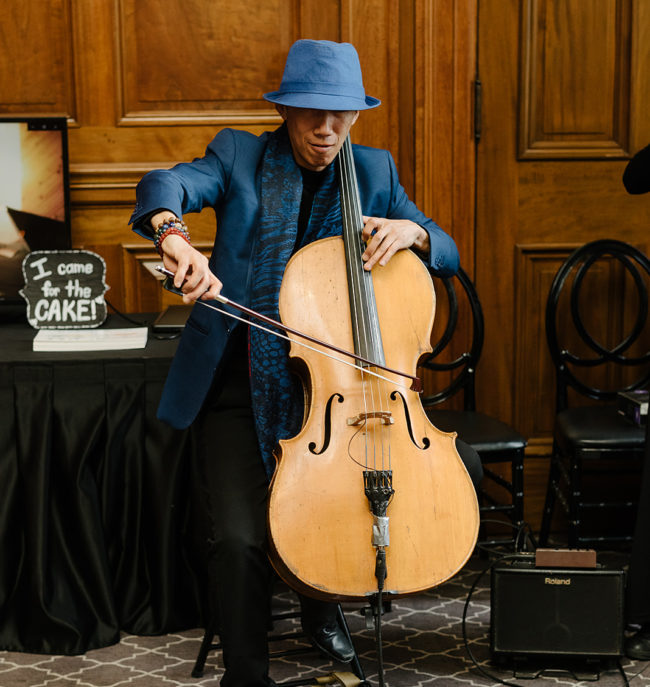 Everday People Typewriter Poem was a new addition to the One King West Wedding Open House and most certainly did not disappoint! Guests enjoyed an intimate sit down with them to discuss an important element of their life and then watched the magic unfold as a custom poem was written in real-time on a typewriter. A truly unique service that left guests in total awe and provided them with something special to hold onto…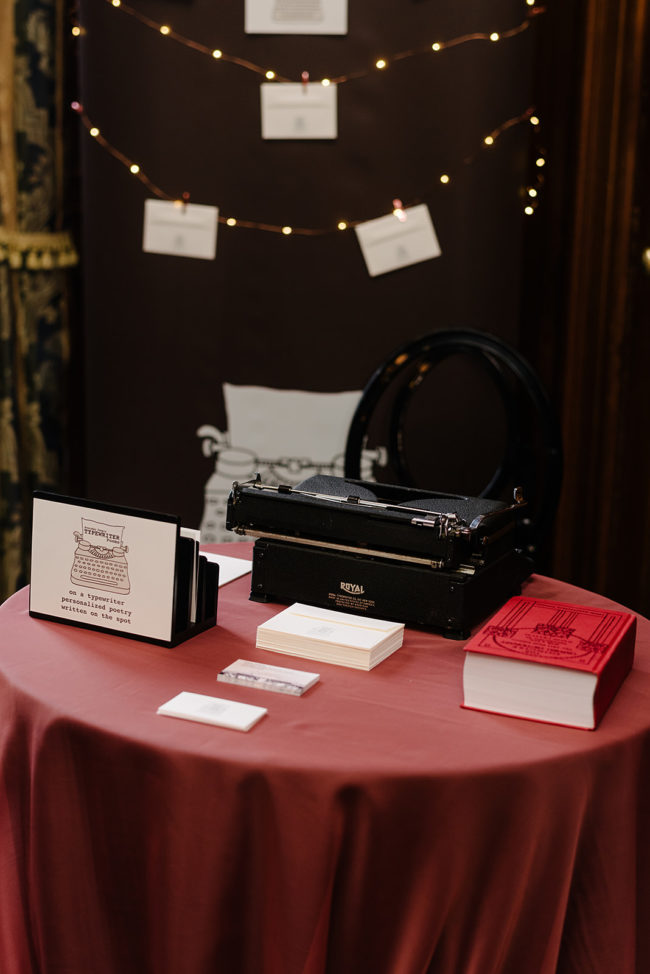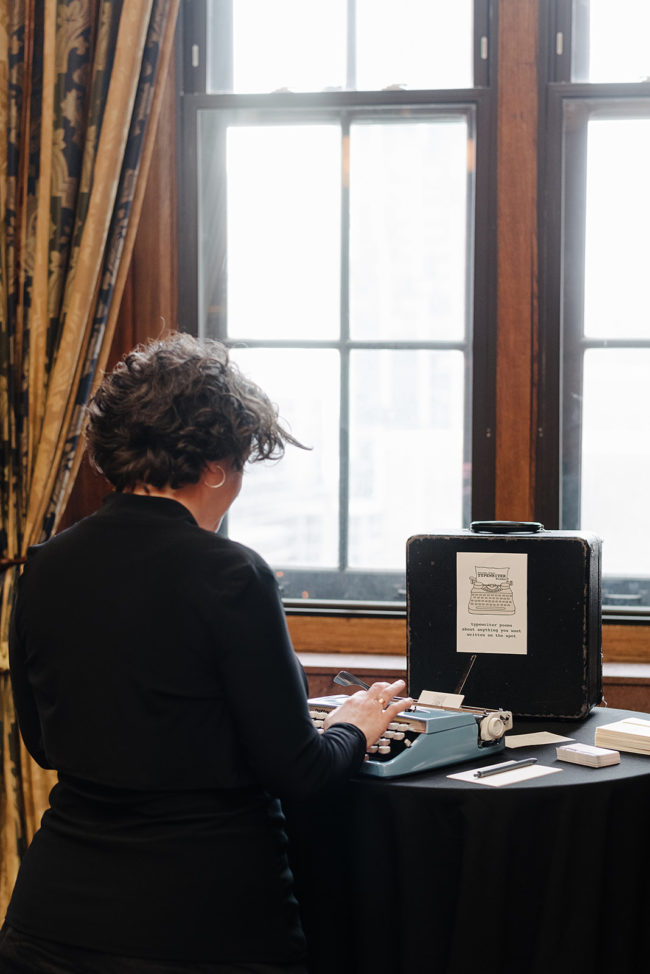 After the Chairman's Boardroom, guests moved along to Austin Gallery – another space of One King West that is commonly used as a ceremony space for brides and grooms. With Design Mantraa's touch, this historic venue was transformed into a wedding celebration as we've never seen.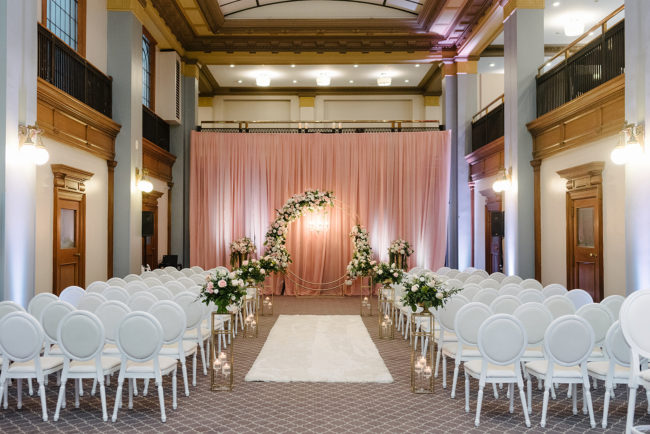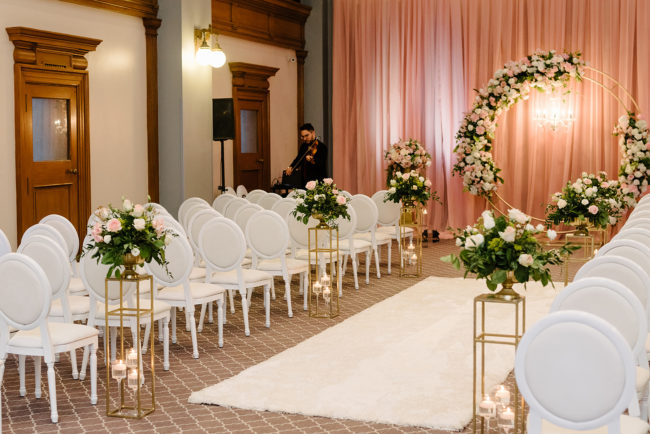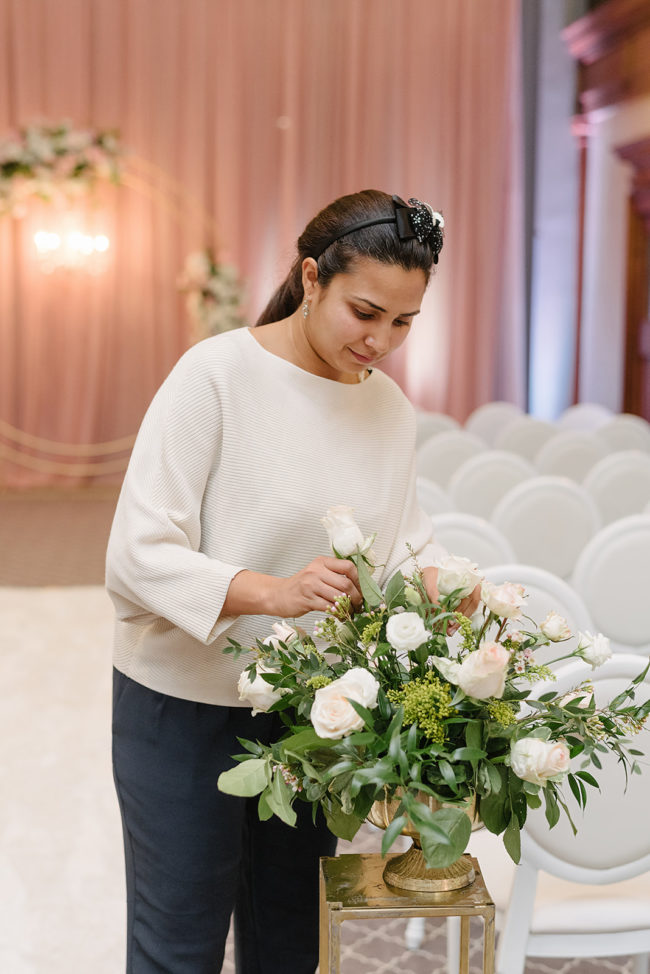 Back by popular demand! Valencienne Bridal, new to the Wedding Open House last year, was necessary for 2020's showcase as brides absolutely loved this aspect of the event. Drawing custom sketches of each bride's wedding dress, this top Toronto bridal boutique drew the mock-up of each unique dress in realtime. What a wonderful experience!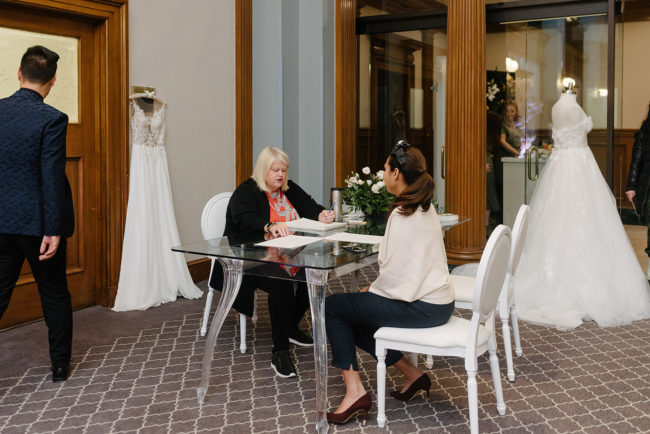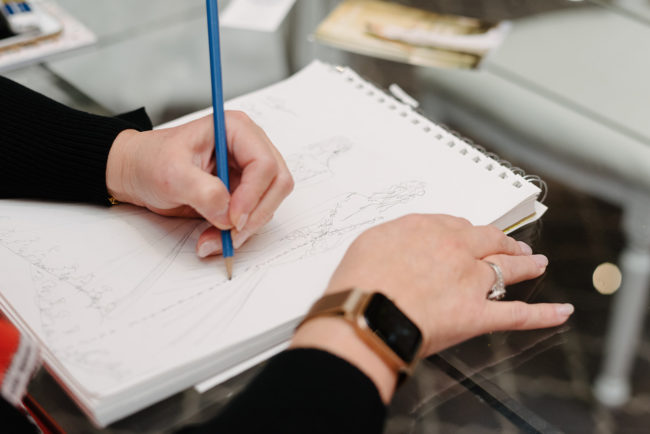 Surmesur, a custom menswear company displayed their handsome tuxedos and suits for all the future grooms to see and envision themselves on their big day. Sleek and stylish is how we would describe these one-of-a-kind pieces.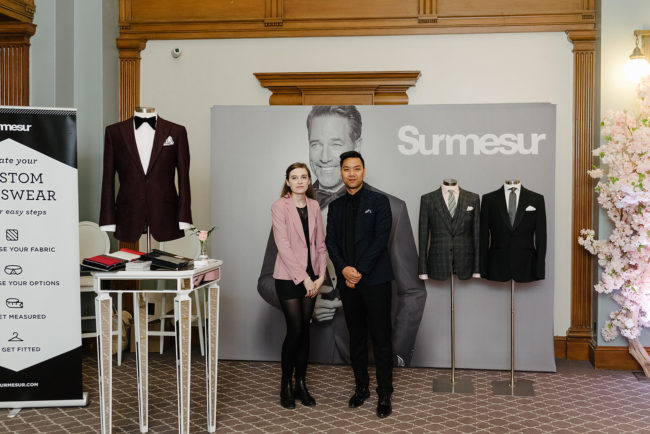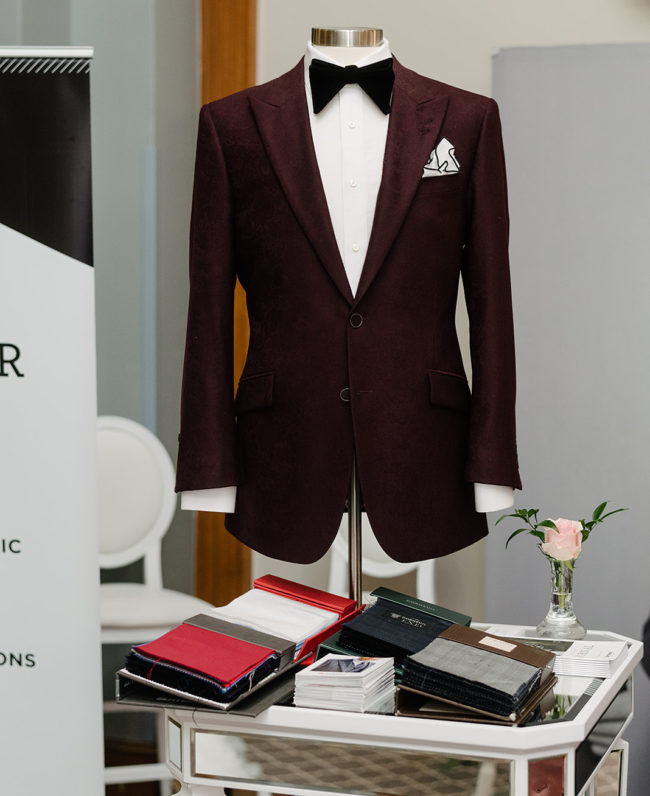 These days, video is just as important as photos for your big day. The opportunity to re-live your wedding through film is something that should not be taken for granted and that's why Pilot Films was there to display their cutting-edge work and to discuss their services.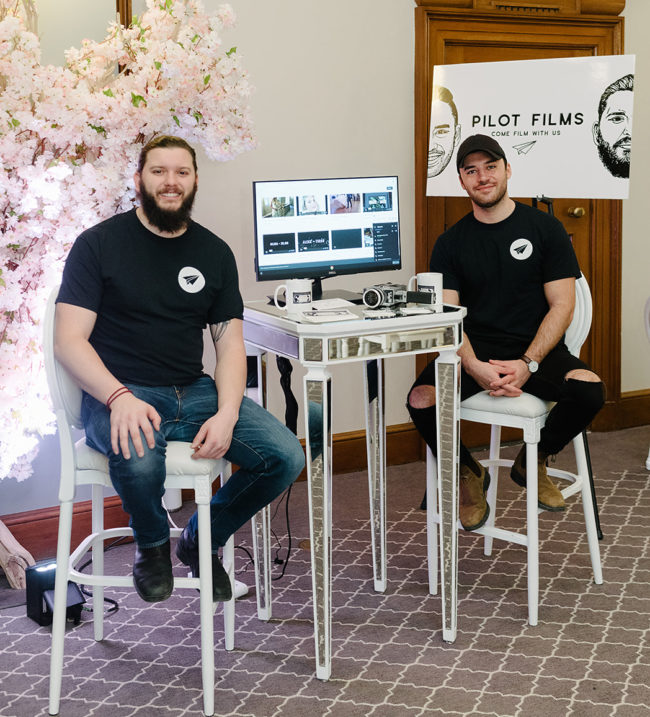 Another great performance of live music which captivated audiences was brought to us by EPiQ Vision with this amazing violinist!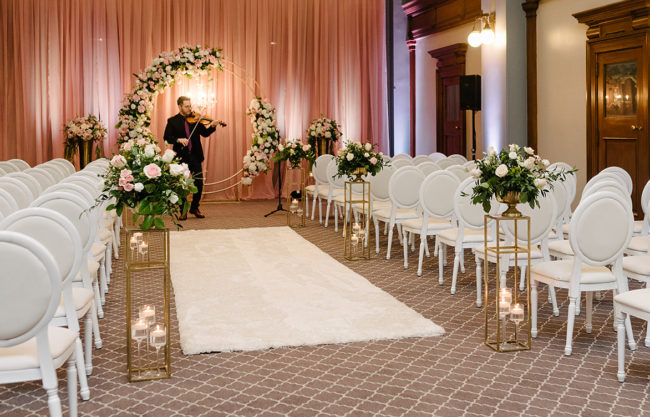 Ketel One took over the foyer of Austin Gallery to provide guests with refreshing and flavourful cocktails made with Ketel One Botanical. With each sip, guests were able to envision the possibilities of their signature cocktail for the big day, although now may have a tough decision to choose which one as they were all so delicious…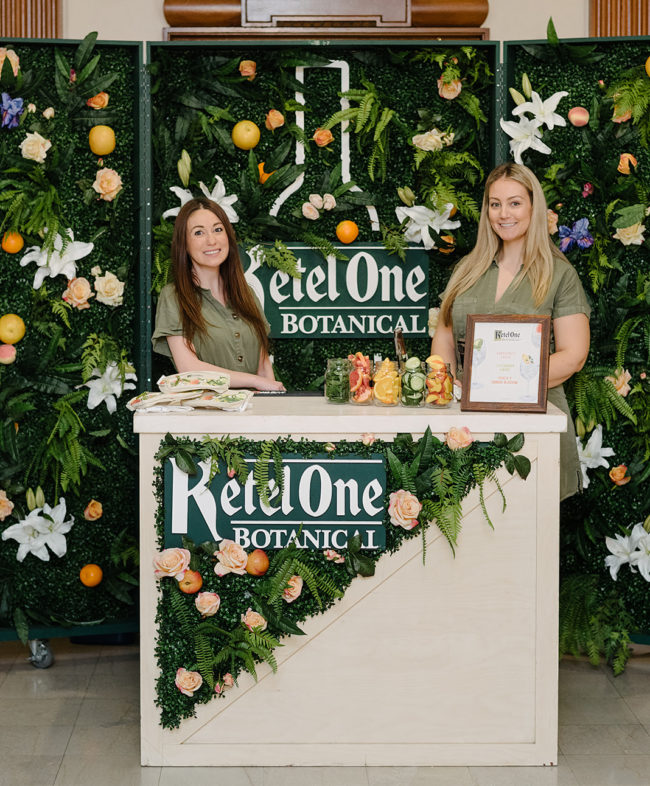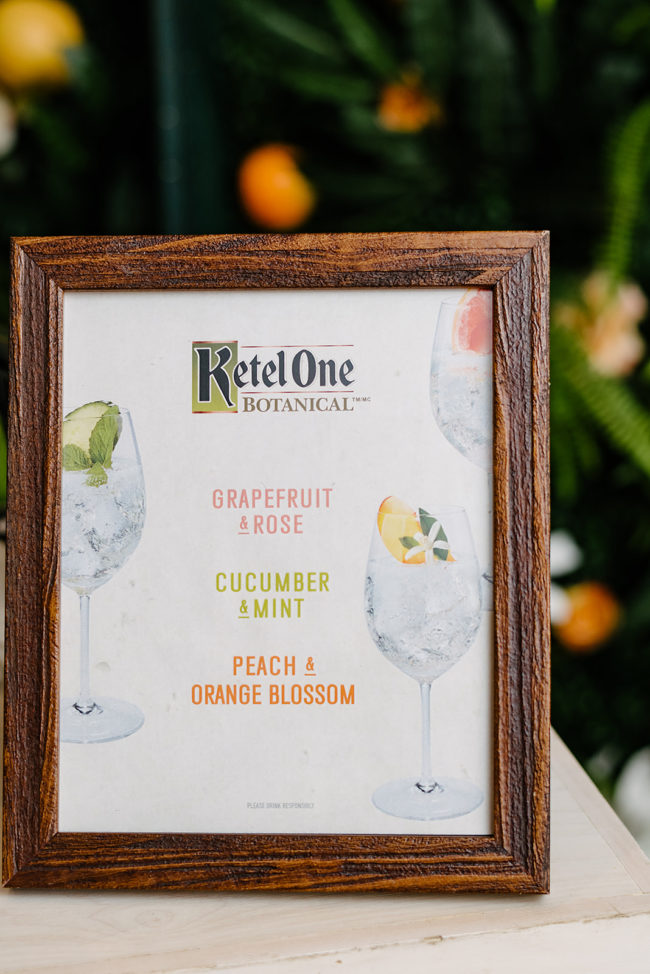 Last but not least, guests moved up to the 15th floor where they found the most perfect bridal day-use suite in Fifteen Hundred…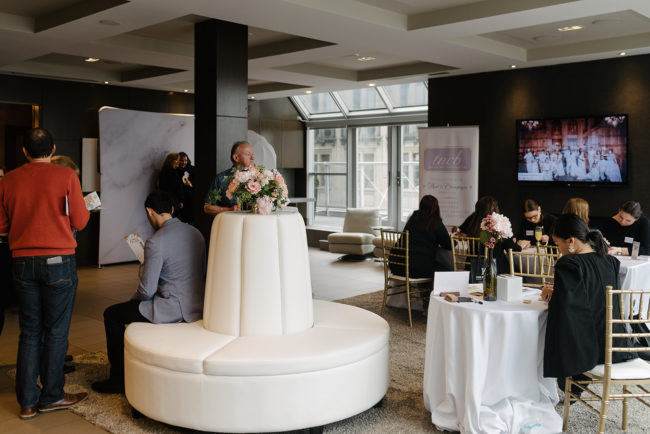 The Nail and Champagne Bar were back in Fifteen Hundred pampering guests with manicures! This full-service mobile nail and champagne brand is Toronto's first and most elite. Recommended for any wedding celebration; from showers to Bachelorettes, to the day-of, The Nail and Champagne Bar is a must to ensure the bride and her tribe are feeling their best.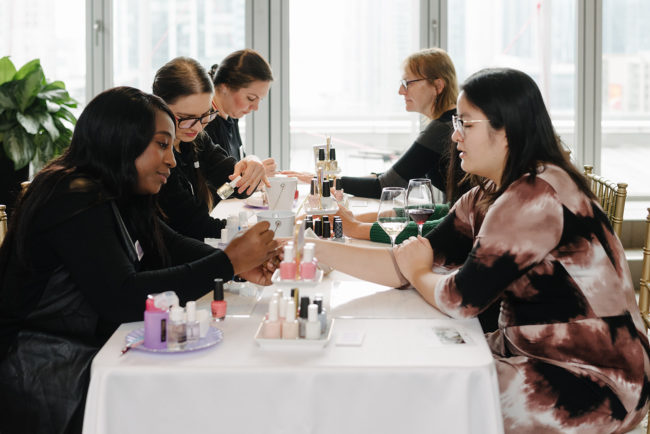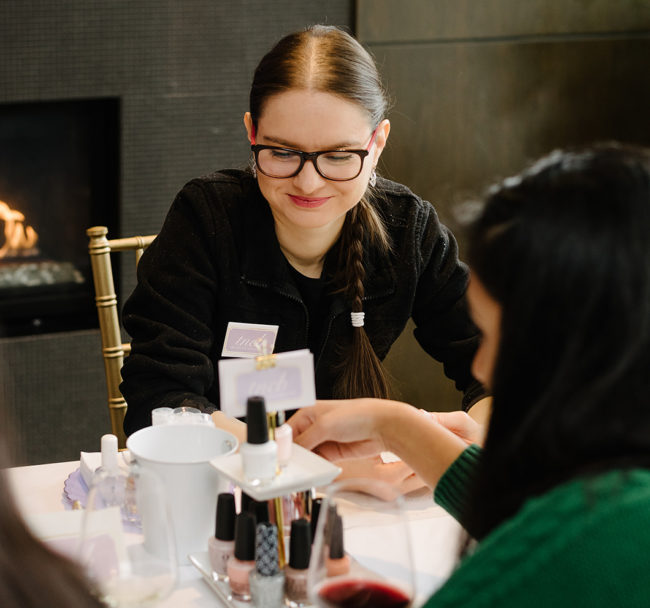 Pinya Letters treated guests to hand-written name tags with a vintage key bottle opener! Custom calligraphy is becoming increasingly popular for couples as they realize how special it is for guests to receive hand-written invitations or have a custom wedding welcome board at their celebration. If you're like many and appreciate this element of a wedding, look no further than Pinya Letters.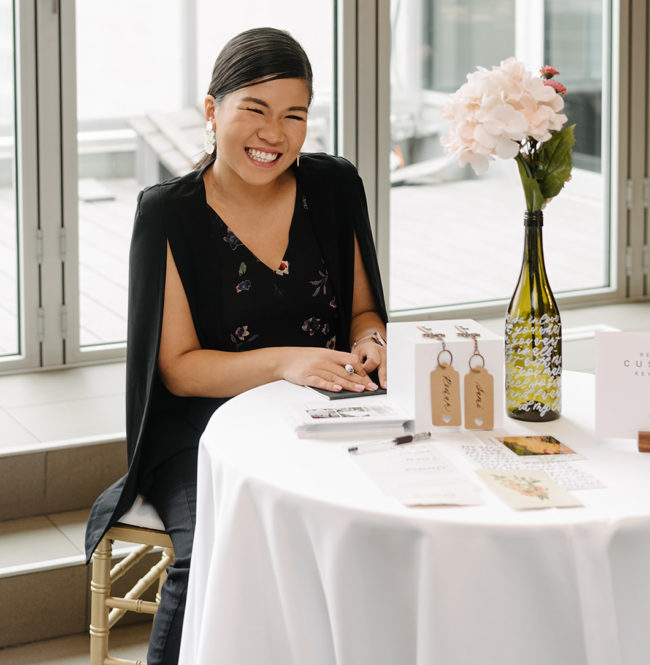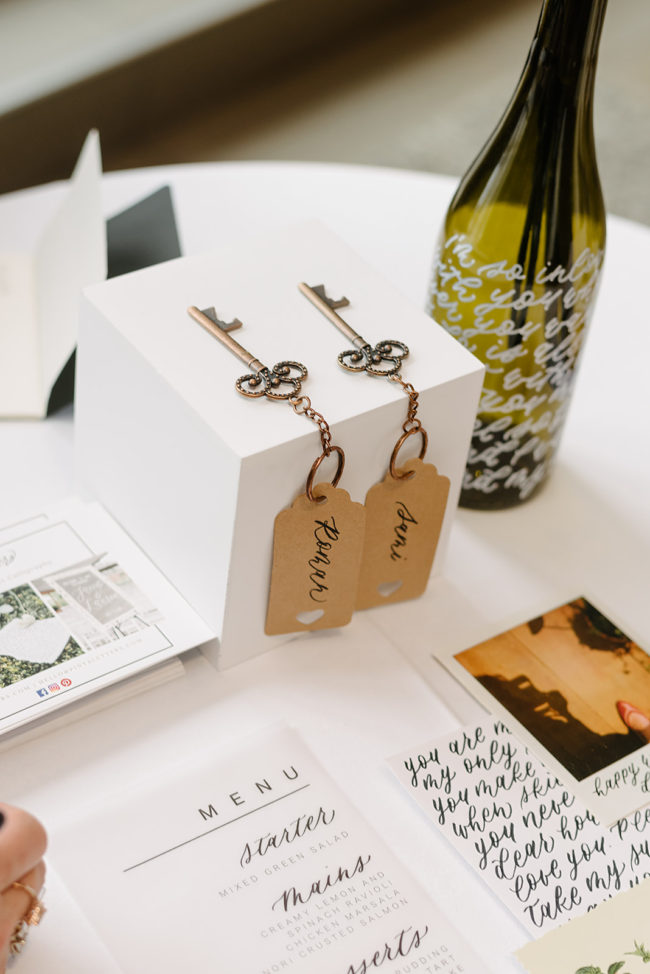 With the flooding natural light, Hot Shotz Photo Booth's marble backdrop in Fifteen Hundred offered guests the perfect place to snap photos with their friends and family! With mimosas in hand and fun props to wear, guests had a great time capturing silly moments to remember this great event.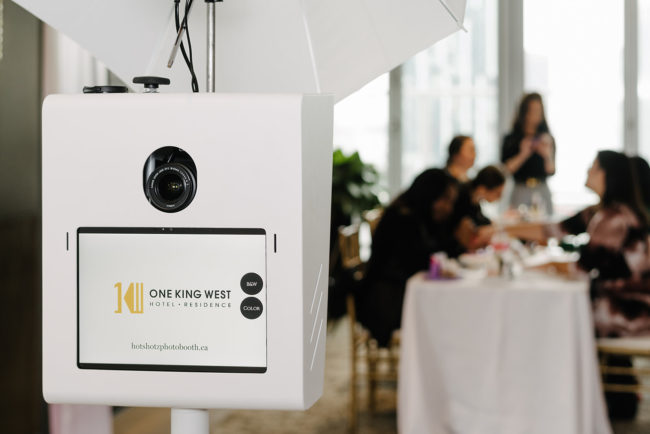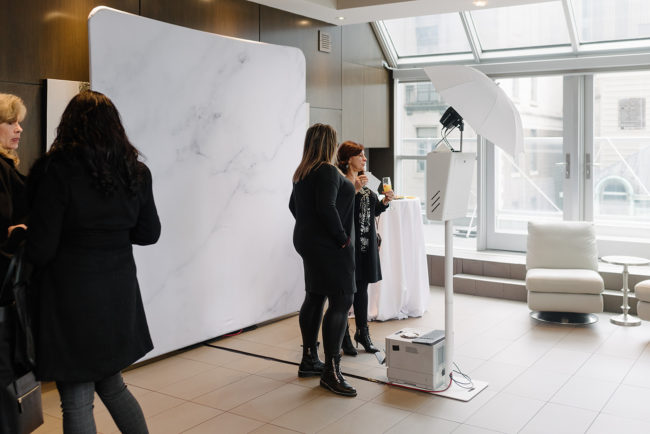 And of course, here are some highlights of the delicious dishes that Executive Chef Sevilla and our Culinary Team created…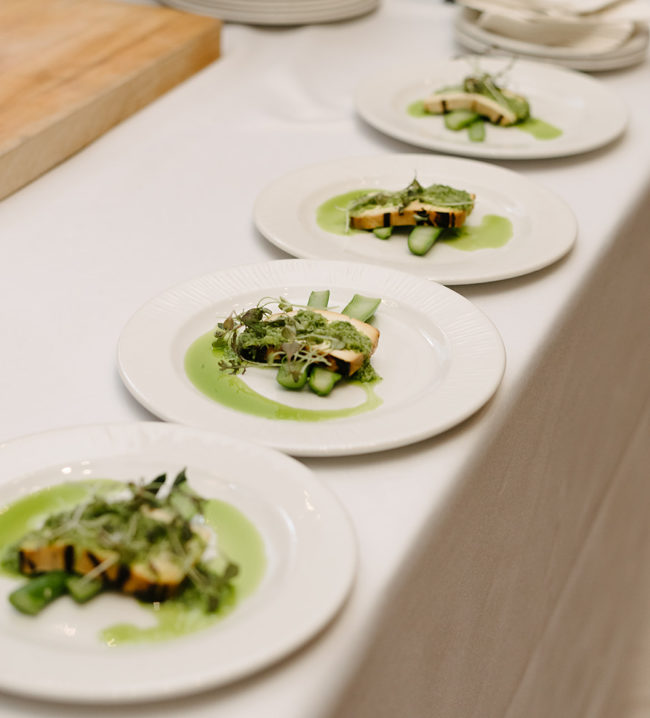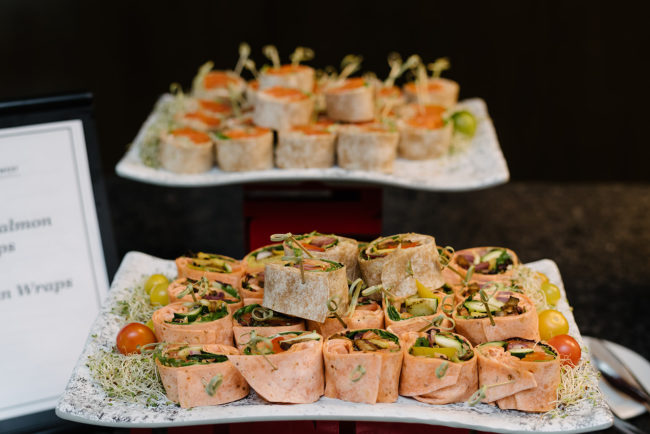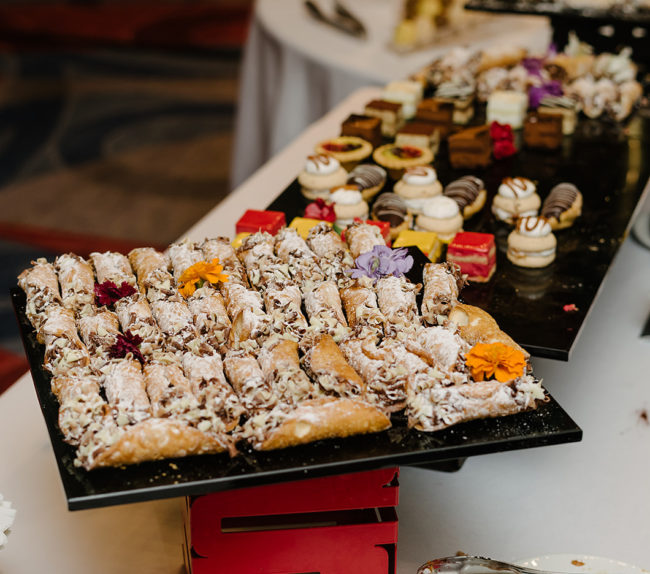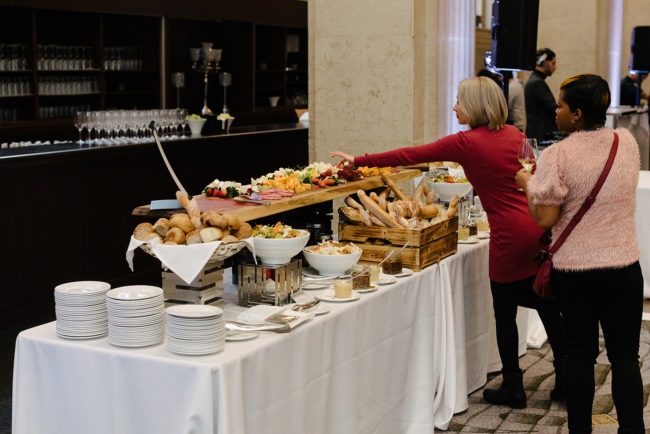 Thank you to our incredible vendors for working with us to create yet another amazing Wedding Open House and thank you to everyone who attended!
And a special thank you to Mango Studios for beautifully capturing every moment.
If you'd like to get in touch with our Wedding Specialists about your big day, please contact them at 416-548-8200, weddings@onekingwest.com or fill out the form below: