Toronto is a city known for its culture, warm hospitality, a multitude of delicious cuisines and of course, great shopping. No matter what corner of the city you're searching for great finds on, you're guaranteed to stumble-upon something fabulous. Luckily for us, the downtown Toronto hotel located at Yonge and King Streets, and our guests, we're steps away from Toronto's prime shopping…
Toronto Eaton Centre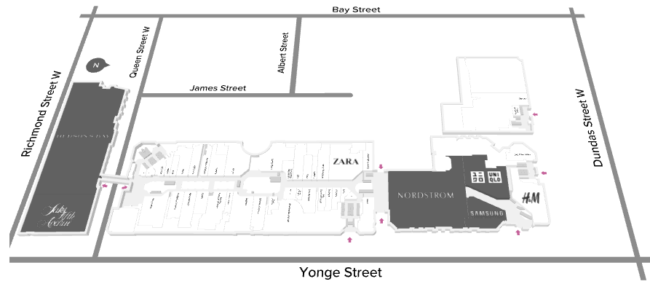 One of Toronto's most iconic malls, the Eaton Centre, is no more than a 10-minute walk from One King West Hotel & Residence and is home to over 250+ best-in-class retailers, restaurants and services. With the more recent introduction of Nordstrom and Saks Fifth Avenue, the Eaton Centre has become the shopping destination of the city. But if you're aiming to have a more budget-friendly shopping spree, this mall, located at the corner of Yonge and Dundas Streets, features an array of shops ranging in price. Plus, if you get hungry, the Urban Eatery located in the lower level of the mall is a one-stop-shop for delicious eats to satiate any and all cravings. Travelling to the Eaton Centre via subway? Hop off at either Dundas or Queen Stations and you'll find yourself at either end of the mall!
Distillery District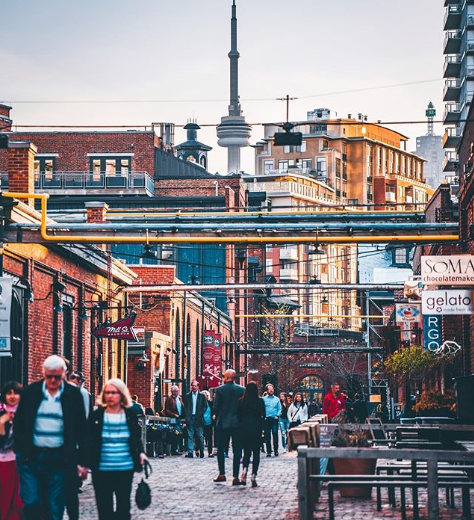 As our downtown Toronto hotel, One King West Hotel & Residence, is an Ontario Heritage-designated building, we can't help but admire the other historic establishments of the city and The Distillery District continues to be one of our favourites. Not only does it feel like you've stepped back in time while roaming the cobble-stone streets of this district, the many diverse and eclectic shops make it a prime shopping destination in downtown Toronto. Looking for the latest fashion trends? Head to Gotstyle for a wardrobe upgrade. If you're into the neat and nifty finds of Distillery District, we suggest Blackbird Vintage Finds. Depending on when you want to go, parking may prove difficult so if you can get there by transit we highly recommend it! From One King West Hotel & Residence, hop on the 504 King St. streetcar heading East for about 8 minutes, get off at Cherry Street and walk South a couple blocks.
Bloor Street & Yorkville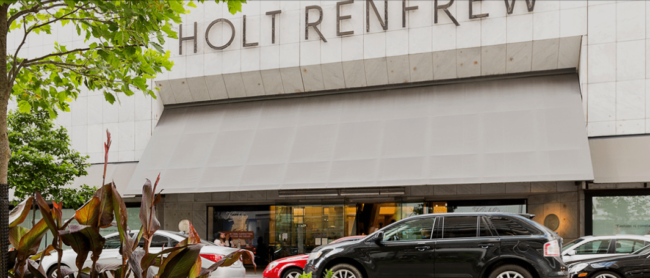 The Bloor Street and Yorkville area is known for the more prestigious and high-end shopping of downtown Toronto. Holt Renfrew, Gucci and Kate Spade are among the many swanky stores that you'll walk by when strolling through this district. It's no wonder this is a hot spot to 'star-gaze' when the Toronto International Film Festival comes around in September! Heading here from One King West Hotel & Residence means a brief subway ride North on Line 1, getting off at Bloor station and heading West on Bloor Street to come across the prime shops.
Queen Street West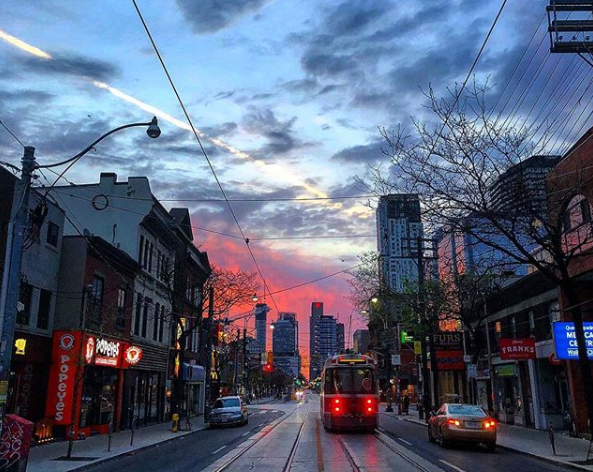 Queen Street West is notably more different than the downtown Toronto shopping districts mentioned previously. It's a vibrant neighbourhood with a mix of great shops, beautiful art and some of the city's best restaurants and bars. To paint a picture of this area in case you haven't had the pleasure of visiting quite yet, in 2014, Vogue named Queen Street West the second-hippest district in the world. Visiting this area from One King West Hotel & Residence? We suggest getting on the subway at King Station, heading South, hopping-off at Osgoode Station and walking West. The main shopping district can be found between Simcoe and Bathurst Streets.
Shop 'Til You Drop! Then Go Immediately to Bed…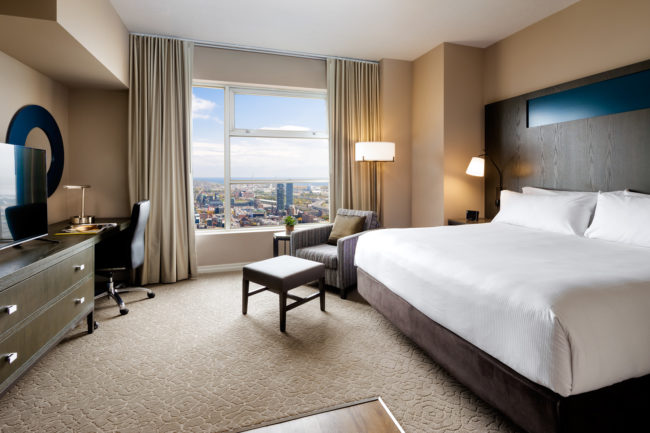 Have a mini getaway at our downtown Toronto hotel so you're close to all of the action happening in the city. One King West Hotel & Residence offers the perfect home-away-from-home setting where you can unwind after a day of shopping. After a long day of shopping, how amazing would it be to have to only travel no more than 20 minutes there and back and knowing that you have a luxurious and welcoming suite waiting for you? VERY amazing. Head here to browse our modern home-inspired suites.