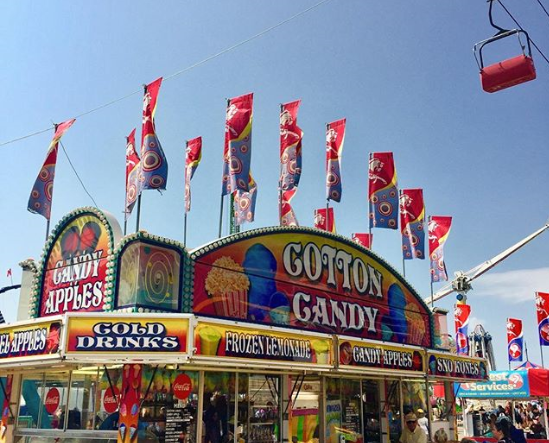 When:
August 17th to September 3rd

Hours: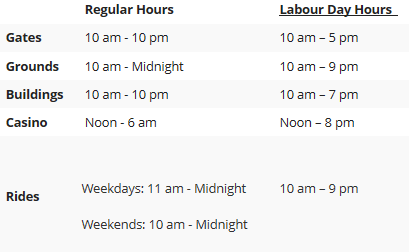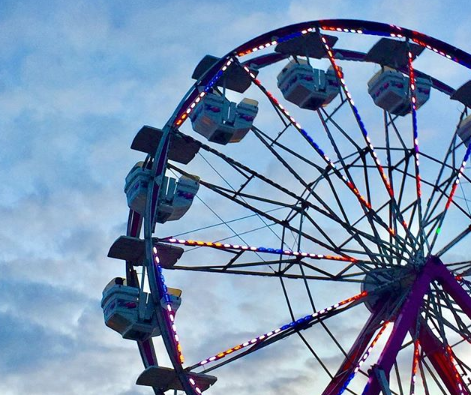 When Should You Go?

If you'd like to save some money:
If you're decision comes down to budget and what will save you the most money, it would be best to go Monday through Thursday after 5pm as admission to the grounds is only $9. Although keep in mind, that means you only have until midnight to explore and experience The Ex.
If you want to avoid the crowds and line:
If you want to go when you'll experience the least overcrowding, then during the days Monday to Thursday is when we suggest visiting. You can expect crazy crowds and lines from Friday evening to Sunday night, or Monday night, on Labour Day weekend. If work or other commitments keep you from going during off-peak times, then be prepared for long lines and people in your personal space!
If you want Instagram-worthy photos
If a main reason for your visit is to capture some spectacular photos for Instagram, 6pm onwards is a great time to visit as you'll get the daytime, sunny shots, as well as the sunset views. And if you stay long enough, you can capture the grounds at nighttime when its lit-up, colourful and quite spectacular (which are our favourite).
***Don't forget to check the forecast before you plan on a trip as all know how sporadic this Toronto weather can be***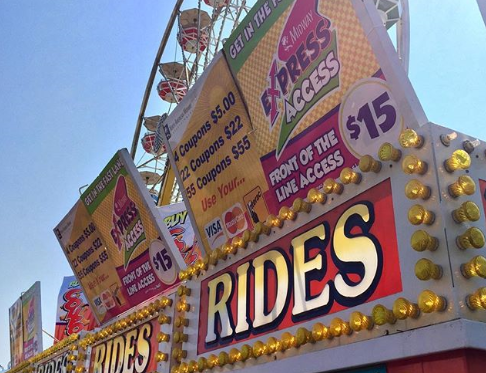 Cost:
We suggest visiting this link to find out the cost of the tickets to The Ex but for reference, the cost of a General Admission Pass is $19.99, Ride All Day Pass is $65.99 and Ride Coupons are 4 for $5.
How to get there:
TTC TTC TTC. We cannot stress this enough. Driving and parking in that area of the city is a nightmare, no matter when you're planning to go. Not only does The Ex draw huge traffic and congested lanes, you also have to keep in mind that there are other events that happen in that area, such as concerts at Ontario Place. Avoid the headache of driving and then an even bigger headache (and cost) of parking and take the TTC. You have a few options. From Union Station, you take the 509 Harbour Streetcar, across Queens Quay right to the grounds. As well as the 29 Dufferin Bus and 511 Bathurst Streetcar, both accessible along the Line 2 subway. You also have the option of taking the GO train as there's an Exhibition stop, so if you're coming from out-of-town, this would be ideal for you!
Although if you are going to The Ex during less busy times, then Uber is definitely an option but just an added expense which would be better spent on all the crazy fun and eats.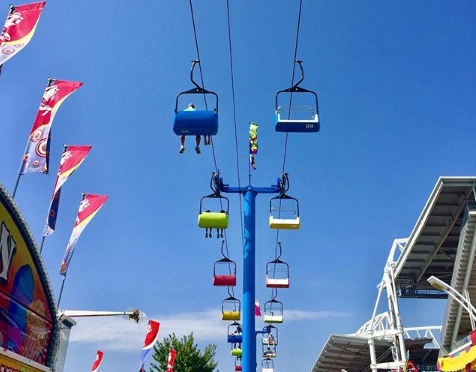 What to do:
This is a loaded question because there is so much to see and do. Like SO much. It seems each person goes to The Ex for a different reason. Some people go for the endless supply of unique foods and drinks, which The Ex is known for as every year brings crazier eats than the last. Others go for the entertainment and special shows, such as the Air Show put on by the Canadian Forces Snowbirds. And of course, there's the stomach-churning fair rides that make you all sorts of dizzy. Not to mention, the convention centre-wide shopping filled by various vendors offering anything from clothes, arts and crafts, home-related products and so much more.
We don't know if there's even enough time within the two weeks of it being open to see and do everything so we suggest having an idea of exactly what you what to experience before heading in because once you're in, it's pretty overwhelming (in a good way). Here are somethings that we don't think you'll want to miss out on…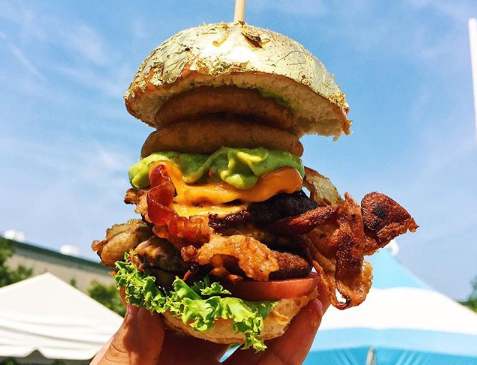 Food
This year, there are some unique, calorie-filled foods that may spark your interest. We're most excited for the Rainbow Kit Kat Crepe, or the Heartbreak S'mores Sandwich which is a fried chicken, sandwiched between buns topped with chocolate, graham crackers and icing sugar… And if you're willing to splurge, why not try the $100 Gold Burger that has 24-karat gold covering the bun? Don't forget to head to the Food Building to find rows and rows of food and drink vendors. Some to note include: Bacon Nation, Beaver Tails, Mac and Cheesery and Tiny Tom Donuts!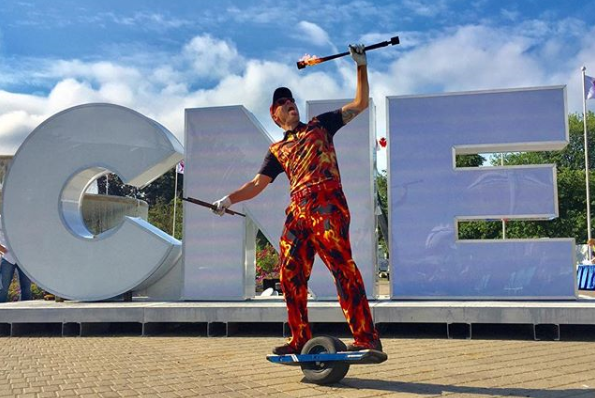 Entertainment
The much-anticipated aviation extravaganza, the Air Show, happens over Labour Day weekend from 12 to 3pm, featuring an array of shows, including our favourite CF Snowbirds, as well as the USA Force Thunderbirds and more. Another highlight of this year is an acrobatics and ice skating event performed by Quatro, a show featuring world-class circus artists and ice skaters from across the globe converging in Toronto for an extraordinary show. This is daily from 2-2:30pm and 5-5:30pm. And of course, there's a variety of park performers and live music happening around the grounds that are worth having a look and listen.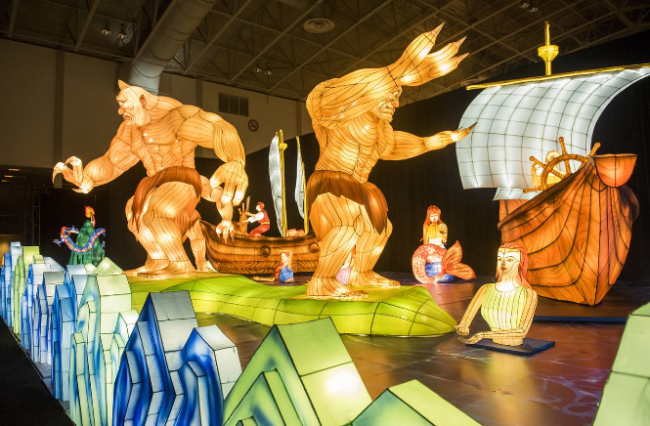 Exhibits
The Exhibits of the CNE really put the 'Ex' in 'Let's Go to the Ex!' This year The Ex is hosting the world's largest indoor silk lantern exhibit, which features lanterns fashioned from 4,000 meters of synthetic silk created by 90 Chinese artists. Seeing the photos on blogTO, we are certain this is an exhibit that everyone will want to check-out this year. Among the many Exhibits featured around the grounds, you'll also find butter sculpting, sand sculptures, nook of gnomes, a garden show and SO much more.
Make a Mini Summer Vacay Out of a Trip to the CNE
Summer vacation is nearing its end so why not take this opportunity for one last hurrah before it's too late? You deserve to treat yourself and enjoy a mini getaway to a downtown Toronto hotel like the One King West Hotel & Residence. Not only do we provide a convenient location for you to get to The Ex, but also a strategic location close to many more fun things to do in Toronto during the summer, as seen here. From One King West Hotel & Residence, you can walk 5 minutes down to Union Station and hop on the 509 Streetcar, or even the GO Lakeshore West Train to get right to Exhibition Place. Or another option is taking the 514 King Street Subway West all the way to the Dufferin Gate Loop right at Exhibition Place. After a long day of eating, riding the crazy rides and exploring, you'll be so thankful to come back to One King West Hotel & Residence and a plush king bed ready to plop yourself into!